MIDWAY — As Tuesday evening fell, David Williams entered the high tunnel and released his predators.
Not the menacing seek-and-slaughter killers you might imagine, but a burst of lady bugs.
It's these dainty aphid eaters and her wingmen, aphidelites, that keep Sunset Market Gardens' organic ecosystem humming along.
Seven greenhouses make up this up-and-coming certified organic Rockingham County farm where order and beauty reign.
Farmer Williams, 46, has an artist's sensibilities, arranging his lettuce beds by alternating leaf shapes and colors in the way of a floral designer.
Through years of careful planning, self-education and research, the soft-spoken Williams has created a tidy paradise in which he can propagate vegetables with maximum efficiency.
Grant awards helped the Stokesdale native and his family erect large "high tunnel" greenhouses with computerized sensors. Sunlight and heat trip switches for fans and lift greenhouse "curtains'' so seedlings may bathe in sunshine.
Ruby-skinned radishes burst forth above the soil line, plump and ready for harvest. Carrots and beets thrive here, too.
A father of three, Williams is lean with a low-key manner and speaks ardently about his commitment to growing healthy food.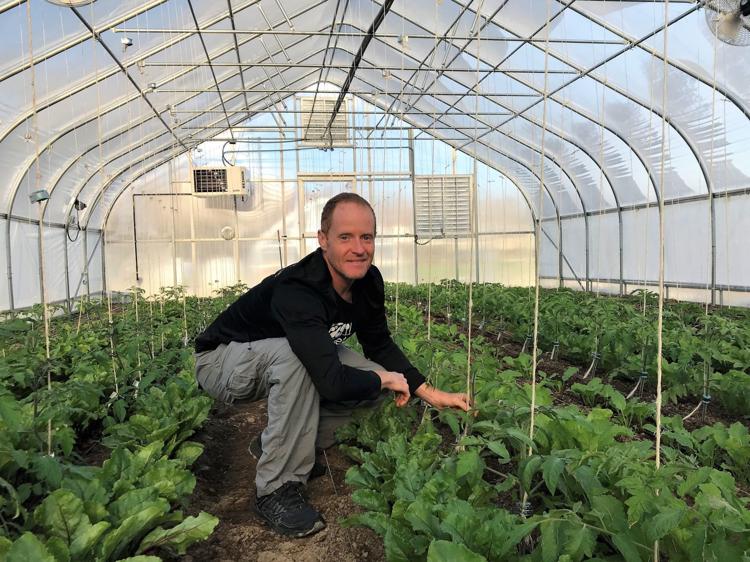 "We're health-conscious people, and we believe you are what you eat,'' said Williams, who began his career in horticulture as a landscaper and personal gardener in the early 1990s.
By 2012, he and his wife, NNeka, and sons Logan, 14, and Gavin, 12, were growing vegetables in their back yard. "That's how we found our calling to start growing food,'' Williams said of the move that also led the family to adopt a vegan diet, free of meat and dairy.
"Gardening was a way to interact with my sons and to teach them how good food is grown, and how good really healthy food tastes,'' he said. He's eager to teach such values to his daughter Falynn, 15 months, and another son due in the fall.
By December 2015, the family moved into their Woolen Store Road farmhouse, a soft green frame house Williams built himself. By fall 2016, they had one greenhouse up and producing. And by spring of 2017, Sunset Market Gardens was selling vegetables.
For the past two years, the farm has garnered a loyal following at the Greensboro Farmers Curb Market, where the family sets up every Saturday morning. Season-to-season, their bounty includes kale, heirloom tomatoes, mixed lettuces, baby greens, radishes, carrots, Asian turnips, summer squash, new potatoes, slicing and pickling cucumbers, eggplant, bell peppers, hot peppers, Swiss chard, bok choy, broccolli, fennel, cabbages, and herbs, such as basil and mint.
Among Williams' most popular sellers — washed and ready-to-eat mixed salad greens. "And soon, we're going to have micro greens available,'' he said of the tender and tiny varieties of lettuces chefs use for garnish in better restaurants.
Sunset seeks to bring off-season veggies to consumers before anyone else, so Williams times his crops accordingly. For example, he will present an array of heirloom tomato varieties _ think Cherokee purple and German Johnsons — by late spring. "We wanna be the first ones to have them,'' Williams said of the crop he will offer May through late July.
And he's able to offer such exotic tasty varieties at a competitive rate by growing his tomatoes in the good company of other crops.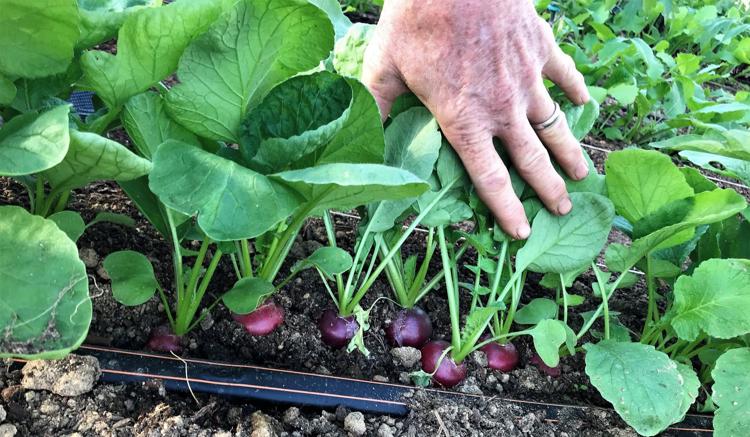 Handsome tomato plants, with recently-healed graft scars (Williams creates a hybrid of heirlooms with a N.C. State University tomato variety that s super hardy) are flanked by beets and radishes, a technique called intercropping, which maximizes growing space.
In order to meet the demand for their crops and expand to offer sales from the home farm, Williams installed two more greenhouses last summer with help from federal grants. His compound now boasts three high tunnel- and three smaller caterpillar tunnel-style grow houses.
Wind ripples softly against the fabric walls of the tunnels, the sky looks milky blue and the air is thick with a humid perfume of soil and stems.
The greenhouse growing niche gives Williams a kind of security that outdoor farmers don't get. "We grow all through the winter.''
And when rains from last fall's hurricane and tropical storm decimated many regional farmers' crops, his greenhouses protected Williams from Mother Nature's whims.
Efficient systems here are a thing of beauty.
Inside one of the high tunnels, hundreds of twine strands hang taut from soil to ceiling to serve as leaders for tomato plants in a system that trains fruit to eye level for easy picking.
Farm tools are abbreviated _ micro versions of those you see in home gardens. The head of Williams' hoe is but a sliver of steel. All he needs.
Seedlings are planted within careful margins, so Williams and his sons can draw their tool heads through the topsoil in rehearsed patterns with ease.
Pinch clips, padded with sponge, grip fragile tomato stalks with protective cushion, and pallets of fledgling plants rest in their nursery, kicking off husks of their mother seeds, ready for their turn in the trenches.
Some 30 years back, Williams wanted to be anywhere but between the rows.
"I grew up in my grandparents' tobacco field, so I was in it as a little kid,'' said Williams, whose maternal grandparents, Robert and Viola Williams farmed just down the road in Stokesdale. "My parents always had a garden and I hated it … hoeing a half-acre garden … hated it.''
These days, though, Williams' love of the land and the work is more than evident, especially when he describes his portable chickens.
Housed in a frame coop painted to match the family house, the fowl enjoy a truly mobile home.
"I built their house on top of an old hay wagon so I can move it with my pick-up truck,'' Williams said, explaining he rotates the chickens' feeding area, keeping the cluckers on the move to evenly distribute manure and prevent development of parasites in his flock.
"The yolks are super orange and really rich,'' he said of the pasture free-rangers that provide fresh eggs for the farm's customers.
Kneeling in the greenhouse, Williams examines a beet top where sleep lady bugs are warming up to the task of hunting pests. "Yeah, we really love doing it,'' he says.
With a rake of his hand over his shaved strawberry-blonde head, Williams pulls on his fleece cap and heads out of his greenhouses to start a day that won't end until dark.
Sunset Market Gardens is located at 346 Woolen Store Road and open on Wednesdays from 4- 6 p.m. and on Saturdays from 9 a.m. to noon. For more information, visit: https://www.sunsetmarketgardens.com.