A grassroots effort is springing up in opposition to a gas pipeline slated to run through the eastern part of Rockingham County.
Mountain Valley Pipeline's main line runs 300 miles from Pennsylvania into Virginia. A Southgate extension is now being proposed, making a beeline from Chatham, Virginia toward Wentworth, crossing the state line at Berry Hill and running along the east side of Eden, then taking a sharp left turn and heading through Reidsville and into Alamance County. It partially follows N.C. 87.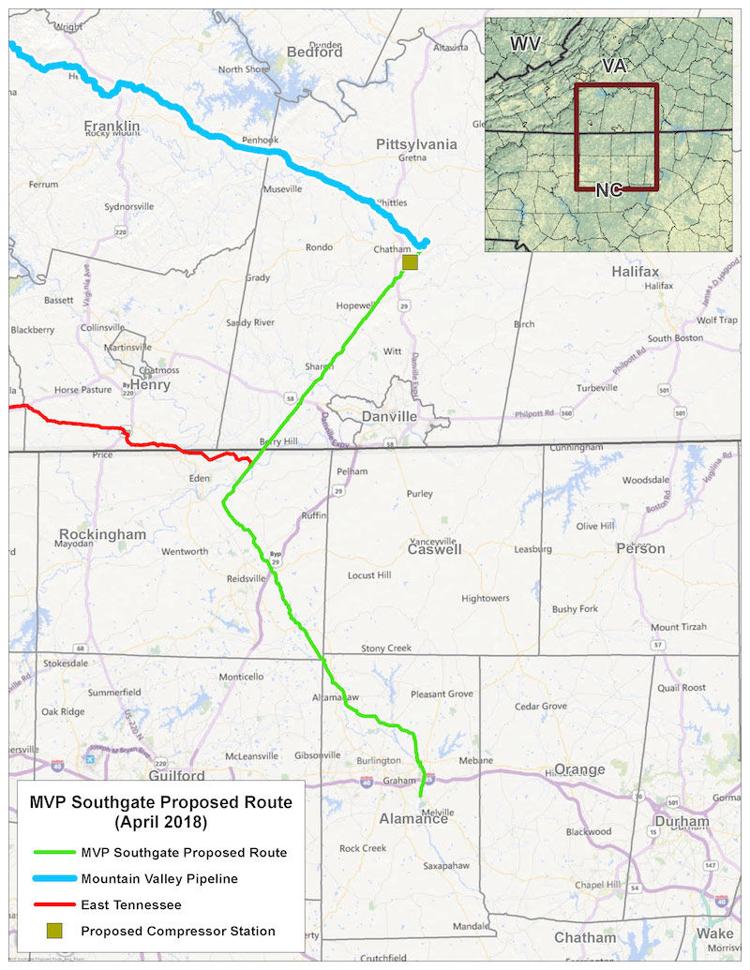 Impacts cited by the opposition include destruction of streams and forest, abuse of property rights, health and safety risks, methane emissions, and utility rate hikes to pay for the project.
Emily Sutton is the riverkeeper with the Haw River Assembly which works to protect the Haw River Watershed. Her Alamance County group has been fervently researching and staying updated on the pipeline project. Locally, Good Stewards of Rockingham is leading the charge. The two groups gathered nearly three dozen citizens Monday night for pipeline talks.
Five weeks ago, Southgate was said to be 70 miles of 17- to 20-inch diameter pipe. Since then, that diameter has been enlarged to 24 inches, and a compressor station is now proposed for Rockingham County – which Sutton described as an "enormous industrial facility that runs 24 hours a day, seven days a week [with] a huge impact on air quality and water quality."
She said MVP's pipeline will cross the Dan River and five or six smaller waterways, although proposed locations have not been released. At the Dan, lubricants and chemicals will be put on a hydraulic drill head for the process.
"They're drilling under it because it's so rocky, but if there's a gap or an air pocket, that's when you get explosions… it's not fiery explosions, but it's a lot of rock and debris. You're in a blast zone basically," she said. "They're also going to use explosives to lay the trench in rocky areas."
Sutton said MVP will do dry crossings of streams and tributaries, including Little Troublesome Creek in Reidsville.
"Dry crossings mean they are going to dam up the stream entirely, they reroute it, and then they blast through the rocky creek bed and lay all the pipes, then blast the dam and let [the stream] run over it again," she said. "Little Troublesome is already an impaired stream… meaning it is classified by the EPA as not being a healthy stream."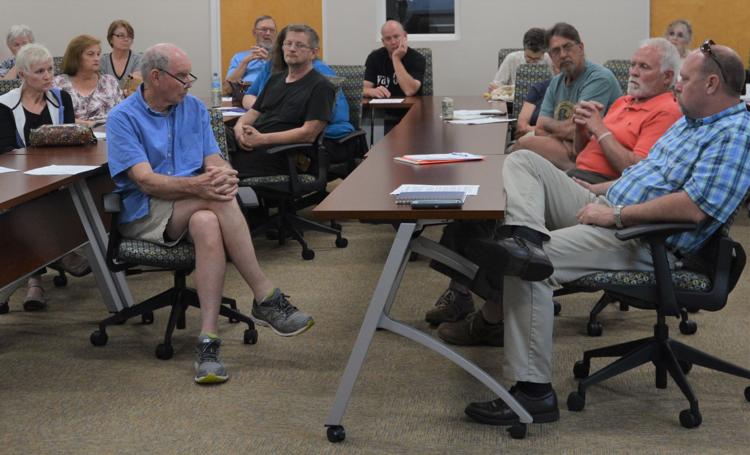 Landowners in Path
Within the 300-foot pipeline corridor bulleting through Rockingham and into Alamance, as the exact placement is pinned down, a temporary 100-foot easement will be set for clearing trees and bringing in heavy machinery. Eventually that easement will be half as wide. Sometimes, MVP will request an easement through one property just to have access to another.
And it's possible in some areas for the pipeline to follow already established easements, such as those for power lines.
MVP has contracted with Doyle Land Services to handle property surveys. Five people at Monday's meeting said they'd already been contacted about their private property. Sutton's group is collecting parcel numbers from property owners that have been approached, in an attempt to track the route MVP is mapping for the pipeline – and to contact landowners in that 300-foot corridor.
"Even if people are interested in having easements on their land, you can delay… the longer you hold out, the more money they would eventually offer you," she said. "Eminent domain processes take up to two years in court, so if it ever gets to that point, we've got time to fight it."
Sutton urged landowners to read contracts carefully. The fine print of an 80-page contract granting an easement for the Atlantic Coast Pipeline leaves landowners financially and legally responsible for leaks on their property, she said.
Jen Kostyniuk, director of Dominion Energy Communications, however, advised RockinghamNow, "It is incorrect to say our easement places responsibility for leaks on landowners."
Alamance County landowner Daniel Bollinger said his letter from Doyle looked like junk mail. Doyle told him there were six proposed pipeline routes, and a surveyor wanted to rule out his 53-acre property. Bollinger turned down their request for access. He urged other landowners to respond no, in writing, because non-response may be taken as a yes, based the history of the Atlantic Coast Pipeline.
Sutton said denying access to the surveyors is the first step for landowners in the battle against the pipeline.
"They've been really pushy about getting landowner access, and Doyle doesn't necessarily have state certification to survey. They are not allowed to come on your land and survey legally in North Carolina," Sutton said.
The Department of Justice's news outlet, N.C. Policy Watch, discovered that Doyle let its North Carolina surveyor permit expire in 2015.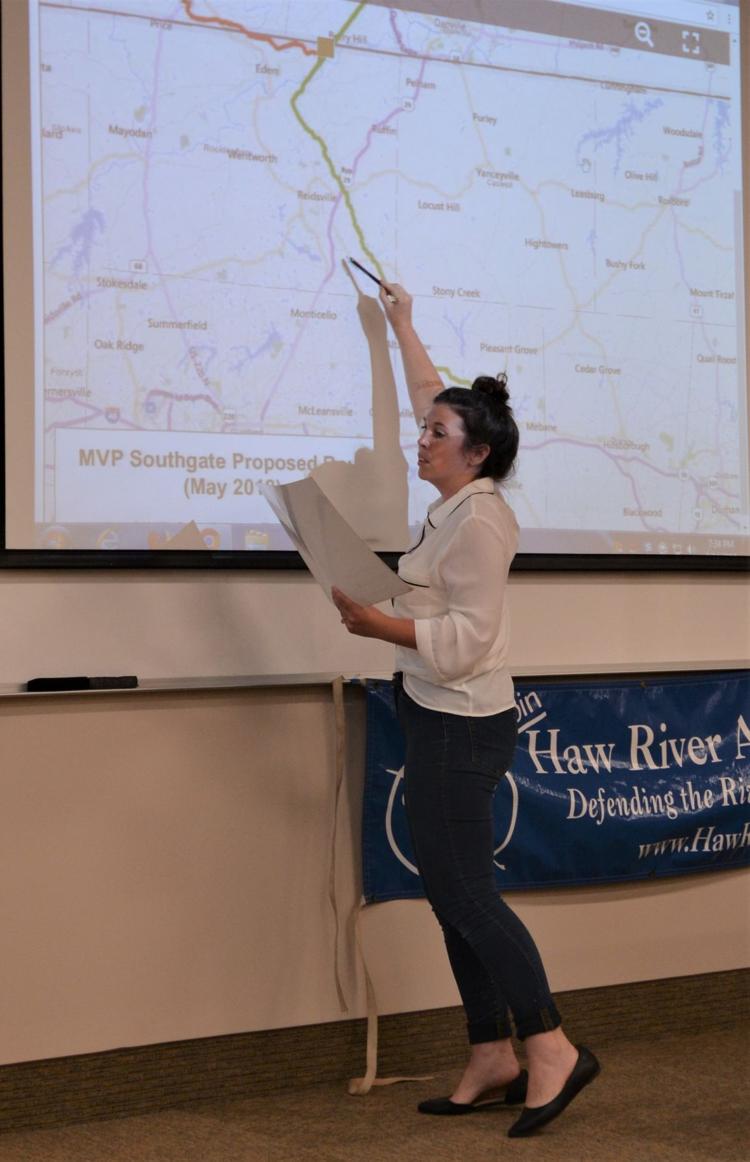 What's Next?
MVP indicates that pre-filing for the project will begin this month. Steps include meet­ings with the N.C.  Department of Environmental Qual­ity and Department of Water Resources, the U.S. Army Corps of Engineers, and the Federal Energy Regula­tory Commission.
MVP wants the pipeline in the ground and ready to go by the end of 2020 – that's just a year a half from now. However, Sutton said it took MVP five years to start cutting trees in Virginia – so local opposition has time to fight.
Eden landowner Walter Romine said the N.C. Utility Commission would be in favor of the pipeline for more resources and competition bringing gas into the Carolinas, to break up a Williams Transco Pipeline monopoly.
"Cooper has the ultimate say. Gov. Cooper can deny permits," Sutton said. "That didn't happen with the Atlantic Coast Pipeline, but because he's been getting so much pressure and pushback because he passed those permits, he may go against this one to try to make up for that."
MVP must secure at least 10 state permits and 11 federal permits – and if any one of those falls through, the project won't happen, she said.
"So we have a chance to push back on these permits. For every permit, there's a comment period, a challenge period… we'll be there, ready," Sutton said.
"Dominion and Duke both are guaranteed… 14 percent return on investment on any pipelines they build. That means that all of us that pay a Duke bill are paying for that 14 percent," Sutton said.
In an email to RockinghamNow, Duke Energy spokesperson Tammie McGee stressed that Duke Energy is not involved in the Mountain Valley Pipeline project. 
"We are neither an owner nor a customer of the project," McGee wrote.
She said Duke Environmental Law and Policy, and Southern Environmental Law Center, have separately hired consultants to look at the projected demand of natural fracked gas use in North Carolina over the next three decades.
"With that, they've seen the capacity just for the Transco line is higher than the projected demand for that 30 year period," Sutton said. "So to get this FERC public necessity permit, they have to prove this is a public necessity for all of us. If landowners and community members come out against it, and we show the capacity for the existing lines… that's a great argument."
But audience members cited several Rockingham County users of natural gas, including Belews Creek, City of Eden, Duke Energy and NTE Energy.
At this point, the proposed route ends near Graham – but MVP could easily add more compressor stations and more extensions, such as running a line west across Rockingham County toward Belews Creek, Sutton said.
"Once they're in state lines, and not crossing a state line, the process is a lot easier. So once they get into North Carolina, there are still a lot of permits to be approved, so it's not a done deal if they try to do an extension," she said. "But there's not as much scrutiny."
---
Corrections made within the article: Dominion is not involved with MVP as originally stated during the meeting. Dominion easements do not place responsibility for leaks on landowners. Duke Energy is not involved with MVP, as an owner or a customer.