REIDSVILLE — Courtland Park and the Reidsville Recreation Center received some love on Monday from over 50 local employees with Gilbarco Veeder-Root, participating in the company's third annual Day of Caring.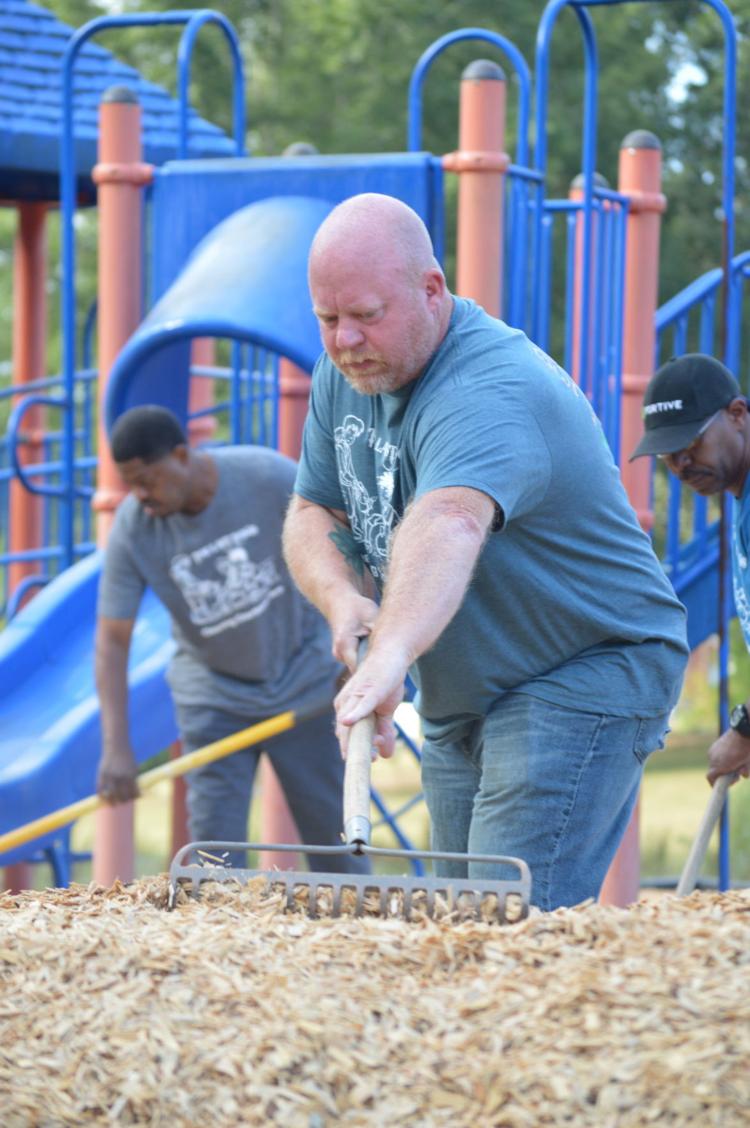 Teaming up with The Last Dons, a local non-profit dedicated to the betterment of the community, volunteers from the Greensboro-based facility worked to do general cleanup at the local park and place brand new mulch on the playgrounds at Courtland.
Volunteers also spent time cleaning equipment and beautifying the exterior of the Recreation Department facilities on Washington Street.
The group of 50 workers was part of more than 1,000 Gilbarco Veeder-Root employees who stepped away from their normal work duties Monday to volunteer to more than 15 projects across the Triad.
Every first Monday in October, the worldwide leader for retail and commercial fueling operations, as well parent company Fortive, give employees a day to volunteer as a team or community organization of their choice.
Throughout the day, triad employees contributed over 10,000 hours giving back to more than 15 projects.
Their efforts ranged from cleaning packs and recreational areas to providing supplies for churches and nursing homes, fighting homelessness, giving back to local emergency departments, helping local animal shelters and providing assistance for individuals impacted by natural disasters, according to a news release.
"It's really exciting to know that a company will take all their employees and give everyone a day to give back to the community and instill what it means to be a community and family," said Rockingham County team leader Zonie Armstrong, an occupational health nurse with Gilbarco Veeder-Root. "We are all over between Guilford County, Rockingham County and Forsyth County – giving back to the community."
Last Dons President Katrina Harrison, said it was a blessing to team up with Gilbarco Veeder-Root and provided the non-profit and extra opportunity to bridge the gap between Rockingham County and Guilford County.
The Courtland Park and Reidsville Recreation Department cleaning has special meaning for Harrison and her organization.
For five years, the Last Dons have provided school supplies for local school children prior to the start of the school year, thanks to community support.
The group, which gave away 1,400 backpacks in August, began holding its giveback event at Courtland Park several years ago.
The giveaway, held at Reidsville High School over the last two years, quickly grew into family fun day for local residents.
"The children that we serve, they often come to the recreation for sports and various things," said Harrison, who was grateful for the volunteers who dedicated their day to edify the Reidsville community. "... The park is certainly a matter of our heart, with our school supply giveaway, we've outgrown it, but we have adopted the street, so we want to continue to make sure it continues to look good for other organizations and other opportunities and activities that go on."
Reidsville Recreation Director Fred Thompson was all smiles Monday morning, as he shared his thankfulness for Gilbarco, The Last Dons and the individuals that dedicated their time to help out.
"Collaboration is a big thing around here and it just shows that they support the recreation department and the City of Reidsville," Thompson said. "They want to keep it clean, nice and read for kids to play. …These individuals here see what we're doing and see what we are trying to do for people. Not only do they give us manpower to do things, but this leads to getting financial support from businesses and the community to expand the opportunities we offer."