For two years, Frank Duncan climbed the stairs in his pack house-turned-studio, which stands tall at the big curve on Dodgetown Road in Stokes County, and worked on a painting that beckons the past.
He worked intermittently on this particular piece, putting it aside and focusing on other works, then pulling it back to his drafting table to dabble a bit more.
He finally finished it, a large painting that will undoubtedly bring knowing smiles when viewers suddenly recognize some of the faces peering back at them through the glass.
"[Stokes County Sheriff] Mike Marshall had come to me about three years ago to do a sheriff's print. He didn't tell me what the theme would be or anything," Duncan said.
Marshall did, however, request that the painting include himself and nearby sheriffs Sam Page of Rockingham County, Ricky Oliver of Yadkin County, and Graham Atkinson, now formerly of Surry County.
Duncan immediately knew what he wanted to paint.
"The moonshine theme seems to be fairly popular around here, as far as the, I don't know, romanticism of it," he said.
He pulled out a photograph from Kathy Dix, owner of the Just Plain Country Store in Walnut Cove. She's very familiar with Duncan and his works, many of which hang in her shop where their depictions of bygone ways of life fit in seamlessly with the antiques and collectibles that fill 14,000 square feet.
Dix had shown Duncan a photograph of her grandfather at a still bust in West Virginia in maybe the 1920s. He immediately asked if he could use it as the basis for a painting, to which she ecstatically agreed.
In the meantime, Marshall reached out to Page to ask if he'd be interested in participating. Page jumped on board right away.
"Over the past few years, sheriffs from around North Carolina have done some of these paintings. One that comes to mind is Sheriff Vernon, who did a few of those with local artist Mel Steele and were well received," Page said.
"A lot of the pictures are from the times in the olden days, surrounded by either some type of manhunt with the bloodhounds or with the liquor stills that used to be prevalent," he said. "Surry County did one of these portraits and it's down at the Sheriff's Association, and it has several sheriffs up on horses. So it's a return back to the olden days, as you kind of envision sheriffs from the western times."
While Page was not familiar with the Stokes County artist, when Marshall explained the plan, Page knew it would be along the same lines as Mel Steele's work.
"So I said sure, let's do something from the olden days, that puts us in a good light," Page said.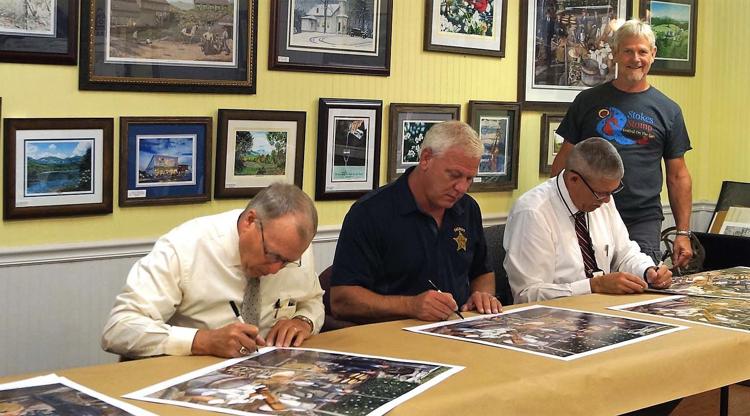 The painting features the four well-known sheriffs – and one more face no one in these parts will recognize. Squatting in the upper right corner of the painting is Dix's own grandfather.
Duncan calls the painting "Sheriffs Taking Care of Business."
His medium of choice was gouache, an opaque watercolor.
In general, he uses that or oil paints, depending on how he feels that particular day.
"Gouache gives you more detail," Duncan said. "The oil is more permanent… if you spilled water on an oil painting, it would be fine; if you did that on [gouache], it would ruin it."
He said the hardest part of this or any painting is putting that first mark on the paper.
"You have in your mind what you want to do… once you get started, it's not so bad," he said. "Even though you may have reference material, it's not complete. [Sometimes it's] messy and jumbled up, so you've got to eliminate stuff and add stuff… like the waterfall actually came from Hanging Rock. So planning is the hardest part."
He said people would be surprised how accurate a painting has to be – because they won't hesitate to mention if something doesn't look right – so it's always good to have a reference to go by.
As for the painting, the artist had 250 "signature prints" made, featuring the signatures of all four sheriffs. "These prints actually belong to the sheriffs," Duncan said. Each sheriff picked a local nonprofit to benefit from the proceeds of sales of the prints.
Sheriff Page will send his proceeds to Help, Inc., the Rockingham County organization that serves battered women. An arts council and a children's Christmas program will benefit from the sales in Stokes and Surry counties, while Yadkin County's recipient has not yet been determined.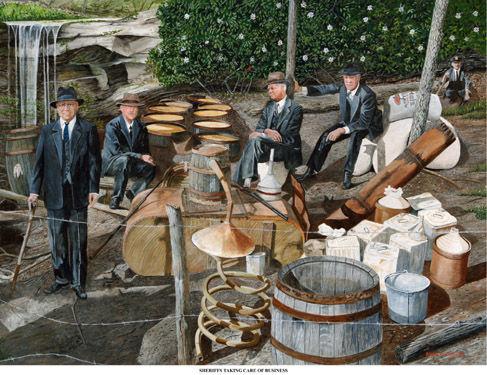 The sheriffs have all agreed to attend an event for the painting at the Stokes County Arts Council in Danbury, but no date has been set. Duncan said he's working on having prints available at the arts councils in all four counties. He'll have one on display at the Rockingham County Governmental Center in Wentworth.
There are two full-color editions of "Sheriffs Taking Care of Business," with 250 prints available of each.
The $65 regular limited edition contains just the artist's signature, with proceeds going straight to Duncan.
The $85 "Signature Edition" features Duncan's signature as well as the signatures of all four sheriffs. The first 70 sales will cover the cost of printing; everything after that goes to the nonprofits.
Every print comes in a sleeve with a black-and-white version of the painting printed in an oval on the front.
Anyone interested in a print can contact Duncan at 336-871-2921 or 336-971-1589.