Rockingham County students join National School Walkout
Students at every public high school in Rockingham County, including Reidsville, Rockingham County, Morehead, McMichael and Rockingham Early College high schools, joined the National School Walkout on April 20, the 19th anniversary of the Columbine High School Massacre. The walkouts served to bring awareness to gun violence at schools across the country. 
ROCKINGHAM COUNTY — As the 10 a.m. bell rang through Reidsville High School on Friday morning, students got up from their seats, gathered their belongings and marched out the doors.
On the 20 year anniversary of the Columbine Massacre, Reidsville High students poured out into the school's campus and made their way to the football fields wielding signs with now familiar declarations: enough is enough and never again.
That same morning, students were mobilizing at every other Rockingham County public high school and many others across the country as part of the National School Walkout.
Rockingham County High School junior and walkout organizer Skyler O'Neal told RockinghamNow, "I know that everyone came with different beliefs, so I don't want to advocate that everyone that came had a specific belief going into it, but I think the core message is that gun violence in America is a big problem and as a society we need to put aside our differences and get together regardless of political party or religion or any of our personal biases and create a solution that protects everyone."
According to McMichael High School junior and walkout organizer Brandon Cool, one part of that solution is gun control.
"A lot of people in this area think that gun control means, 'Oh, I'm going to take away all your guns,' but that's not what it means," Cool said. "It means that we want to make it harder for others to get guns. It shouldn't be easier to get a gun than it is to get your driver's license, and that's the point we're trying to really make." 
The calls for change, however, did not stop there.  
"There are tons of other things involved with the issue," Cool continued. "It's a multifaceted issue. There's mental health involved. There's a huge mental health crisis in the United States right now and there's a shortage, especially in our county, in Rockingham County, … of mental health funding."
Cool added that elementary schools in particular need to be safer, particularly in Rockingham County where two school resources cover six elementary schools.
At Reidsville High, student speakers called on their classmates to stop bullying and to get to know and build positive relationships with people outside of their usual social circles.
Reidsville High School senior and walkout organizer Joy Aikens also reminded her peers that students who will turn 18 before the November election can register to vote.
"The core message of the Reidsville walkout is that, together, the youth can make a change and that the youth are really the future," said Aikens. "We recognize the things that go on in the world and we still have a voice and we would like for our voices to be heard."
Overall, the bottom line was a call to end school shootings.
"We decided to participate in the walkout because we don't want to see it happen to us," said Morehead High School senior and walkout organizer Kennedy Cohen. "It could happen anywhere, so we want something to be done so it doesn't happen at our school." 
Each high school that participated, including Reidsville, Rockingham County, Morehead, McMichael and Rockingham Early College high schools, found its own way to convey its message.
Rockingham County High School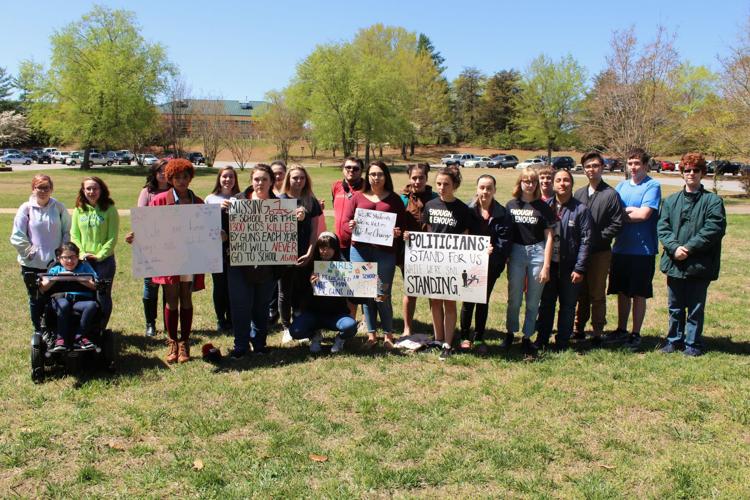 At Rockingham County High, students gathered at the flagpole in front of the school where a student read a speech and another read a poem, followed by a moment of silence.
"It was such an amazing feeling to know that all of our hard work went to good because we had a really great turnout and a lot more people showed up than I expected would," O'Neal said. "Everything went really peacefully and everyone was really respectful. I'm so proud of all of my peers for being so mature and standing up for this."
Principal Cecil Kemp estimated that about 50 students attended.
"I thought it was a positive experience for the kids," he said. "They learned about organization and getting involved in discourse. … The kids did an outstanding job, very orderly, did exactly what they said they were going to do." 
At Morehead, 50 to 60 students convened in the school's courtyard and stood in silence in memory of those who died in the Columbine Massacre before hearing a student speech and joining in a prayer.
"The speech actually went over a myriad of topics, anywhere from recognizing the Columbine victims that were killed… (to) the importance of school safety and that students should take school safety seriously," said Principal Al Royster Jr.
Royster added that he was pleasantly surprised that the speaker asked her peers to take drills seriously in case something ever does happen.
"It was a real positive speech, an uplifting speech," he said.
"I knew starting off with it that a lot of the students wouldn't be on board with it, but more than I thought did and that really shocked me, because when I finished my speech, so many people just started clapping for me and giving me hugs and was proud of me, and that just really made me feel good," Cohen said.
At McMichael, students met in the school's courtyard and stood by 17 empty chairs to represent the 17 people killed in the Feb. 14 Stoneman Douglas High School shooting. A victim's name was featured on a sign at each chair.
"I was actually the one that greeted everybody and told them what it was for … and stated the fact that 187,000 students have been affected by school shootings since Columbine and just spreading our awareness about that fact and how we as teenagers and students, we can change that," Cool said.
A student presented a message and another student sang John Lennon's song "Imagine." Students also signed a poster to show their support of the victims of the Parkland, Florida, shooting and all victims of gun violence.
"I'm really proud of what happened and I'm proud of my school," Cool said.
Principal Ashley Young estimated that about 80 students attended.
"I was really proud of the kids and the way they came together," Young said. "I just felt like they did a really good job of honoring students that were victims of school violence. … It was very well organized by them, so I was proud of our students."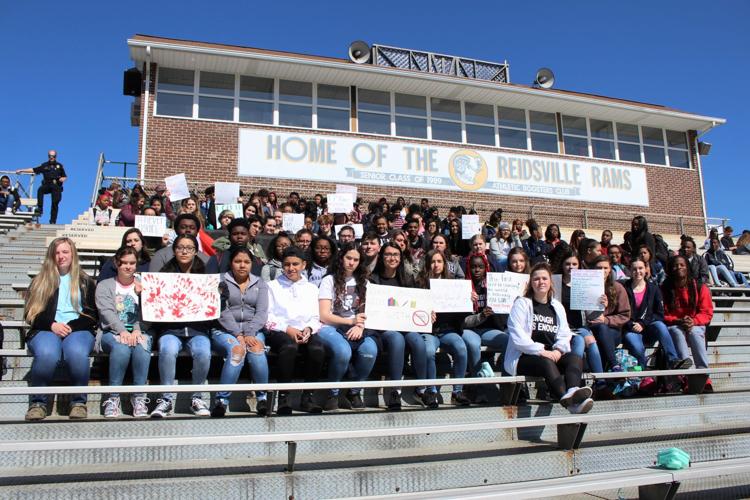 At Reidsville High, students pooled in front of the school's business building before marching to the football field. There, they gave speeches, held a moment of silence and took the opportunity to befriend someone new to spread positivity.
"I feel like today was a huge success," Aikens said. "I hope that we can do things in the future to even further the cause of today. One protest isn't enough. We have to keep fighting the good fight and make our voices heard, talking to elected officials."
Principal Ann Mitchell estimated that over 100 students came out.
Following the walkout's permitted 30 minutes, a group of Reidsville students refused to return to class. Instead of taking disciplinary action, Mitchell invited them to become peer leaders.
"Since they were very adamant about staying outside and adamant about standing for a cause, I've asked them to be peer leaders and to help us with posting positive comments on social media," Mitchell said. "We talked about some things, how they could be peer leaders and how they could help some of the students who are underrepresented."
Rockingham Early College High School
At RECHS, 40 to 50 students laid 17 flowers at the flag pole, read poetry and held a student-led prayer and moment of silence, according to Principal Kimberly Money.
"The group of students that organized it was very responsible, and all of our students who participated were also just very responsible and respectful, so it turned out to be a very positive act," Money said.
The seeds of the countywide student-led walkout were first sown by students at Rockingham County High.
According to O'Neal, a friend posted about the walkout on Twitter, which inspired a friend from Reidsville High to organize a walkout at her school as well.
"Then, from there, other schools in the county saw what we were doing and other people at those schools stepped up and said, 'Hey, I want to start this at my school too,' so everyone just jumped in, and it was amazing honestly," O'Neal said.
As the students organized the walks at their own schools, they also communicated with one another.
"We all planned to do it together, because we thought that would bring a better impact to see that we are speaking out about it, and something needs to be done," Cohen said.
Throughout the planning process, students at each high school spread the word to their peers and met with their school's administration as well as the Rockingham County Schools superintendent to make sure the walkout happened safely.
Each school permitted the walkout for a specific stretch of time, the longest of which was about 30 minutes, and no disciplinary action was taken against any of the students involved in the walkout, according to each high school's principal.
"I hope that people see what we're doing, and they see that every single person that participates comes from a different background and different life experiences but we can all come together and agree that there needs to be some positive change, and that has to start with us," O'Neal said.