MADISON — Allison Rakes spent her summer along Bailey Road pedaling hard toward her future.
"I started off walking every day, then biking every day, then jogging up the hill every day,'' said Rakes, who trained in high summer seat to earn eligibility for a June junior basic training camp.
The camp would be a stepping stone to her future in the Air Force.
Allison had struggled the year before, unable to run a 10-minute mile — the benchmark for entry to the Cadet Officer Leadership School at Fayetteville State University next to Fort Bragg Army Base.
"It felt so good to finally make my run times,'' she said of this summer's successful clock-in, right at 10 minutes. "And it felt so good to actually succeed. The exercise made me feel a lot better, too.''
The 17-year-old McMichael High School senior wasn't always as keen on a military track, she said.
"My grandma kind of made me join ROTC my freshman year, and I didn't really like it at first,'' Allison said of Teresa Rakes, the grandmother who raised her.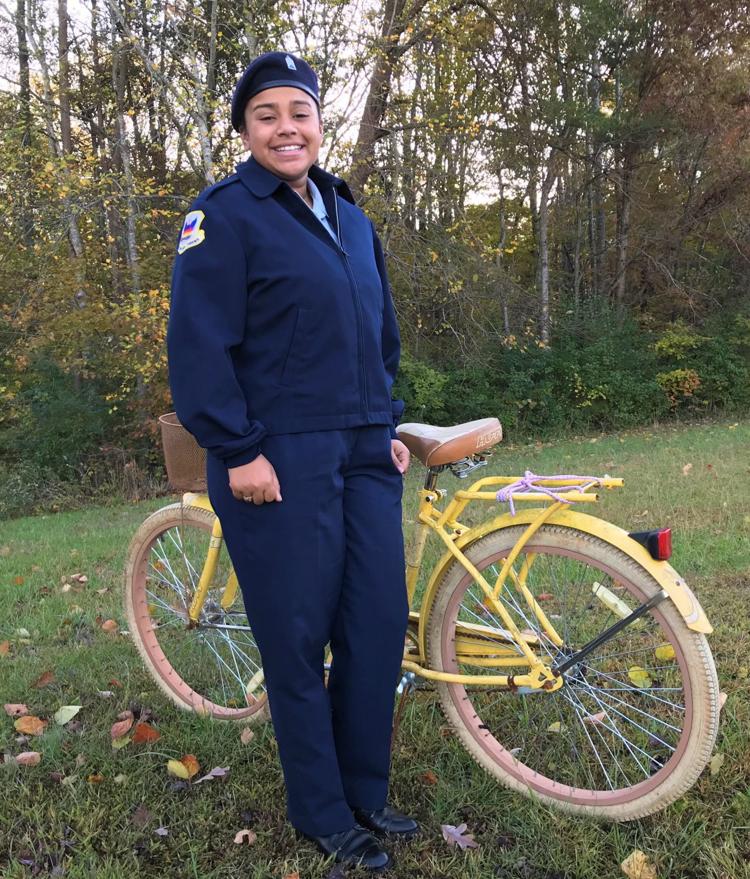 "But during my second semester, I got to know all of the people, we took field trips together, and it began to feel like a family,'' Allison said of McMichael's Air Force Junior ROTC program, home to unit NC-953.
And just this week, Allison met with a regional Air Force recruiter to discuss her plans to sign up for basic training after her high school graduation in June.
An honor guard captain for her AFJROTC unit, Allison reflected this week on her veteran relatives and their commitment to country.
"My great-uncle and my grandpa were Vietnam veterans, and I know veteran Johnny Vaughn real well and he helps me out. He is the one who taught me to salute.''
Vaughn of Madison, who was wounded while serving in the Army in Vietnam, is a dedicated booster to Allison's ROTC activities, attending most of her events and taking part in the squadron's veteran's functions.
"He's at all my ROTC stuff, and he tells me all about the war,'' said Allison, home on a recent evening after making model rockets in her AFJROTC aeronautics class.
"I've tried to give her a little guidance,'' said Vaughn, a Ranger team leader and platoon sergeant in Vietnam who spent three years hospitalized after being shot in the line of duty.
"She adopted me as a step-grandpa, and I think she does real great. She's confident, carries herself well and she's confident and somebody who could be a good leader,'' Vaughn said.
Her late granddad, Ronald Rakes, and great-uncle Donald Tilley of Rockingham County, are also Army veterans who shaped Allison's understanding of sacrifice through service, she said.
"When I see a veteran, I say, 'Thank you for your service' or nod my head to them because these guys fought for our country and they should be respected,'' said Allison, who serves as deputy commander for unit.
And through AFJROTC, Allison and her fellow cadets regularly honor veteran with special breakfasts, color guard ceremonies and visits to their bedsides at area nursing homes.
Veterans need "support and acknowledgement and somebody to go talk to them because they like to share. And they have so much to tell us, and they like to tell their war stories,'' Allison said.
"What we do is give them our ears. We listen to them,'' she said, recalling a time when a fellow cadet spoke with a Navy veteran for three hours.
"When he told her he was glad to have the privilege to speak with her, it meant a lot to her … it made her cry,'' said Allison, who will led her unit in a special Veteran's Day color guard ceremony at Rockingham County Middle School.
Exposure to veterans and the character lessons of AFJROTC are important, Allison explains.
The school's military program, led by Maj. Andrew Mercer, "make us better citizens, better people, makes us polite and teaches us how to communicate with people,'' said Allison, who learned this year to fashion harnesses from ropes and scale rope scaffold from tree to tree.
Wearing a uniform also reinforces those values, Allison said.
"I'm deputy commander, and when I'm in uniform and I tell them to do something, they snap to,'' she said with a chuckle, adding, "I try to be extra nice to the freshmen so they're not afraid of me."
Mostly, a uniform is a formal way to display pride and purpose, the senior said.
"A uniform gives you a sense of your importance and shows that the role means something and that you are striving to be the best of the best.''