HIGH POINT — At least a dozen Guilford County schools have too many students for the available building space.
For another dozen schools, the opposite is true, according to 2013-14 calculations.
Some schools have mobile classrooms to help ease crowding. Others don't have enough land for mobile classrooms. Those schools rely on building additions or renovations to help ease crowding.
But Guilford County Schools has extensive infrastructure needs and limited construction money, so school officials have to prioritize those projects. That adds to the frustration of the students and staff members stuck at crowded schools.
Take High Point Central High, for example, where 1,447 students attend classes in facilities intended for 1,385. Some Central classes spill over into the Tomlinson building, which also houses the Academy at Central, a separate school.
Almost 11 months ago, the Guilford County Board of Education voted to buy the old Immaculate Heart of Mary Catholic School with the intention of making it the Academy at Central's new home. They also voted to name the building in honor of longtime education advocate and former school board member Dot Kearns.
The Barbee Avenue building remains empty.
The school system still doesn't have the money needed for renovations ­— estimated to cost up to $8.75 million. Some people, including board member Ed Price, have questioned that cost estimate.
It's difficult to have to share a campus with Central, Havlyn Ratchford, a sophomore at the academy, told the school board at a meeting last month.
"It can be loud at times," Ratchford said.
It's also difficult to find space for assemblies or other activities, she said.
Officials said there's no quick fix for crowding.
Even adding mobile classrooms comes with a cost. Plumbing, power and fire alarm systems have to be connected, said Julius Monk, the school system's facilities director. In some cases, fire hydrants also need to be connected, he said.
Those classrooms could cost between $50,000 and more than $200,000, depending on size, number and location, Monk said.
The money for those classrooms comes out of the same pot used for other needs, such as roof repairs or replacements and heating and cooling for Guilford's 127 schools. This year, Guilford has about $3.8 million for capital outlay — emergency and preventative building maintenance needs.
When trying to accommodate enrollment growth in certain areas, officials first look for ways to make better use of existing space, Monk said.
"You have to be very cautious and really strategic about how you spend" those funds, he said.
Despite gaps in school utilization rates — the number of enrolled students compared with program capacity — Guilford officials are not entertaining the idea of redrawing attendance zones. The last time that happened was in 2003, to create better socioeconomic balance in the High Point-area schools. The board ditched the controversial High Point choice plan after less than two years.
Board members and school officials discussed the utilization rates at a fall retreat in 2013 but didn't take any action. They haven't discussed the issue again.
Bluford Elementary represents the most extreme example of underutlization. Estimates for 2013-14 put the school's total program capacity at 404. But 285 students attend the school.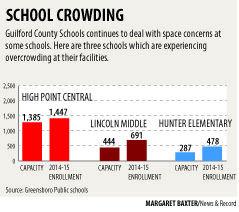 The opposite extreme includes Hunter Elementary and Lincoln Middle School, where the utilization rates are around 170 percent.
And at Page High, more than 2,000 students go to school in a building with a capacity for about 1,400.
Page needs a lot of building upgrades, particularly to meet academic program needs, Monk said. The upgrades would deal with such issues as the size, number and types of classrooms. The cafeteria dining area is too small, so lunch periods start early at Page to accommodate the students, Monk said.
"That's not maximizing instructional time as well as we like," he said.
Students aren't learning if they're in line for lunch a long time.
Parents at Central also have complained about the size of their cafeteria, which is shared with the Academy at Central. That means officials have to cram lunch periods for both schools into a narrow window of time. It also limits the amount of time that students have to sit and eat before returning to class.
The Central cafeteria seats about 360 students at a time, Principal Bob Christina said. The space and time crunches mean the more than 1,400 students have to get food, eat and get back to class within about two hours. That's part of the reason why juniors and seniors are allowed to go off campus for lunch.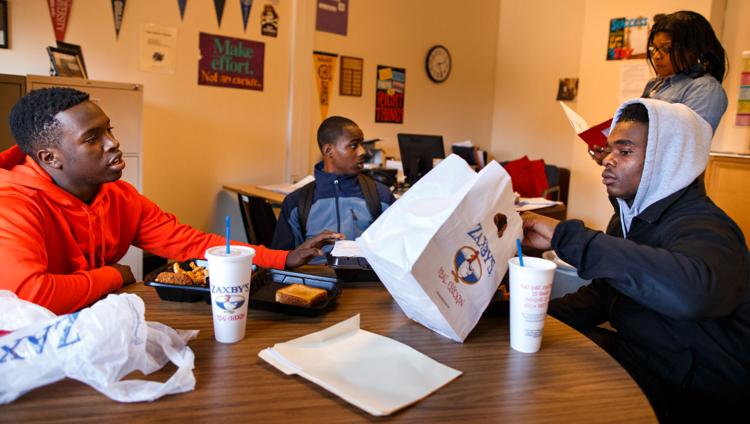 A new cafeteria that's in the works for Central would seat about 650 students, Christina said.
Central is also scheduled to get a new media center, one of nine priority construction projects for the school system. The work was approved last year, but hasn't been bid yet.
Some people argue that what Central needs, maybe more than a new cafeteria or media center, is additional classroom space.
That may happen, Christina said. Central has areas with clusters of lockers, which students don't use, he said. Those spaces could be converted to classrooms and worked into the other projects already approved for Central.
For now, though, the dearth of classroom space is putting a strain on teachers as well as students.
About 25 of Central's 90 teachers "float." They don't have an assigned classroom.
Each day, they lug their personal belongings and instructional materials — in some cases that includes carts loaded with laptop computers — up and down flights of stairs or across a campus with a building area of more than 224,000 square feet.
The situation also affects the 20 or so teachers who have to share their classrooms. They lose space to work in between classes, when they typically prepare for upcoming classes, grade papers or even call parents.
Each morning, floating teacher Ana Falcon signs into the main office at Central. From there she crosses parking lots and heads to the Tomlinson building for classes.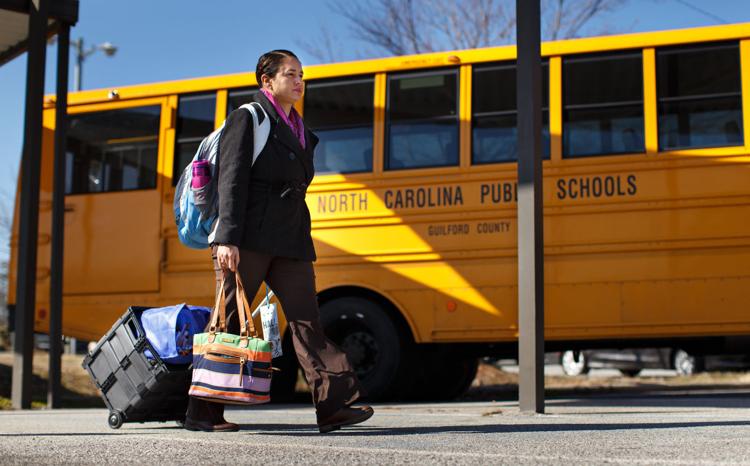 Falcon typically carries her lunch, a book bag and a laptop in a wheeled cart. She can't rely on having access to a teacher's computer in the classrooms she uses. She also can't rely on a teacher having the other office supplies she might need, such as a stapler or paper clips, so she carries those, too.
Falcon teaches different levels of Spanish, so she carries newspapers, magazines, whatever else her students might need.
It also can be difficult to reach floating teachers on the campus during the school day — something Falcon said she learned when one of her children was sick. Officials from his school couldn't immediately reach her.
"By the time I leave work, I should not be so exhausted that I cannot continue with my normal life," Falcon said. "This job is so difficult, and they are only making it harder."
"They," she said, refers to whoever is responsible for getting needed resources to schools.
"Thank God that they have me and I'm only 28 years old," Falcon said. "What 40-year-old or 50-year-old or 60-year-old would do this?
High Point Central isn't the worst example of crowding in Guilford County Schools.
But students, teachers and parents there have been particularly vocal. Just last month, some complained to the school board about the lack of progress with moving the academy and easing the crowding at Central.
The status quo for Central and the academy is fueling frustrations of some students, parents and teachers longing for more space for teaching and learning. When will the new school building open? When will the renovations begin? What's the timeline for completing the project?
"We would really like a timeline of when we can expect the renovations to happen at the (old Catholic school) building," Debbie Maines, a co-president of the High Point Central PTSA, told school board members at the February meeting.
Parents were told those renovations cannot happen until the completion of other priority projects paid for with money from a 2008 bond measure approved by voters.
But, Maines said, many parents "have been frustrated with the lack of progress for over the last 12 months and the lack of care being given to the academy's property."
Moving forward with the renovations would give the academy much-needed space and a unique identity as The Kearns Academy, sophomore Zamari Banks said. For now, she said, it's seen as part of Central.
"The Academy at Central is truly a small school where big dreams happen," Banks said. "But I feel as though we can be so much more."