GREENSBORO — Ground zero in the fight against infant deaths in Guilford County is an office piled with reports and baby posters plastered over the walls.
While the number of babies dying before their first birthday has decreased here and across the nation, Guilford still has one of the highest infant mortality rates in the state.
The death rate dropped from 9.8% for every 1,000 live births in 2017 to 8.5% in Guilford County in 2018. Still, it's higher than the state average (6.8%), as well as other large, urban counties: Wake (5.3%), Mecklenburg (5.1%) and Forsyth (8.3%).
"We have a lot of work ahead," said Jean Workman, coordinator of the decades-old Guilford Coalition on Infant Mortality.
As troubling to local health officials are the statistics for black infants. Babies born to college-educated African American women, for example, are less likely to reach their first birthday than the babies of white women with only some high school education. It's a long-standing health concern across the country.
"When you separate it out by race there is still a big gap," said Whitney Tuck, research director at the Raleigh-based NC Child: The Voice for North Carolina's Children.
"Same as the '90s," she added.
In 2018, the latest year data are available, 12 out of 1,000 black infants died compared to 5 out of 1,000 white infants in North Carolina, Workman said.
"It crosses social, economic — every possible line," said Workman, whose coalition is a public/private nonprofit with financial supporters including Cone Health Foundation and the Guilford County Partnership for Children/Smart Start.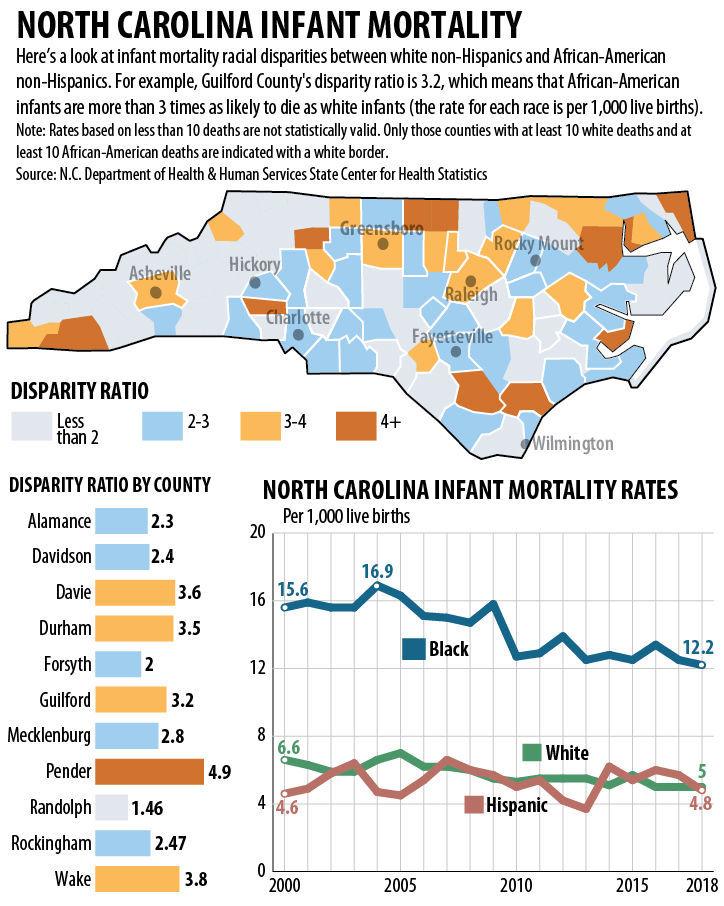 The coalition has found success working one-on-one with moms in its signature Adopt-A-Mom program, which focuses its efforts on prenatal care, which is a direct indicator of a healthy pregnancy.
The program has helped thousands of moms-to-be who do not qualify for Medicaid, are uninsured or cannot pay out of pocket, with accessing prenatal care through local practices. Many of the mothers are undocumented.
Yet, more than 100 mothers show up in the emergency room each year to deliver babies without having any prenatal care.
When Greensboro resident Erica Burns found out she was pregnant, someone told her about the coalition's Adopt-A-Mom program.
"At that moment, I was like, thank God," Burns said of getting on the phone right away. "I was like please let this be an actual option."
Through the agreement, participating medical practices charge $400 per patient rather than the typical $3,100. The families still have to pay for ultrasounds and lab fees, although the program has negotiated lower rates with the labs.
According to health officials, women who do not receive prenatal care are nearly three times more likely than women who get such care to have a low-birth-weight baby, the leading contributor to infant mortality. Such babies, who weigh 5.5 pounds or less, often have organs that are not fully developed.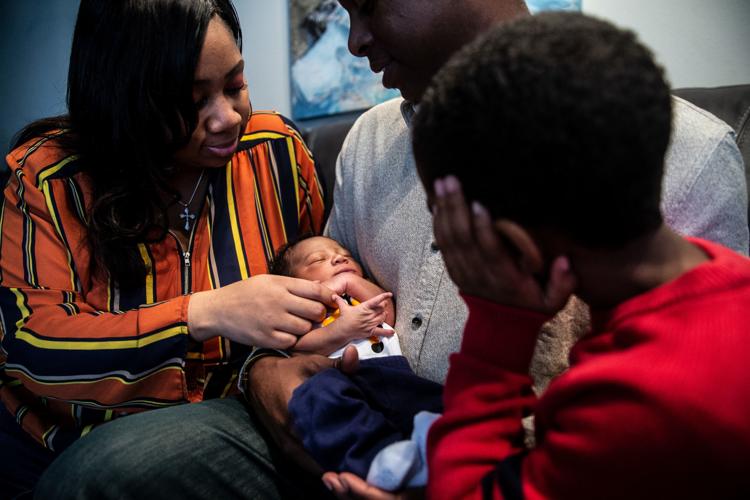 Burns, who is African-American, and her husband, Avery started looking for options as soon as she found out she was pregnant. They have an older son but she qualified for pregnancy Medicaid at the time, which is based on income. Her family's situation had changed over the years, but like many people, she was uninsured.
"I have a really good job but it's a small company and they don't offer any benefits," Burns said of not having health care despite holding a full-time job. "At the time my husband was just starting his new job, so he didn't qualify for benefits."
Burns said she knew how important it was to know what was going on with the baby growing inside of her.
"I think sometimes people don't realize how quickly things can change with your pregnancy or how things can be going on that you are not aware of that can affect you and the baby," she said.
Burns said she felt comfortable with the doctor participating in the program, who wanted her to ask questions if she had them. He also made everything easy to understand, she said. She didn't consider it cut-rate health care, she said, because it wasn't.
"He was excellent," Burns said.
Burns said the program did what it was intended to do.
"They don't cover everything and we have to pay fees out of pocket, but it was a relief to know my prenatal care was going to be taken care of," she said.
Workman says the program is directly tied to the county's long-term drop in the infant mortality rate.
But more must be done, she said. That includes efforts to increase access to health care, such as Medicaid expansion providing insurance to more of the state's uninsured.
There are studies on a range of other issues tied to infant mortality, she said. Health educators have a term — "toxic stress," according to Tuck — that can affect infant mortality, from poverty and a lack of paid family leave, to racism.
Workman said there are other specific things that the group is working on with its partners to address those issues.
For example, of the 62 infant deaths recorded in Guilford County in 2017, nine were tied to infants sharing a bed with an adult.
"Unsafe sleep is completely preventable and that number could have been reduced by nine," Workman said.
She said that the community conversation has to center on a number of issues, from food deserts to making sure women are OK after the baby has been born.
The community should care, said Leandra Vernon, the Adopt-A-Mom patient coordinator, because it impacts health care costs, children arriving at school ready to learn, even potential employers deciding to move their businesses here.
"It affects all of us," Vernon said. "It's a reflection of who we are."