Greensboro and Guilford County are among a dozen local governments in the Piedmont Triad with millions of dollars riding on a massive federal lawsuit against the makers and distributors of prescription opioids that helped trigger the region's ongoing drug crisis.
Recently released data in the case underway in the U.S. District Court for Northern Ohio provides unique insight into the corporate forces behind the Triad's slice of this continuing, national tragedy that has shattered individual lives as it tore apart families, neighborhoods and entire communities.
The local lawsuits are among those brought by about 2,000 counties, cities and other types of local government claiming that major pharmaceutical companies caused the epidemic through unethical and fallacious marketing techniques that functioned like an organized criminal enterprise.
Lawyers for the combined local governments made news last week by approving a tentative, partial settlement for as much as $12 billion in damages with one of the defendants, Purdue Pharma, the company known for development of the ground-breaking extended release opioid OxyContin in the 1990s.
Purdue is just one of many defendants in the lawsuit, including several that recently reached proposed settlements with counties scheduled as the first to go to trial next month.
The local lawsuits allege that Purdue and other major pharmaceutical companies aimed to boost profits by persuading physicians that these highly addictive, narcotic painkillers were much safer and more effective than is true.
"Opioids are now the most prescribed class of drugs," Greensboro and Guilford County assert in separate, but similar complaints. "This epidemic has resulted in a flood of prescription opioids for illicit use or sale ... and a population of patients physically and psychologically dependent on them."
Five core Triad counties — Guilford, Forsyth, Rockingham, Randolph and Alamance — have joined Greensboro and Winston-Salem in filing separate lawsuits in the U.S. District Court for the Middle District of North Carolina.
The Greensboro City Council, Guilford County Board of Commissioners and other local governments voted separately last year to join the lawsuit being waged by a large legal team that includes dozens of lawyers in private practice as well as government attorneys.
Other local governments in the Piedmont Triad that are part of the nationwide lawsuit include Caswell, Davie, Stokes, Surry and Yadkin counties.
Federal judges in the Middle District transferred the lawsuits to the so-called "multidistrict litigation" playing out now in the Ohio district — where participants are seeking a nationwide settlement that, if successful, would be in the billions of dollars.
They established a "negotiating class" of communities damaged by the pharmaceutical companies with the goal of a settlement that ultimately would divide the proceeds among every county, city and town from coast to coast.
Data released recently in the Ohio lawsuit from the federal Drug Enforcement Administration presents a nationwide, community-by-community sketch of the tragedy's gathering storm clouds. It shows that during the critical period 2006 through 2012, as addiction to prescription opioids skyrocketed across the region and nation:
• Three pharmaceutical manufacturers — Mallinckrodt LLC subsidiary SpecGx, Actavis Pharma, and Par Pharmaceuticals — were the Triad's major suppliers of opioid painkillers oxycodone and hydrocodone. They made and marketed more than 275 million pills dispensed during that period in Guilford, Forsyth, Rockingam, Randolph and Alamance counties alone.
Mallinckrodt operates a large drug manufacturing plant in Raleigh, but that facility makes the fever and pain reliever acetaminophen and a related product, not opioids.
New York-based Par and its parent company, Endo International, had a manufacturing plant with about 400 employees in Charlotte that it sold several years ago.
One of Actavis' two major manufacturing plants was located in Lincolnton, northwest of Charlotte, until mid-2014 when that facility also was sold. Actavis made the brand-name opioid Kadian and related generic preparations.
• Cardinal Health, a drug wholesaler with a major Greensboro facility, was among the top distributors of prescription opioids during the DEA data's seven-year window through December 2012.
The lawsuits emphasize that period because it represents the years leading up to prescription opioids' peak distribution, after which regulators and medical professionals began reining in the excesses.
Cardinal Health and other distributors occupy the middle ground between manufacturers and the retail pharmacies or medical centers that dispense prescription drugs to patients. They have a legal duty to monitor the flow of opioids and other controlled substances, then alert authorities to any suspicious activity.
The lawsuits by Greensboro, Guilford and others charge that Cardinal Health, North Carolina Mutual Wholesale Drug Co. and the other major distributors were negligent by willfully turning a blind eye to suspiciously large shipments of addictive painkillers being sent to pharmacies throughout the region.
"A Cardinal Health executive claimed that it uses 'advanced analytics' to monitor its supply chain, and represented that it was being 'as effective and efficient as possible in constantly monitoring, identifying, and eliminating any outside criminal activity,' " the local governments assert in their complaints.
"Given the sales volumes and the company's history of violations, this executive was either not telling the truth, or, if Cardinal Health had such a system, it ignored the results," they assert in their pleading.
The DEA data also detail the number of opioid pills shipped to every retail pharmacy nationwide, displaying wide differences in the volume of opioids dispensed between Triad drug stores serving the same or similar communities.
The lawsuits do not seek damages from pharmacies at the local level partly because it is more difficult and time consuming to prove a pattern of misbehavior at that level.
But the plaintiffs argue that from their perch atop the multibillion dollar pharmaceutical industry, manufacturers and distributors had a singular vantage point to spot so-called "pill mills" and other outlets that trafficked in suspiciously high numbers of pills.
Captains of pill manufacturing and distribution should have known reforms were needed just judging by increases in sheer numbers of opioids they were making and delivering, by the industry's own research raising safety questions and by the mounting death toll, the city and county lawsuits contend.
If the consolidated city-county lawsuit ends in a negotiated lump-sum payment, experts say the massive legal action in Northern Ohio could eclipse the 1998 tobacco settlement.
That landmark event two decades ago — involving the former, Greensboro-based Lorillard Tobacco — has funneled more than $162 billion from the nation's major cigarette makers to North Carolina, 45 other participating states, the District of Columbia, and five U.S. territories.
That conceivably could be eclipsed by the opioid lawsuit if a universal settlement is struck and accepted by the great majority of cities and other local governments.
"It's the biggest civil litigation in American history," Greensboro lawyer Don Vaughan said of the consolidated case. "It's one of the most unique cases in history."
Vaughan is part of the legal team that represents Greensboro, Guilford County and other local governments across the region in the opioid lawsuit.
It's not clear how an across-the-board settlement might be structured. But members of the legal team pressing the consolidated lawsuit have published an admittedly hypothetical calculation that suggests local governments in Guilford County could receive a total of $1 million for every $1 billion secured in a potential settlement.
Vaughan said the legal team's so-called "allocation map" was a rough, theoretical yardstick to give participating local governments a sense of how a settlement might be divided among the plaintiffs.
The allocation map suggests that for every $1 billion accrued in a hypothetical settlement, communities in Forsyth County would net a total just less than $870,000; Randolph, $371,825; Rockingham, $328,560; and Alamance, $239,000.
Local governments also could draw from $150 million of each $1 billion set aside in a "special needs fund" for extra costs, such as those a county might face if it operated a treatment center serving a much larger metropolitan area.
But it's complicated, as the recent Purdue revelations illustrate: A finalized $12 billion settlement with that corporate behemoth would not mean $12 million to Guilford County residents.
That's because Purdue has offered the settlement money to end all opioid lawsuits against it, not just the federal case involving more than 2,000 local governments in Ohio.
And there are more than 40 other lawsuits or investigations making their way through North Carolina's and other state court systems.
So if the Purdue settlement ultimately goes through, Guilford would not be in line for $12 million, but an unknown lesser amount based on whatever percentage of the overall settlement money was reserved for the city-county lawsuit in Ohio.
Of course, Purdue is just one of many corporate entities named in the various opioid lawsuits. Pharmaceutical giant Johnson & Johnson recently lost another lawsuit in Oklahoma state court where that state was awarded $572 million in opioid damages.
Guilford County Attorney Mark Payne shares Vaughan's cautious view of predictions about how much a settlement in the Ohio case might mean for the local bottom line.
Payne said that while settlement talks are promising, it is almost certain that negotiations would lead to a different formula for dividing money among the various cities and counties than whatever anyone predicts in advance.
Payne and other Guilford County officials are putting together a comprehensive list of all the costs the opioid epidemic has inflicted on county taxpayers to submit as part of the lawsuit.
Payne said that few, if any, county departments have not sustained some costs, starting with Guilford Emergency Services and the sheriff's office that respond to overdoses and other trouble caused by opioid abuse.
The list also would include such costs as a yet-to-be-determined share of the $20 million, mental-health crisis facility that Guilford is building in part to treat people in thrall to opioid abuse, he said.
Any settlement also would have to consider support for the county's GCSTOP program that helps people to avoid overdosing if they are still hooked on opioids and to recover from addiction once they have made the decision to quit.
Payne said the program has been paid for with grant money since its inception last year, but that level of outside support could not be guaranteed in years to come.
"There are so many things the county does that are impacted in some way by opioid addiction," Payne said.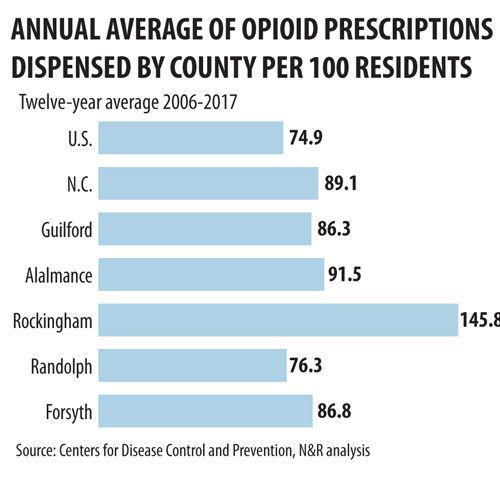 The DEA data recently released in the consolidated lawsuit in Ohio rearranged the general public's understanding of the opioid crisis and the major corporations that most heavily fueled it.
Many critics had assumed Purdue was a big-time leader among opioid manufacturers because of the perceived prominence of its OxyContin brand.
That viewpoint also stemmed partly from the confidential nature of the DEA database, which chronicles what happens to every opioid-based pill from its manufacture through the distributor's hands to the individual, retail pharmacy.
Then a federal judge in the Ohio case lifted the veil of secrecy from the DEA files covering the critical 2006-2012 period, approving a request by The Washington Post and Charleston Gazette-Mail in West Virginia, one of the states hardest hit by opioids abuse.
Mallinckrodt turned out to be the big dog among opioid manufacturers nationwide, as well as across both North Carolina and the Piedmont region. The company supplied more than 1.2 billion opioid pills to North Carolina distributors during the critical seven-year period tracked by the recently released data.
Pharmacies in the five Triad counties received 116 million pills made by Mallinckrodt, just less than 10% of the company's statewide totals.
By comparison, Purdue Pharma ranked fifth across the region, producing a total of just more than 11 million pills distributed among the five Triad counties.
Lawsuits filed by Guilford County and Greensboro rebuke Mallinckrodt for not meeting "its obligations to detect and notify DEA of suspicious orders of controlled substances such as oxycodone, the abuse of which is part of the current opioid epidemic."
"These suspicious order- monitoring requirements exist to prevent excessive sales of controlled substances, like oxycodone," the plaintiffs allege. "Mallinckrodt's actions and omissions formed a link in the chain of supply that resulted in millions of oxycodone pills being sold on the street."
Several years ago, the company — headquartered in the United Kingdom with U.S. corporate offices in St. Louis — faced the prospect of a federal lawsuit based on its alleged negligence, a case that ended in 2017 with the company paying a $35 million settlement before the DEA took legal action.
Government investigators working on the case said they could have fined the company up to $2.3 billion based on 222,107 "excessive" orders the company sent to Florida that should have been reported as suspicious, according to published reports at the time.
Mallinckrodt responded to a News & Record inquiry last month by suggesting that local governments pressing the lawsuits are behaving badly.
"Mallinckrodt will vigorously defend itself against these lawsuits that look to sensationalize and exploit a public health crisis for money," said Daniel Yunger, a spokesman for the company. "We have, for years, been at the forefront of preventing prescription drug diversion and abuse."
He said the company has "a proud history of helping those who are suffering from pain."
"The company has been a responsible manufacturer of opioid products for decades and our products are relied on by millions of Americans who, in turn, are able to live fulfilling lives," he said, noting that federal authorities tightly control how many opioid pills the company can produce each year.
But Mallinckrodt's legal team might not be looking for a fight. Earlier this month, the company announced it had reached a preliminary settlement with two counties in Ohio that were among the lead plaintiffs in the consolidated city-county lawsuit.
Under the terms of what it described as "a settlement in principle," the company agreed to pay Ohio's Cuyahoga and Summit counties a total of $24 million in cash and provide an additional $6 million in drugs that include those used to treat addictions.
The two Ohio counties were among the first plaintiffs in the multi-district lawsuit scheduled for trial with jury selection just around the corner in October.
The parent companies of the other two major suppliers of opioids in the Triad, Par and Actavis, also agreed respectively to settlements with the Ohio counties of $10 million and $5 million.
In North Carolina, the state Department of Justice also filed suit against Purdue Pharma last year for its alleged opioid misdeeds.
The Raleigh-based agency also has said it is investigating other pharmaceutical manufacturers and distributors in cooperation with about 40 other states, a target list that includes Cardinal Health, the parent companies of both Par and Actavis, and several others.
Given the new DEA data, Mallinckrodt has been conspicuously absent from that list. But the department is not ignoring it, said agency spokeswoman Laura Brewer.
"Attorney General Stein is playing a lead role in a multi-state investigation into Mallinckrodt," she said, referring to North Carolina Attorney General Josh Stein, who heads the department.
Stein has taken a hard-line position on Purdue's recent settlement offer worth up to $12 billion in the Ohio federal case and the other state cases.
He was among attorneys general from a number of states that rejected the company's proposed settlement offer, saying in published reports that it was too lenient for the company's role in "the trail of death and destruction the opioid epidemic has left in its wake."
Among distributors nationwide, Cardinal Health was the third largest provider of prescription opioids, delivering about 11 billion oxycodone and hydrocodone pills during the seven years tracked by the DEA's recently disclosed data.
Headquartered in Dublin, Ohio, the company was the No. 1 supplier of opioid pills across North Carolina, Guilford, Forsyth and Alamance counties. In North Carolina, it distributed more than 542 million oxycodone and hydrocodone pills.
While the lawsuits do not claim Cardinal Health's local facility ran afoul of regulators, they document serious infractions at Cardinal Health distribution centers in six other states. The company paid a $44 million fine three years ago for such failures involving its Lakeland, Fla., distribution center, the lawsuits allege.
Cardinal Health did not respond directly to a request for comment from the N&R, instead referring the inquiry to an industry association, the Healthcare Distribution Alliance.
"Distributors do not conduct research, manufacture, market or prescribe medications, nor do they influence prescribing patterns, the demand for specific products or patient-benefit designs," said John Parker, HDA senior vice president of communications.
"The idea that distributors are responsible for the number of opioid prescriptions written defies common sense and lacks understanding of how the pharmaceutical supply chain actually works and is regulated," Parker added.
Problems with prescription opioid pills have slackened in recent years as heightened DEA scrutiny and changes in law made it more difficult to acquire excessive quantities of pills. Physicians have grown more stringent about the numbers of pills they prescribe.
Experts say these changes led to a counter-intuitive outcome: The number of prescribed opioid pills being abused is going down, but overdoses have skyrocketed in Guilford and many other areas.
It turns out that as legitimate sources dried up, the void was filled by street dealers pushing heroin — a natural opioid — often laced with synthetic fentanyl that is up to 100 times more potent than morphine. Legitimate medical practices use fentanyl to treat severe pain typically associated with late-stage cancer.
But people who became addicted during the epidemic of over-prescribed opioids are now buying what they need illegally and overdosing on these illegal concoctions, say those on the front lines of battling the dilemma.
Guilford Emergency Services Director Jim Albright said that nowadays county EMTs respond to many more overdoses caused by street drugs than by prescription pills.
"As prescription narcotics became more difficult to obtain — legally, diverted and illegally — the growth of the illicit market flourished," Albright said. "Overdoses continue to increase, and they are rarely prescription at this point. Almost all are illicit heroin and fentanyl."
This year through July, Guilford County hospitals dealt with 193 "opioid overdose emergency department visits" from stricken patients compared with 177 during the same period in 2018, according to the state Department of Health and Human Services.
Roughly 100 people have died in Guilford County from opioid-related overdoses during each of the last two years, state and county officials estimate.
Guilford EMS is on target to hit 1,000 ambulance responses to suspected opioid-overdose victims, not all of whom agree to go to a hospital emergency room after first responders revive them.
Even though the abuse of prescription painkillers has been greatly reduced, beleaguered communities across the region contend that the aftereffects of the pharmaceutical industry's alleged, past misdeeds can still be felt every day.
The allegation is that "they flooded the market, including here in Guilford County," county attorney Payne said.
"When the flow of these so-called legal drugs dried up, the addiction didn't dry up," he said. "They left behind thousands of people."
20190915g_nws_opioids_graphic1.jpg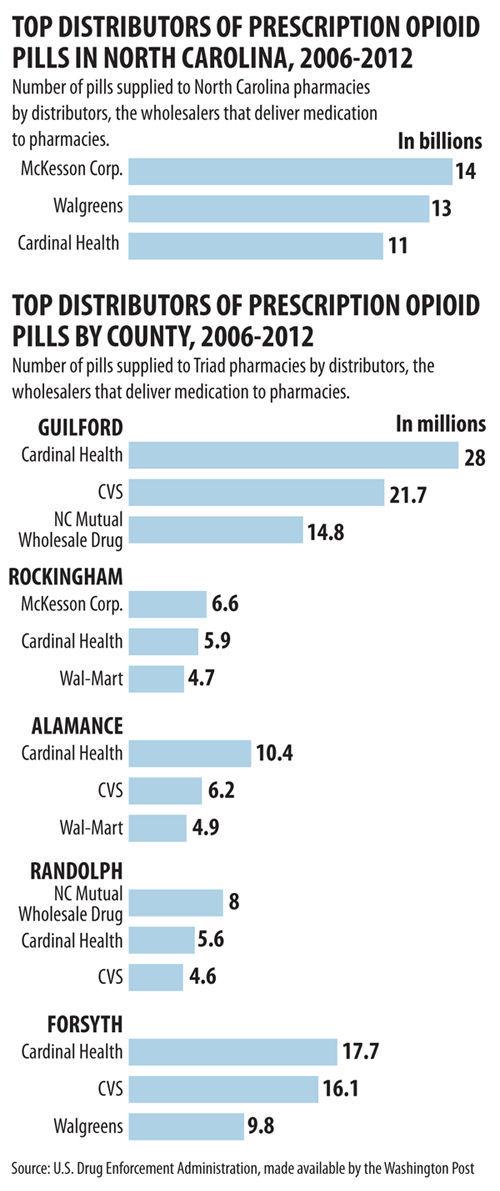 20190915g_nws_opioids_graphic2.jpg

20190915g_nws_opioids_graphic3.jpg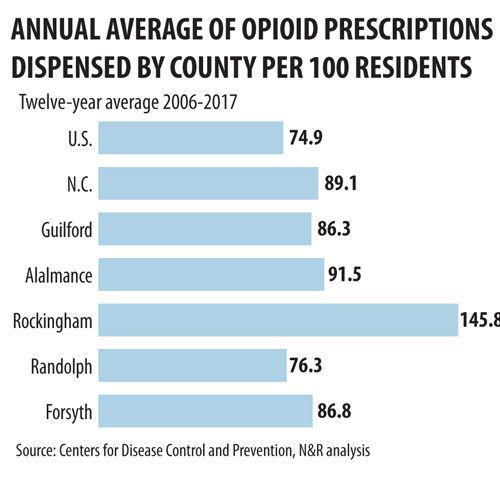 20190915g_nws_opioids_graphic4.jpg
20190915g_nws_opioids_graphic5.jpg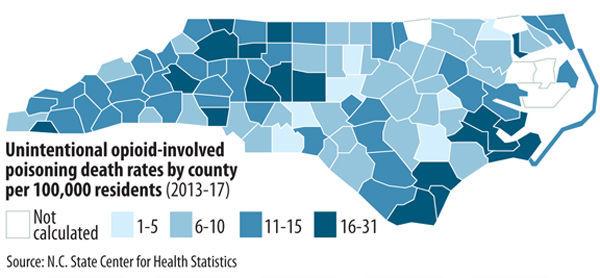 20190915g_nws_opioids_graphic6.jpg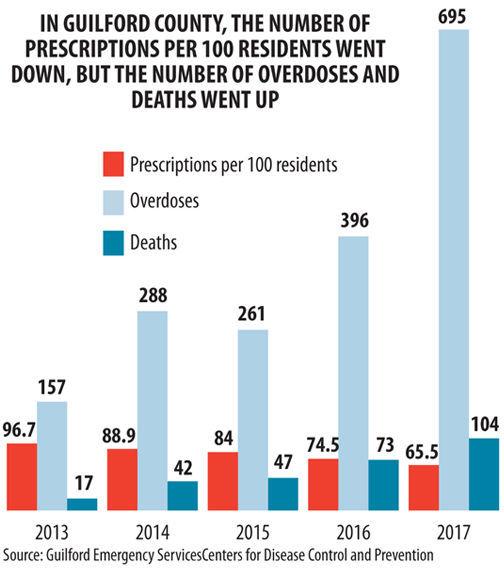 20190915g_nws_opioids_graphic7.jpg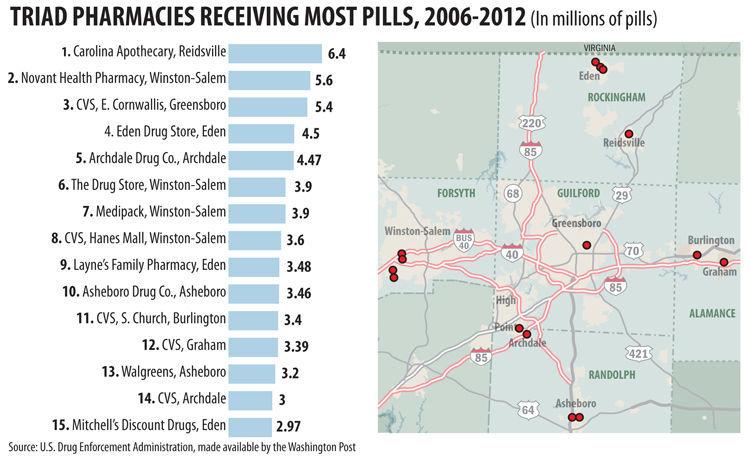 20190915g_nws_opioids_graphics

-- HIDE VERTICAL GALLERY ASSET TITLES --