GREENSBORO — Eight people have been killed in violent crimes since Aug. 24, bringing the city's death toll up to 30 for the year. That's 14 fewer killings than the 44 from 2017 — a record-breaking year. 
Still, the city finds itself on the cusp of surpassing the number of people killed in 2018 (34) and 2016 (36). 
"Anytime you have an increase in violent crimes, it causes concern in the police department because we want to address the factors that make violence increase and bring people to justice," said Ron Glenn, a Greensboro police spokesman. 
The family of Shamona Mosley learned last Friday that her estranged husband shot her in the parking lot at Premier Federal Credit Union on Yanceyville Road, where she worked.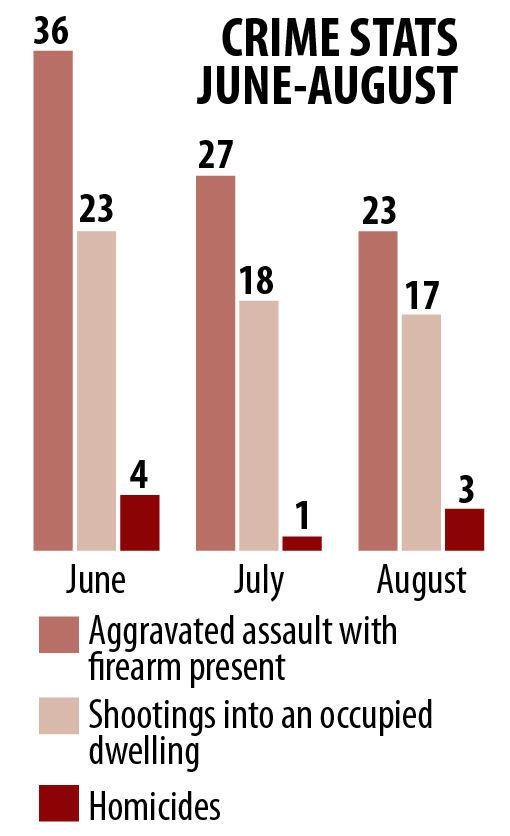 And over the weekend, 54-year-old Alvin Perry was also found fatally shot on Yanceyville Road. 
The string of homicides ended a two-month period that showed a slight decrease in violent crimes. 
In June, Greensboro officers responded to 36 aggravated assaults with a gun present, 23 shootings into an occupied dwelling and four homicides. 
In July, those numbers dropped with 27 aggravated assaults with a gun present, 18 shootings into an occupied dwelling and one homicide. 
And in August: 23 aggravated assaults with a gun present, 18 shootings into an occupied dwelling and three homicides. 
Of late, Christopher Savalas Parson and Kendrick Rondell Gilbert Jr., both 24, died in a home invasion at 5528 W. Market St.
And Thomas Daniel Harper, 74, died from multiple stab wounds. His 41-year-old son has been charged in his death. 
The spike in violent crimes led City Council to host a public forum last week to address the trend. 
Meanwhile, police are investigating the crimes that have plagued the city. 
"Our guys are working hard to fully investigate all these incidents and hopefully hold people accountable for their actions," Glenn said.