GREENSBORO — As hundreds seek shelter from this week's bitter cold, the city finds itself once again facing the problem of homelessness. 
The Interactive Resource Center, an agency that assists the homeless, says that more than 900 people a night go to sleep under bridges or in shelters and cars. 
A group of local researchers, in a report released Tuesday that two years to complete, say that the homeless crisis is really an affordable housing crisis.
"The public costs associated with homelessness could be mitigated or reduced if there was serious investment in affordable housing rather than a focus on providing shelter beds or engaging in policing-first strategies," the report says.
Three local university researchers worked with the Homeless Union of Greensboro to produce the 85-page report.
On Tuesday night, they discussed the findings of "A Safe Place to Stay, Combating Homelessness, Police Violence and Jim Crow in Greensboro" at the McGirt-Horton Library.
Eddie Brewer, one of the local founders of the Homeless Union who was recently homeless, now lives in an apartment and has a job at UPS. He said it's still difficult to make a living wage, but he doesn't want to lose his home.
"We have a voice," he told the roughly 30 people gathered at the library. "Everybody has a voice. When I was on the street, I slept in a parking garage and I slept in a tent and I didn't like it."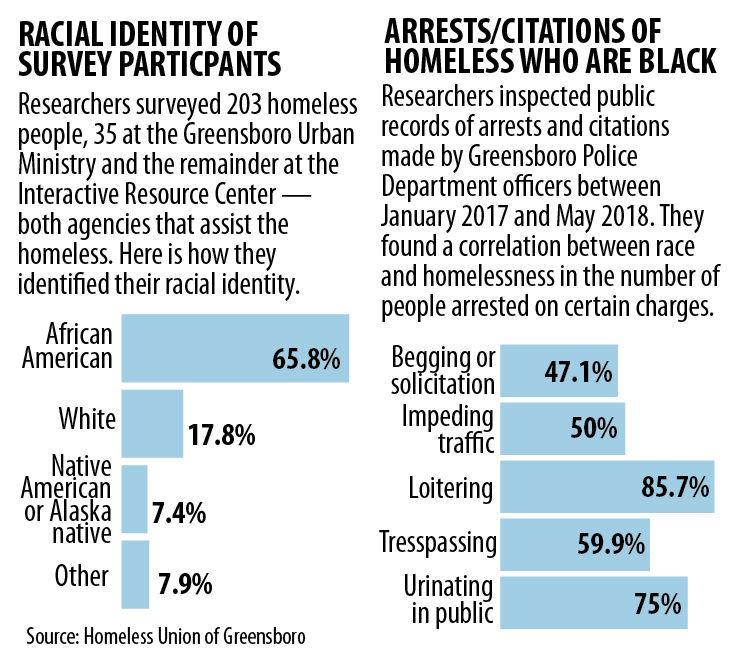 Researchers surveyed over 200 of the city's homeless — just a fraction of the local population. Exact numbers are hard to come by. Local advocates believe many more who are homeless go uncounted in annual head counts.
The study's authors also inspected public records for police arrests of homeless people and studied eviction data. 
"A Safe Place to Stay" casts a wide net, highlighting what researchers say is a pattern of police harassment of the homeless and a history of laws that put homeless and poor people at a disadvantage when trying to overcome their plight. 
When respondents were asked about racial profiling, 44 percent said they think they were ticketed or arrested because of their race and 43 percent also said it was because they appeared homeless. 
Co-author Justin Harmon, a UNCG assistant professor, said in an interview that the report addresses a wide array of issues and highlighting one above all others is difficult. If there is a key point, it may be that "this is a national problem that is decades in the making and is very much a local issue as well."
He added "there should be a re-prioritization in the city of how they should address the problem moving forward."
Many of the report's suggestions echo concerns that, for months, members of the Homeless Union and other local advocates have repeatedly aired during City Council meetings. 
According to the report, several conditions worsen the plight of the homeless. Among them:
• Aggressive policing and ordinances that oppress homeless people, often with a bias against African Americans. "The two most dangerous things to be in Greensboro are homeless and black," the report says. 
• Inadequate representation in the court system for homeless people charged with misdemeanors too small to warrant a public defender.
• A lack of affordable housing. 
According to a "A Safe Place to Stay," 45 percent of the homeless people interviewed said they are "rarely" able to get a bed in a shelter when they want one, while 17 percent said they are "never" able to get a bed. 
Harmon said that Greensboro's apartment developers are building hundreds of units, but rarely for low-income people. 
"We can't keep growth for growth's sake," Harmon said. "In the end, it's going to bury a lot of people along the way."