GREENSBORO — He was named for his uncle, a beloved Greensboro Fire Department captain who lived to serve others and who died way too young.
And this week, 18-year-old Will Caviness helped his family reclaim a bit of autumn for themselves, snatching a small piece of the season back from the lingering sorrow that always accompanies these days of early October.
Will Caviness helped save a stranger's life.
He says he didn't do much. He says he just reacted. He says he was just in the right place at the right time.
Maybe so. But four days before the eighth anniversary of his Uncle Will's death, he played a part in sparing another family from the anguish of losing a loved one.
"It was a total stranger. I still don't know his name," he says. "I just heard he has a grandson who was playing at the baseball field that day. And I'm glad he'll be able to watch another one of his games someday."
On the sidelines
Will Caviness plays football for Averett University, an NCAA Division III school in Danville, Va.
He's a freshman at Averett, taking six classes worth 17 credit hours in his first semester away from home. He majors in equine science and dreams of going to veterinary school someday.
He's also the Cougars' backup punter and kicker in football and a second baseman for the baseball team.
Football brought him home Saturday afternoon, when Averett played Greensboro College in a USA South Conference game at Jamieson Stadium on the campus of Will Caviness' high school alma mater, Grimsley.
He was on the sidelines, kicking into a practice net with the Cougars' specialists, when a commotion caught his eye. Beyond the stadium's fence, on the ground between Grimsley's football and baseball fields, a circle of people were frantically waving their arms.
"Someone was in distress," Will Caviness says. "I was near our athletic trainers. I got their attention, and they went up there to check, and … I could overhear them talking about getting paramedics."
Will Caviness' mind worked quickly, connecting the dots, and he turned to face the visitors' bleachers.
'Get Dad'
Will's parents, Sean and Kathy Caviness, passed up a vacation trip to Jamaica to stay in Greensboro near family this week and catch their son's football game.
"I knew my mom would be watching me," Will says, "so I signaled to her. I knew she wouldn't be able to hear me, so we made eye contact. I put my hands together, interlocking them the way you do CPR compressions. Then I pointed in the direction of the commotion. And she knew immediately what was going on and to get my dad to help out. … I'm just glad we were in the right place at the right time."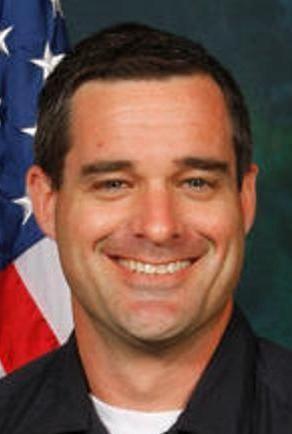 Like his brother before him, Sean Caviness joined the Greensboro Fire Department in 1996. He was off duty from Station 41 on Saturday.
"I was kind of the middle of the stands, talking to some people, one section over from where my wife was sitting," Sean says. "Will noticed a guy in distress who had fallen down. He saw people were up there calling for help. So he got Kathy's attention, and did some CPR compression (gestures), and he mouthed the words, 'Get dad, get dad.' She got my attention, and I went over there."
Grimsley's nearby baseball field was one of the host sites for a youth tournament Saturday, the Perfect Game 14U Greensboro Grasshoppers Championship. While teams from Springfield, Va., and New Bern played, an elderly man watching the game collapsed.
No pulse
Sean Caviness arrived quickly.
"There was one other lady who got there the same time I did," Sean says. "The guy was on the ground by the fence at the top of the stadium. He had what we call 'agonal breathing.' He was taking maybe four breaths per minute. He was turning blue. I could not feel any carotid pulse on him.
"That lady got down there with me — I never did get her name, but she knew what she was doing — and she asked me, 'Do you want me to do compressions or breathe for him?' I said, 'You breathe, and I'll do compressions.' She gave a couple breaths and I got his shirt open and started doing compressions. After a few compressions he gave sort of a grunt and woke up."
"He was talking to us when EMS got up to us, and then he went out again," Sean says. "So I started doing compressions again while they were getting things set up for the airways and to give him oh-two (oxygen) and all. Then he was back and talking to us again. He asked, 'Did I pass out?' He didn't have a clue what was happening. By that time, there were four or five paramedics there and (fire department) Station 5. They took over. He was talking and answering questions when they were loading him onto the ambulance. That's the last I saw of him."
From start to finish, the whole incident was over in "maybe 10 to 12 minutes," Sean Caviness said.
He never did learn the man's name, only that he was there to watch a grandson play baseball.
"We were where we needed to be at that time. You know?" Sean says. "From Will, to Kathy, to me. Everything lined up and fell into place."
Epilogue
The football game went on while the drama played out nearby. Will Caviness never did get on the field, but his Cougars shut out the Pride 48-0.
Averett coach Cleive Adams knew "something serious" had happened near the stands, but he didn't know what.
"I found out right after the game, when my special teams coach, Al Smith, came up and told me about Will Caviness and his involvement with the situation," Adams says. "… I talked to Will and said, 'Man, that was pretty heads-up.' And he just told me it was the first thing he thought of because his dad's a firefighter and first responder. I thought that was pretty cool."
Adams drives home a mantra to his players, Will Caviness says. They use the social media hashtag #BAM. It stands for "Be A Man." On the field. Off the field.
"I wasn't surprised, especially when I found out who it was," Adams says. "Will is just the type of young man who's very aware and conscious of others. I guess growing up in a household with a first responder, it was an instinct to him to make that gesture and prompt his parents to get involved. He understood the magnitude of the situation and had a resource to help."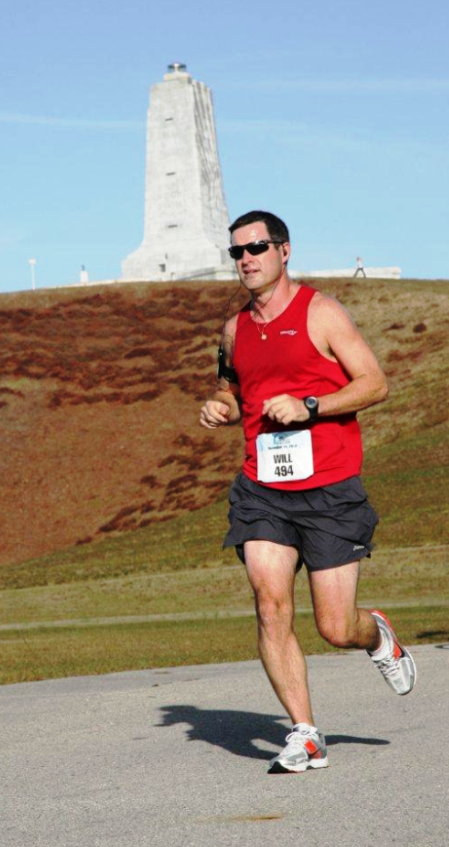 That night, Kathy Caviness shared her family's story on Facebook. She was struck by the timing of the day's events.
Her brother-in-law, Will, was 35 years old when he collapsed 500 yards from the Chicago Marathon finish line and died on Oct. 9, 2011.
Her son, Will, was 18 years old when his perception and instincts helped save a stranger's life on Oct. 5, 2019.
"Tonight, I can't help but realize that I have so many things to be grateful for," Kathy Caviness wrote. "There was a reason Sean took that trip to Chicago 8 years ago almost to the day for his brother. And there's a reason we weren't on our trip to Jamaica today. We are EXACTLY where we're meant to be."