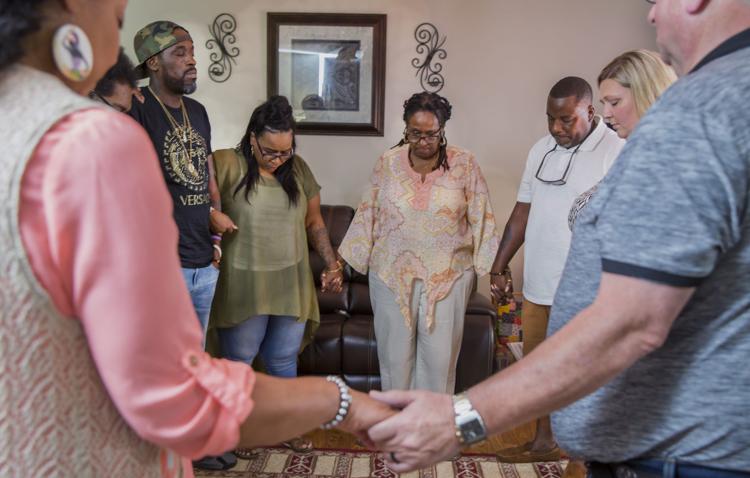 GREENSBORO — Video of Marcus Deon Smith is all most people know of the man who died Sept. 8 in police custody. 
An agitated Smith walking or running in front of slow-moving cars at the intersection of Church and East Market streets. 
Smith asking police for help. 
Police placing him in a car. Police putting him face down on the pavement.
Police tying Smith's hands to his feet behind him. 
Smith gasping for breath. Smith lying motionless.
But his family and others who knew him would ask you to remember this: Even in his worst moment, Smith was polite. 
"Please, sir, help me. Please, sir. Please, sir. Please help me, sir," he says in footage that came from the video cameras police officers were wearing that night. 
"Marcus was a real gentleman," said Mia Dixon, a coordinator at the Interactive Resource Center, a support agency for homeless people. "Anybody who came across him knew he came from a good family."
Before the September incident and his family's subsequent lawsuit against the city thrust him into the public consciousness, Smith was a barber, brother, son and friend.
He was also a complicated man who, like many of us, had his demons.
It was 1980 when Smith was born in Clinton, S.C., the third child of George and Mary Smith.
Until he was a year old, he was the baby to his older brothers Len and J.J. Then little sister Kim, now Kim Suber, was born and Smith grew up doting on the little girl. The two became so close, they called themselves twins.
Smith was special in his mother's eyes.
"She and Marcus, they just had an extra touch for one another," said Smith's father, George.
Like any mother, Mary Smith says she will always treasure memories of Marcus as a child.  
She shows a photo of a proud Marcus in his yellow Little League baseball uniform, holding his bat with a confident smile. His family says he learned quickly to hit home runs.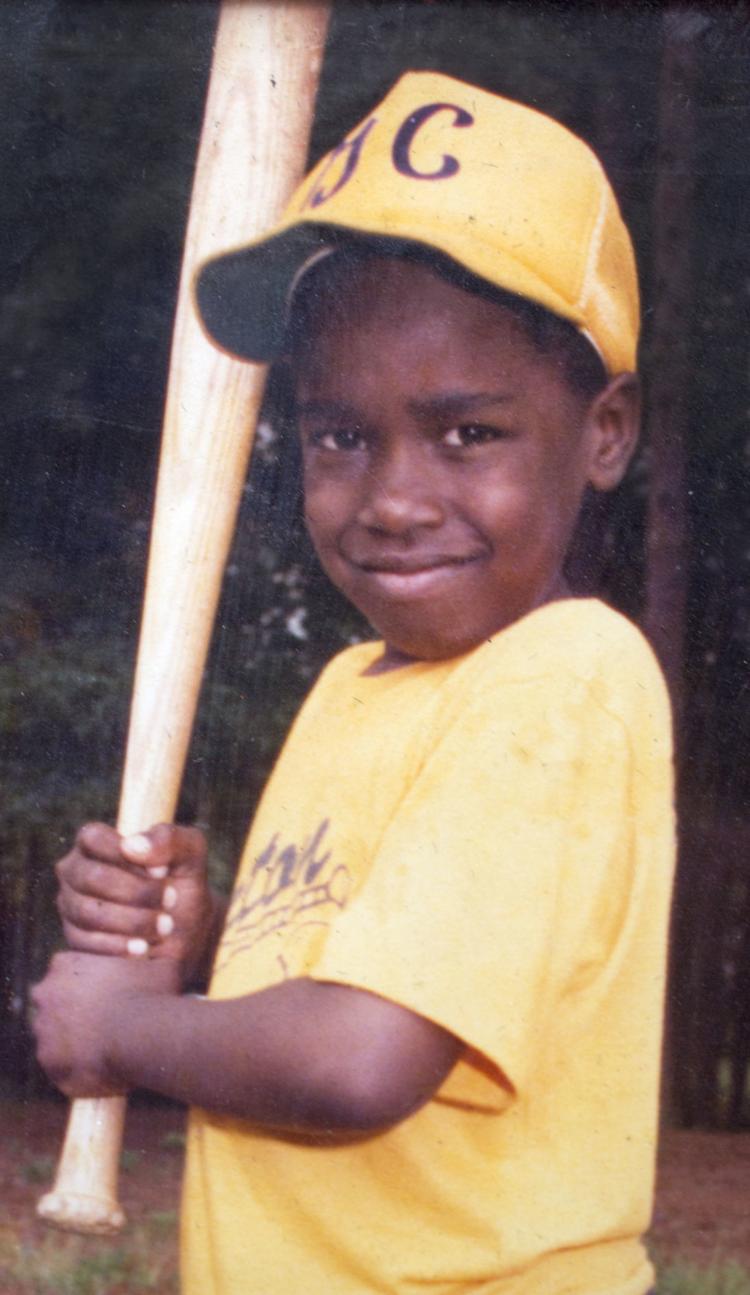 Mary holds a stack of framed photos of Marcus with the family.
She talks about his athletic nature, his sunny personality.
On a recent Saturday, the Smith family sat in Len's comfortable Charlotte home and reminisced about the man they believe is gone too soon, taken unfairly. 
As Len smokes marinated chicken on his shady deck out back, George remembers that he and Mary were always trying to find ways to keep the family close, despite their hard jobs in South Carolina's textile mills. 
"We made memories," George recalled. "We didn't have much money, but togetherness was a big thing for us."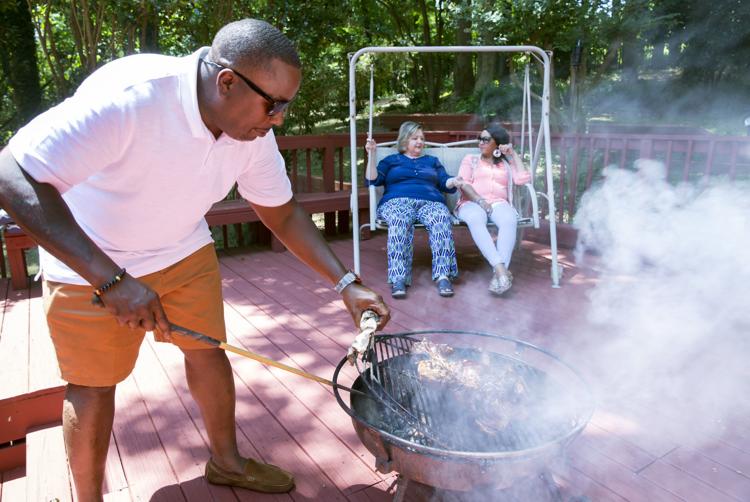 J.J. remembers the frustration of his siblings every Sunday when their mother would turn off the TV and make them sit down to read the Bible for a couple of hours. 
When Kim was young, she and Marcus could get away with telling folks they were twins because they were around the same size. They went everywhere together.
"He was very protective of me," Kim remembered. "We played basketball, so we would travel on the bus. The girls played first. He would make sure he took time to come and watch me play. We would get back and we would walk back home together."
Suber has become a familiar face at public meetings in Greensboro, speaking passionately about her loss and contempt for the Greensboro Police Department, whose actions she believes caused her brother's death.
But amid the anger and bitterness is a connection that can't be broken, even in death. 
"We talked about everything," Suber said. "He said he's always seen a spark in me. He would always (call and) say, 'Hey beautiful, I just wanted to see if your heart was still beating. I didn't want anything.'"
As the late June sunshine lit the family room, Marcus Smith's family remembered the good times. A proud Mary Smith still has the certificate a young Marcus earned in middle school for being Student of the Month. 
"He was intelligent," J.J. Smith said. "All the teachers loved him. They loved that dude."
It was also around middle school when Marcus began showing a talent for basketball as well. He wasn't especially tall, but made up for it with his competitive nature.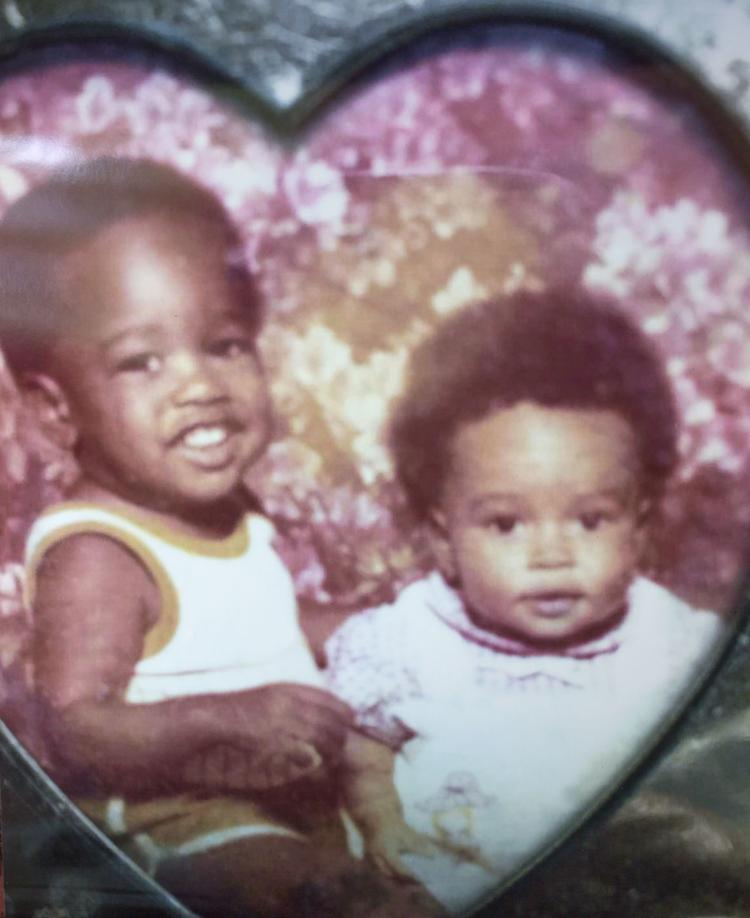 He loved sports, but life got more complicated for Marcus around age 14 or 15.  
"He had an incident," George Smith explained. "He had gotten with the wrong crowd and he got in a little trouble (with the law) ... and the coach wouldn't let him play basketball. He started rebelling."
A couple of months after his 18th birthday, Smith got into more trouble with the law — this time for dealing cocaine, according to South Carolina court records. 
There were more charges in 2006 involving his unlawful use of a car and in 2007 he pleaded guilty to assault and battery.
Smith would fall in and out of trouble with the law for much of his adult life, including a stint in prison. 
But he also earned his GED in prison.
"I always worried about him," Mary Smith said. 
Even though he liked to get high, Smith wasn't so dependent that he couldn't walk away, his mother believes. 
"Even when he was at his lowest point, he still was positive," she said. "He gave me words to live by: Mama don't worry about it."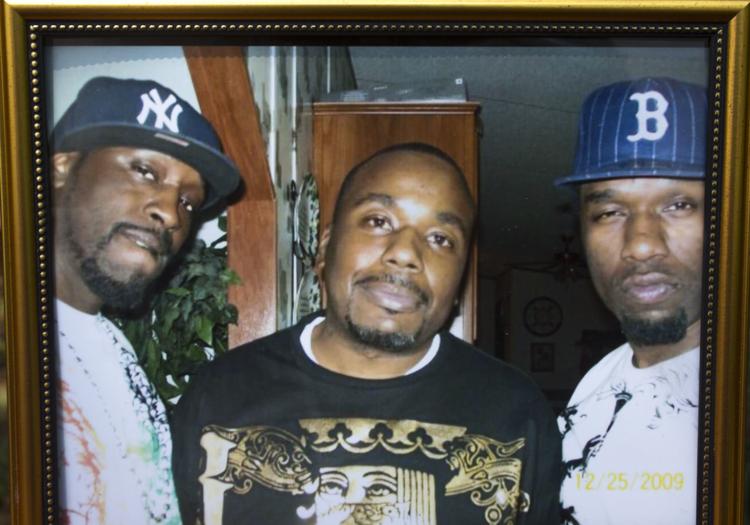 Smith was homeless, but he rarely lived on the streets, say people who knew him. 
Nicknamed "Scar" for South Carolina, Smith liked to wear athletic outfits and hats.
He used the IRC as a home base of sorts, while living with a girlfriend or friend. Smith saw a therapist at the IRC and took regular medication. 
Dixon, the IRC coordinator, said Smith was a welcome presence when he was there. 
"Everybody liked Marcus. I don't know many people who didn't," she said. "He knew he had some issues. He would talk about it, but he didn't let it define him."
Smith's family said he loved music and Dixon said he kept a journal of poetry and lyrics that she found in his locker at the IRC after he died. 
Suber keeps a treasured recording on her phone of Smith rapping, reciting a poem he wrote called "A Heart of Granite." She played it that Saturday afternoon as family members sat quietly and listened.
Vacant thoughts flowing through my head,
Got me thinking, what is life when your heart is dead?
In the poem, Smith reflects on how he copes with adversity, hardening his heart against the darkness of life and ultimately persevering: "Though it hurts, you must continue on."
And his desire to help people showed through a special talent he had, family members say.
Around town, Smith carried his clippers and barber supplies wherever he went.  
"We always called him our IRC barber," Dixon said.
A professional barber would come regularly to the IRC, Dixon said, but many sought out Smith. 
He had a bad habit of forgetting to sweep up after himself and Dixon said they would playfully bicker about it. 
But that was the only conflict she or anybody else at the IRC had with Smith.
Not long before Smith died, Dixon said, the IRC was working on getting him a scholarship to a local barber college.
Smith promised Dixon he would follow through, but she knew it was a challenge for him to take that next step. 
"He never told me why he didn't go," Dixon said. 
For a time, Smith roamed the country in search of a fresh start.
In Jacksonville, Fla., Smith, then 25, worked construction — and committed crimes to fund his intermittent drug use.
"He liked to get high," explained Mary Smith, a touch of sadness in her voice. 
She and her husband made the trip to Jacksonville, between long shifts in the mills, so they could be with him in court.
"I was just glad to see him," Mary Smith said. "No matter what he did, I was always glad to see him. You cannot turn your love like a light on and off. Mine always stayed on."
Her son was always welcome to come back home, she said, but he thought Clinton was too "slow" and liked living in bigger cities. 
By 2009, he was in Greensboro. But trouble still followed him.
According to court records, Smith was charged with dozens of offenses. Among them: shoplifting, simple assault, drunk and disorderly and larceny. 
He served less than two years in state prisons, according to records with the N.C. Department of Public Safety. 
"I never knew the severity of what he was going through in Greensboro," Suber said. "He had support and he could've easily come home. He didn't want us to see what he was going through."
In the months prior to his death, Smith had started to put his life back together, getting the treatment he needed, hoping to become a real barber. 
But Dixon said Smith couldn't outrun his addiction to drugs. 
"You knew when Marcus hadn't been doing anything and you knew when he did," she said. "He became a different person. The sad part is he couldn't handle it."
One incident a couple of months before Smith's death showed how severely drugs could change his personality, she said. It was the first time she had seen him in such a state.
Smith was at the IRC during the day and he was agitated, talking and ranting — but not violent. The staff called for an ambulance to get him treatment and he went willingly.
"That blew us away," Dixon said. "That scared us. That was not the norm."
George and Mary Smith have sued the city of Greensboro, eight police officers, Guilford County and two emergency medical personnel. They say the city violated Smith's civil rights by depriving him of his life. 
The city and Guilford County have asked the federal court to dismiss the lawsuit on a variety of legal grounds, including that police were acting reasonably when they restrained him. 
Smith died of cardiopulmonary arrest caused by a variety of factors, the state medical examiner said in an autopsy report. Among them: "prone restraint" at the hands of police, cardiovascular disease and drugs and alcohol in Smith's system.
The report concluded that Smith's death was a homicide.
According to the lawsuit, Greensboro police "caused Marcus' death by brutally restraining him prone on the ground and hogtying him like an animal until he stopped breathing."
After Smith's death, Greensboro police stopped using the RIPP hobble-style restraint that binds a person's hands and feet together while lying on the ground.
Smith's family believes the death bears the taint of racism they say is embedded in the Greensboro Police Department. 
"You look at the way he died, it did not have to happen," Mary Smith said. "I think his race played a part in his death, sadly to say."
A document obtained by the News & Record through a public records request sheds a little more light on what Smith was doing in the hours before he encountered the police on Church Street. 
Then-Police Capt. Nathaniel Davis, who is now a Greensboro assistant city manager, wrote in a Sept. 28 email to Deputy Chief James Hinson that police interviewed a woman who was with Smith that day. 
Davis wrote that the woman knew Smith from the IRC and that they had been drinking "boot water" most of the day on Sept. 7. "Boot water" is a combination of "Molly" — also called Ecstasy — and alcohol, Davis wrote. 
"She felt Smith was not himself. She indicated he was 'out of it,' around 12:33am ... when he walked away from her," Davis wrote. He said the woman "indicated she felt something could go wrong because of the strength of the 'boot water,' so she attempted to save the can."
But someone threw away the can, she said.
Minutes after he left the woman, Smith wandered into view of police officers who were on duty downtown during the first night of the North Carolina Folk Festival. 
"They knew Marcus wasn't a threat. He kept himself composed and on the other side of the road," said Suber, Smith's sister. 
"Why wasn't there just one person to say: 'Hold on. Let's not do it this way.'"
On the day before Marcus died, his brother Len was waiting for his younger brother to call. Len had planned to get Smith in Greensboro and take him to a Carolina Panthers game. But the call never came. 
"Imagine him waiting on that call all day and hearing from me, saying he had passed," Suber said. "He was devastated."
Smith's mother misses her son's positive nature and lives with the memory of his troubles.
"I'd rather go see my children in jail than in the graveyard," Mary Smith said. "But where he is now, I just can't understand why they viewed him as nobody."