GREENSBORO — North Carolina has close to 1,600 roadside historical markers.
But none, Michael Hill believes, has been the subject of as much contention as the one to be installed at the corner of McConnell and Willow roads in Greensboro.
Today, the Beloved Community Center will host the dedication for a marker commemorating the 1979 Klan-Nazi shootings.
The marker bears the title "Greensboro Massacre" and has text written by Hill, the administrator of the state's historical marker program.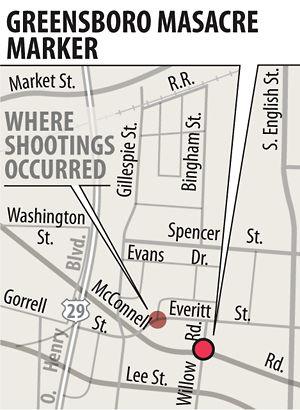 "Markers are not all about things we celebrate," he said. "We've got a few markers about the darker chapters in our history, but the type of hearing for this was unprecedented."
The marker's language generated some debate earlier this year, with two City Council members objecting to the use of the word "massacre," contending that "shooting" or "shootout" would have been more appropriate.
"The marker can't tell the whole story, but the word 'massacre' gives you the wrong idea about what actually happened that day," Councilman Zack Matheny said during a meeting in January.
The City Council ultimately voted 7-2 in favor of using "massacre."
On Nov. 3, 1979, the Communist Workers Party staged a "Death to the Klan" march in the area of what once was the Morningside Homes housing project. Klan and neo-Nazi members showed up.
The details remain unclear, but a gunfight erupted and five marchers were killed.
Fourteen Klan and Neo-Nazi members were tried and acquitted in Guilford County Superior Court in 1980.
Four years later, nine people were acquitted in federal court.
Following a civil lawsuit, the city of Greensboro agreed in 1985 to pay $350,000 to the estate of one of the victims.
The marker will be located about a tenth of a mile from where the shootings occurred. It features this text: "Ku Klux Klan & American Nazi Party members, on Nov. 3, 1979, shot & killed five Communist Workers Party members."
Lewis Brandon, who originally proposed the marker, said a number of survivors are expected for the ceremony Sunday.
Brandon, who works as a history coordinator for the Beloved Community Center, said he didn't want to focus on the controversy over the language.
"We just want to bring about some healing," he said.
1979 Klan-Nazi shootings in Greensboro
News & Record photos taken during and after the 1979 shootout between members of the Ku Klux Klan and American Nazi Party and Communist Workers' Party that led to the death of four CWP members and one supporter.
Warning: Some of these images may not be suitable for children. 
Debate on historical marker makes some relive a tragic day they tried to forget.
The marker, which likely will go up in April, commemorates the Nov. 3, 1979, Klan-Nazi shootings at the former Morningside Homes.