GREENSBORO — It didn't take long for Greensboro to unravel. 
But it will take days for the power crews, chainsaw operators and insurance adjusters to put the city back together again. 
Greensboro residents will be able to tell tales of the destruction from Tropical Storm Michael for years to come. 
From international furniture buyers to local homeowners, the stories of power outages, downed trees and snarled traffic across Greensboro and the rest of Guilford County are piling up like the debris that will surely need clearing.
Gov. Roy Cooper made an appearance in Greensboro early Friday night to tour the Duke Energy operations center. The toll on North Carolina is clear: Three dead in the state and hundreds of thousands of people without power from Charlotte through the Triad. 
Schools and businesses were closed. Those that were opened operated on a day that hardly seemed normal as employees, many happy to be out of powerless houses, remained preoccupied with what may be facing them when they returned home. 
Jennifer Hedrick's story was years in the making. 
Hedrick was in bed Thursday afternoon when she heard a tree fall. From the noise she thought it fell into a neighbor's house. But then her 10-year-old son began to cry.
"He was looking out the window and said, 'A tree fell on your car,'" she said.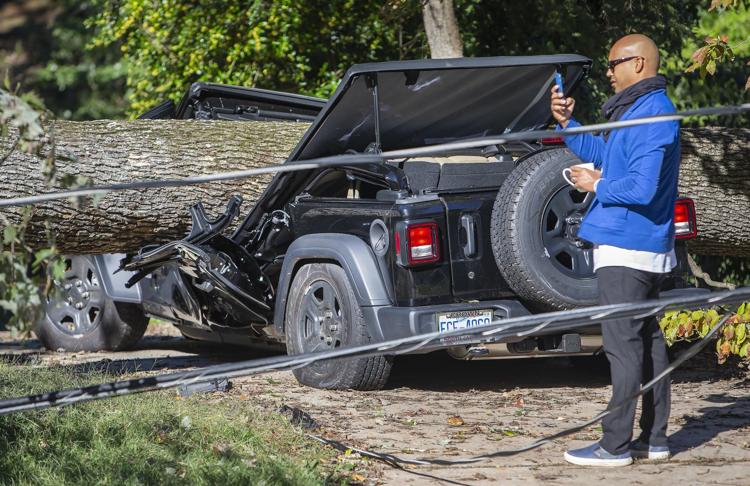 At that moment she didn't know about the widespread devastation in her neighborhood and across the Triad. She just knew that a tree had fallen on the Jeep she started leasing three months ago.
Hedrick and her husband, Joshua, said all the people in their neighborhood along David Caldwell Drive pray that trees around their houses will not be the next to snap.
However, the Hedricks both found irony and humor in this particular tree falling on this particular vehicle.
When they bought the house more than two years ago, they already knew the story about the tree. They said the former homeowner had asked his neighbor to have the tree removed because he was worried it would fall on his house. Lawsuits were filed.
The Hedricks said an arborist from N.C. A&T came out and certified that the tree was safe and could remain.
That was more than a decade ago.
Thursday's storm toppled that tree onto Jennifer Hedrick's Jeep, which the high school history teacher said she splurged to lease, not realizing how high the insurance would be. She could barely make the payments and had been hoping for a way to get out of the lease.
Joshua Hedrick said it will take a crane to get the tree off the vehicle and out of the yard.
They have to wait for insurance adjusters to assess the damage, so on Friday the Hedricks packed up their surviving truck and made their way to Charlotte for the weekend.
"It is what it is," Jennifer Hedrick said. "Getting mad about it won't change anything."
Before the family left town they, like many others in Greensboro, went on a search for food and coffee.
Each repair takes Duke Energy workers 1 to 3 hours to fix, but those efforts might only restore a dozen households or a few neighborhoods at a time, company spokesman Jeff Brooks said Friday afternoon.
Lines backed up at restaurants and convenience stores that were open.
Darkened traffic lights greeted drivers on major roads like Bryan Boulevard, Battleground Avenue, Elm and West Market streets.
Downed trees littered the front of Peace United Church of Christ on West Market Street. Up the road, another tree leaned against the Greensboro College Reynolds Family Student Life Center.
Near Revolution Mill, water pooled around local parks.
Power lines tangled with trees around town.
Cellular reception sputtered around Greensboro, especially in the Holden Road area.
Guilford County Schools stayed closed Friday as workers began dealing with cleanup of downed trees and limbs on multiple school campuses scattered around the district. The district canceled classes for a second day, citing power outages, debris on campuses and concern about possible flooding.
Chief Operations Officer Scott McCully said they expect most of the debris to be moved by Monday.
"All schools will be visited today and inspected," he said Friday, adding that his team had been out all morning. They don't know of any flooding but have had some reports of leaks and water getting in through entryways, he said.
McCully didn't know of any trees falling on buildings directly, but said workers are double-checking for any possible damage at Brightwood Elementary, where a limb fell close to a mobile unit. Brooks Global Studies, he said, is another example of a school that had trees down on its campus.
They are asking principals to also inspect schools for signs of water or water damage and are working with custodians through the weekend to get any water in buildings dried up before students return.
Restoring power could take days, Duke Energy says.
A spokesman for Friendly Center and the Shops at Friendly said 28 businesses were without power Friday at the shopping center, which includes more than 130 businesses. Among those without power: Harper's Restaurant, the Cheesecake Factory and New York & Co.
"It's really localized to two blocks of our stores on the Friendly Center side," said Brad Rogers, general manager of Friendly Center and the Shops at Friendly.
Rogers, who works for CBL Properties, which manages the center, said shoppers should call their favorite store, check the Friendly Center website at friendlycenter.com or Friendly Center on Facebook to find out if a particular store is open.
All other shops and restaurants were operating normally, although some traffic lights along Green Valley Road and Friendly Avenue along the center's perimeter were not functioning Friday.
Rogers said he doesn't have an estimate from Duke Energy about when power might be restored.
High Point was dealing with problems that on any other week of the year might have seemed insignificant. 
At least one big showroom space at High Point Market, the big semi-annual furniture event, won't be as prepared as it would like when the market opens officially Saturday.
The storm knocked power out at the new Holland House exhibition space, said Tom Conley, president and chief executive officer of High Point Market. The $10 million building holds 164,000 square feet of exhibition space leased by a variety of companies, the Furniture Today trade publication wrote earlier this year, and was set to be completed for this October market.
"They're beside themselves," Conley said. Duke Energy supplies power to the big building and, Conley said, its managers have been unable to get a clear estimate of when power might be restored. "They're frustrated as hell," Conley said.
He said that many market attendees rent houses and lots of those homes lost power as well. At least 75,000 people attend each spring and fall market, Conley said, and they have a Triad-wide economic impact.
"We're just sucking it up," he said. "We're hoping they'll just tough it out and hoping power will come back soon but it has been a challenge."