GREENSBORO — At 41, Scott Harvey isn't the same golfer he used to be.
He's better. Or, at least, that argument could be made based on the sample size.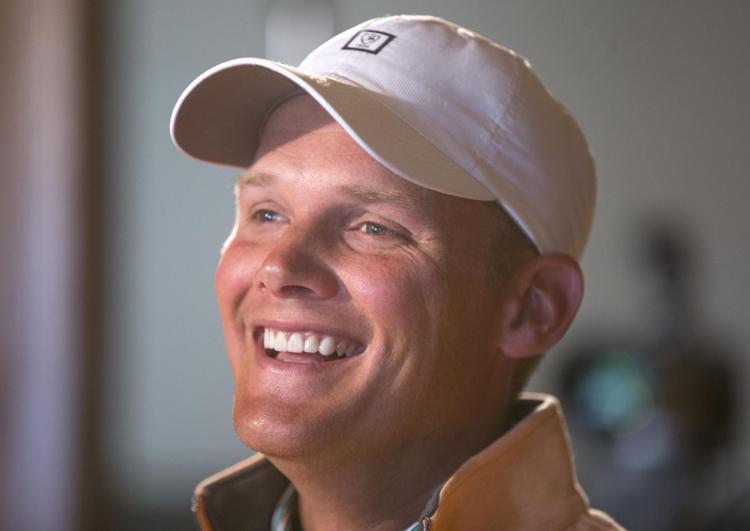 Harvey, the splendid amateur golfer who lives outside Oak Ridge, will be honored Feb. 8 in Pinehurst with the 2019 Richard S. Tufts Award as the Carolinas Golf Association men's player of the year.
It's the eighth time in nine years Harvey has won the award.
And this year, he won it in his spare time.
"I didn't think I'd play enough to do anything significant," Harvey said, "because I cut my schedule way back to try to be home more. We had a new baby, and my older son is getting into golf and basketball and soccer. I just wanted to be around, you know? They're only little a little while. I don't want to miss it."
Harvey played just eight tournaments in 2019. He averaged 15 to 18 events in his seven previous CGA player of the year seasons.
But he made the most of his 2019 tournaments, winning his first three: the Coleman Invitational at Seminole in Florida, the George Thomas Invitational at Los Angeles Country Club and, along with partner Todd Mitchell, the USGA's U.S. Four-Ball Championship in Oregon.
The Coleman and Thomas Invitationals are widely considered "majors" in the world of mid-amateur (ages 25 and older) golf.
"I won those first three, and then I played solid everywhere else," Harvey said. "It's just crazy how things worked out. The perspective of everything, where I put golf on the priority list, may have helped me in some way. I didn't expect much, and my mindset was different. The desire to compete and fight and win is obviously still there. But it wasn't a life-or-death mentality."
In the other two mid-am "majors" of the year, Harvey made it to match play at the USGA's U.S. Mid-Amateur Championship, and he was the runner-up at the 95th Crump Cup at Pine Valley in New Jersey.
By year's end, and despite playing a limited schedule, Harvey was No. 8 in AmateurGolf.com's mid-amateur world rankings — No. 3 among American players behind 28-year-old Stewart Hagestad and 36-year-old Joe Deraney.
Even so, Harvey said he won't be tempted to play more tournaments this year.
He and his wife, Kim, will celebrate their 12th wedding anniversary in April. They have two sons, Cameron, 10, and Gavin, 14 months.
"I'm not trying to chase the same things I was chasing when I was 30. My goals are different now," Harvey said. "… I want my kids' experience with me to be like my experience was with my father (CGA Hall of Famer Bill Harvey). He was always there for my brother and me, always put us first. I'll never forget how I felt knowing I was his priority over everything else."
Harvey said he helps coach his son Cameron's basketball team, as well as teaching him golf.
"Basically right now our schedule is golf two nights a week, basketball practice two nights a week, and then basketball tournaments most weekends," Harvey said. "And it's so much fun for me to be a part of all that with him. And now we have little Gavin in our life, too. It's just awesome."