GREENSBORO — The city will welcome the holiday season with Friday's Festival of Lights and Saturday's Holiday Parade. 
With only a slight chance of rain this afternoon and a nip in the air, Christmas conditions are in full effect.
"The weather looks ideal," said Zack Matheny, president and chief executive officer of Downtown Greensboro Inc., which runs both events.
The Festival of Lights, which is in its 31st year, will bring an estimated 60,000 people to downtown. They'll be able to enjoy carols, acoustic performances and, of course, a chance to meet Santa.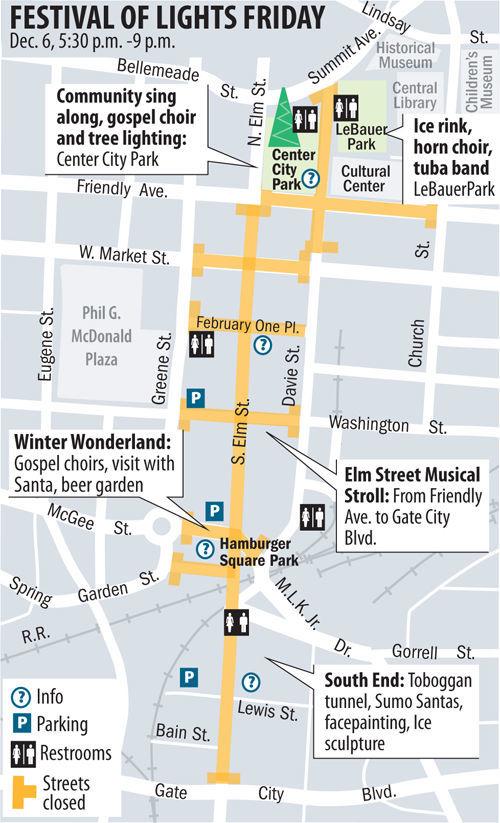 At 6:56 p.m., the 42-foot tree in Center City Park will illuminate with more than 1,000 bulbs.
More than 20 musical groups will line Elm Street and nearby LeBauer Park.
Shops will stay open late.
The Hamburger Square area at South Elm and McGee streets will have an illuminated ice sculpture, beer garden and marshmallow roasting. 
At least six snow machines will blow fake flakes, adding to the winter atmosphere.
Activities and attractions have been added this year on the southern end of Elm Street over the railroad tracks.
"That should encourage folks to walk up and down and experience all of Elm Street and what downtown has to offer," Matheny said.
Like the free photo booth near Elm and Lewis streets. 
Need relief from the chill? Visit one of four warming stations. 
You can even become a Sumo Santa. Don an inflatable Santa suit and wrestle.
And when it's over at 9 p.m., guess what? You can return downtown Saturday for the Holiday Parade.
Funeral director Al Lineberry Jr. will be the grand marshal, honoring the 100th anniversary of Hanes Lineberry Funeral Home.
Look for large balloons, floats, bands, dance and drill teams — but no cancellations.
Two towns in Wake County — Wake Forest and Garner — are foregoing their holiday parades this year because of feared protests over the planned participation of the Sons of the Confederate Veterans.
That won't be happening here. The Sons of the Confederate Veterans aren't participating in this year's parade, Matheny said.