GREENSBORO — City transportation officials on Wednesday will close another remnant of the freeway that Murrow Boulevard never became.
This closure of the southbound entrance ramp from Summit Avenue onto Murrow will make space for a greenway on the outskirts of downtown.
The closure ultimately will lead to the removal of what is now a "merge lane" onto Murrow so both the road and the new Downtown Greenway can pass under the Summit Avenue bridge.
"We'll be shifting the road to the left so we have room to build the greenway" under that bridge, said Chris Spencer, interim director of the Greensboro Department of Transportation.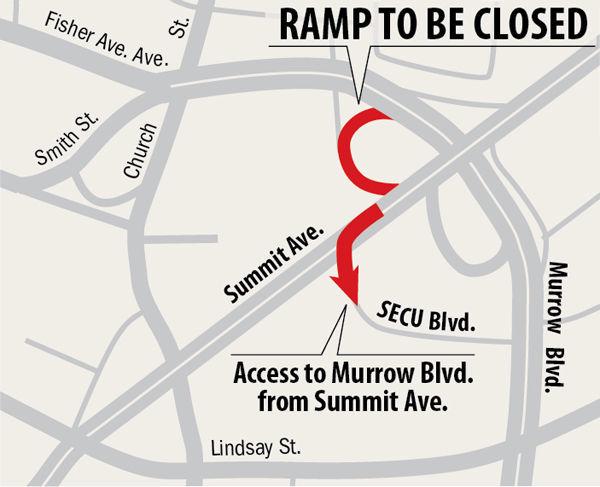 The southbound ramp from Summit had been part of an abandoned plan from yesteryear to link a limited-access Murrow with the once-proposed Bragg Street Expressway that never came to fruition.
Several blocks to the south, workers building the greenway already had erased much of what remained from another interchange that was to meet the never-built Bragg Street freeway at what is now East Gate City Boulevard.
The $13.9 million Bragg Street project was planned to link the area around the Greensboro Coliseum with downtown, but it was dropped several decades ago after opposition from neighborhoods it would have affected.
The latest ramp removal at Summit will leave a relatively large vacant lot across Murrow Boulevard from the new greenway, a 4-mile bike and pedestrian loop around downtown now under construction through that area.
Spencer said that as of now, city officials don't have any plans for the new swath of open land. But he said it possibly could be sold as surplus city property some time in the future.
Meanwhile, the days also are numbered for another relic of the phantom freeway. That would be the other  highway-style ramp across the street from the one being eliminated today.
That ramp is now used by westbound traffic heading from Summit Avenue onto Murrow Boulevard, just before it meets East Fisher Avenue.
Spencer said contractors will rebuild that connection to eliminate the merging traffic design that had allowed motorists to avoid coming to complete stop as they entered the larger roadway.
Workers already have put up a stop sign where that  former merge lane meets Murrow at an angle.
Ultimately, Spencer said the intersection will be rebuilt to make a more perpendicular juncture — the better to coordinate traffic on what is now the ramp with hikers, bikers and runners using the new greenway.
And what about motorists who rely on the ramp being forever eliminated today, those heading south on Summit who want to keep going in that general direction on Murrow toward the post office?
They can continue about a block past the now closed ramp and make a left turn onto SECU Boulevard, which tees out at Murrow a short distance away.
Motorists can only make a right turn at the SECU-Murrow intersection, but Spencer said there are a variety of other options on neighborhood streets through that area to help drivers for whom that doesn't work.
"It's a pretty well-connected network," he said of the street pattern in that part of town.
The latest road changes accommodate a "bi-ped" project moving steadily toward the type of full completion that eluded bygone Greensboro's inner-city expressway.
Two sections of the Downtown Greenway already have been completed. Construction started in April on the third segment along Murrow Boulevard and is slated to conclude in October 2020.
Project planners expect construction to get under way on the greenway's remaining sections early next year.