GREENSBORO — Early voting for the March 3 primary begins Thursday.
Here's what you need to know:
What is a primary election?
This is when voters pick who will represent their party in the general election, which this year is on Nov. 3. In most cases, if no one from an opposing party is running, a race is essentially decided in the primary.
But I'm unaffiliated. Whose primary can I vote in?
Voters registered to a particular party must vote in that party's primary. In North Carolina, unaffiliated voters may request a Democratic, Libertarian or Republican ballot, or nonpartisan ballot, if available.
Where can I vote early?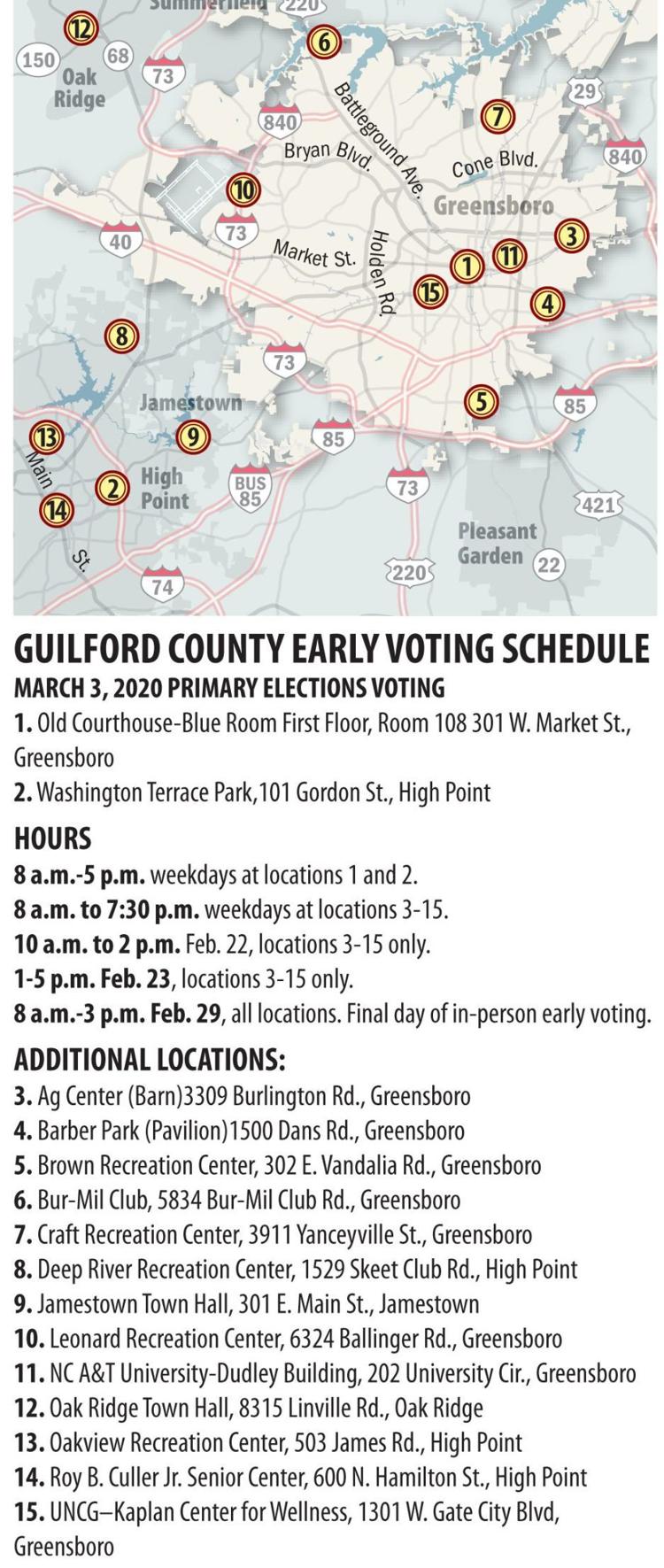 What's on the ballot?
Voters have a slew of races as this is a presidential election year. The ballot also includes top state posts such as General Assembly seats and governor, with many races set for primary contests to whittle down who will face off in November.
Primary races of note for Guilford County include the 6th District U.S. House seat, two spots on the Guilford County Board of Commissioners and two on the Guilford County Board of Education.
The newly formed 6th District differs so greatly from its current configuration that the race has no incumbent seeking re-election. Three-term Republican incumbent Mark Walker of Greensboro decided not to run again. The race features five Democrats and two Republicans seeking their party's nomination. Several names will be familiar.
Summerfield businessman Lee Haywood and Laura Pichardo, an accounts payable analyst from Pelham, are vying for the Republican nomination.
Democrats include Bruce Davis, a former Guilford commissioner from High Point; Rhonda Foxx, former chief of staff for U.S. Rep. Alma Adams; Ed Hanes Jr., who served nearly six years in the N.C. House of Representatives; former 13th Congressional District candidate (in 2018) Kathy Manning of Greensboro, and state Rep. Derwin Montgomery of Winston-Salem.
Two veteran commissioners are not seeking re-election, meaning at least two new people will be joining the nine-member board after November. 
In District 5, Republicans Cyndy Hayworth and Troy Lawson and Democrats Carly Cooke and Macon Sullivan are on the ballot to replace board Chairman Jeff Phillips, a Republican, who did not run again. Winners from each party primary move on to the general election. 
In District  6, Republicans will choose between Jim Davis and Jason Ewing. Winner moves on to November to face Democrat James Upchurch. The November winner will replace Republican Hank Henning, who did not run again.
In District 8, no Republicans filed. The winner of the Democratic primary between incumbent Skip Alston and challenger Fahiym Hanna essentially wins the seat.
Two races will essentially be decided because only Democrats filed to run.
In District 1, incumbent T. Dianne Bellamy-Small faces challengers Jeff Golden and Ron Tuck.
In District 7, incumbent Byron Gladden faces challengers Bettye Taylor Jenkins and Jayvon Johnson. 
Can I still register to vote?
Same-day registration is available during early voting. Anyone who wishes to register and vote same-day may need to show ID or other information, such as a bill, to prove residency. Also during early voting, registered voters may update their name or address, but may not change their party affiliation.
Do I need ID to vote?
No. In a Dec. 31 order, a federal District Court blocked the state's voter photo ID requirement from taking effect. That injunction remains in place until further order of the court.
What's with these voting machines?
Guilford County replaced its touch screen voting machines with a new system. Voters will hand mark ballots, which will then be fed into a machine that reads and tabulates the votes.
Can I vote from home?
Yes. Voters may also cast their ballots through absentee by-mail voting. The deadline to request an absentee ballot for the March primary is Feb. 25. Voters must submit an absentee ballot request form by mail or in person to their county board of elections. Guilford has election offices at 301 W. Market St., Greensboro (336-641-3836), and 325 E. Russell Ave., High Point (336-641-7895).
More information
Source: N.C. State Board of Elections