LEXINGTON — Even though it's raining, people are walking throughout downtown, going to various stores and restaurants, enjoying their day in this small, sleepy Southern town of fewer than 19,000 people.
On one side of the old courthouse square is Conrad and Hinkle Food Store, a relic of an older time. On the opposite side is a coffee shop. Dominating it all is the original Davidson County Courthouse, now a museum. It is around lunchtime and people are more concerned with their plates of barbecue — Lexington is the center of North Carolina's barbecue universe, afterall — than seemingly anything else in the world.
None of the scenes Saturday morning are indicative of the fear more than 10,000 people are displaying online. Their fear, according to members of the Facebook page "Make Davidson County a Second Amendment Protection County," is that Democratic lawmakers will one day try to take their guns away.
This fear has spurred some elected Republican officials in Davidson County to draft a resolution affirming the Second Amendment rights of the county's residents and declaring that the county will never allocate resources or assist in the enforcement of a gun-control law.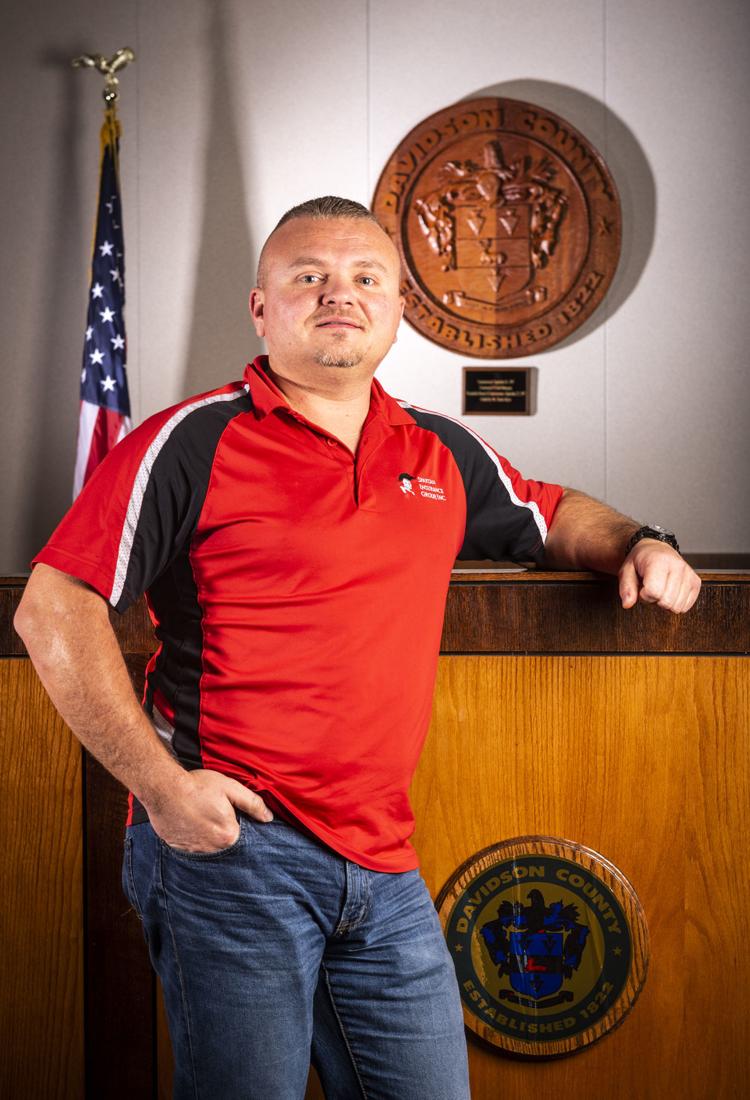 Written by County Commissioner Zak Crotts, the resolution is expected to be introduced and put to a vote at Tuesday's meeting of the Davidson County Board of Commissioners.
Crotts told the Winston-Salem Journal he is taking action because of what is happening in Virginia and the possibility of the federal government passing gun-control legislation.
Virginia Gov. Ralph Northam is advocating eight gun-related bills, including legislation banning the sale of assault-style weapons; requiring background checks on all gun sales and transfers; capping handgun purchases at one per person a month; and creating a "red flag" law to temporarily remove guns from people deemed a threat to themselves or others, The Washington Post recently reported. Democrats control both Virginia's House and Senate for the first time in 25 years, and many of them ran on gun-control platforms.
"I want to make sure we don't turn like Virginia did," Crotts said. "I want to make sure that's very loud and clear."
Elected in 2016, Crotts, 37, is the youngest person to ever serve on the Davidson County Board of Commissioners. He is also the treasurer for the N.C. Republican Party
A lifelong Republican and a veteran of the National Guard, Crotts is a fervent Second Amendment supporter. Weapons are protection to him, he said.
"One of the reasons why I'm so adamant about our protections is, years ago, my children and I were at a restaurant while it got robbed," he said. "I realized what was going on at the cash register and I had to get my daughter on my side of the table and kind of turn sideways nonchalantly to protect my children."
A couple of weeks later, he said, he was in a class getting his concealed-carry permit.
Crotts is facing a challenge in the March 3 primary election, as seven Republicans are running for three spots on the Board of Commissioners.
He said that the timing of his resolution is not political and that he originally wanted to introduce a resolution in March 2019 but was told by the county manager that he wouldn't have the necessary votes on the board to get it passed.
'We will do everything we possibly can'
Should the Davidson County commissioners approve the resolution — the entire board is Republican — they will join officials in at least six other North Carolina counties in doing so.
Most recently, officials in Rowan, Wilkes and Surry counties approved resolutions declaring their counties Second Amendment havens.
Davidson County Sheriff Richie Simmons has voiced his full-throated support for his county's resolution, saying he needs to calm people's fears.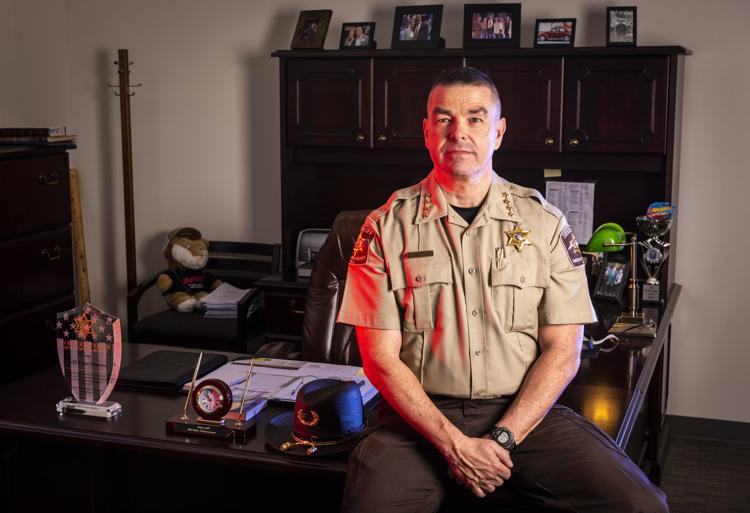 "We were talking amongst some of my commissioners here and we felt it was best if we gave a word to our citizens here that we will protect you and your rights," said Simmons, also a Republican. "They need to know that I protect the people of Davidson County and that's what I swore to do in every aspect. Part of my job in protecting is to rest assure that I will look after them."
Sitting in his office, Simmons said he doesn't really think people are at risk of losing their guns, but if someone does come for them, he has got a plan.
"I know what the sheriff will do is protect our people if someone comes to take their rights away," he said. "I don't want people to be afraid. I deal in solutions."
He is vague on the details of his plan but said it involves deputizing a lot of "good" people. In the past week alone, Simmons' office approved 69 concealed-carry handgun permits — a slow week, he said. For every concealed-carry permit he approves, he calls the recipient individually, letting them know.
"I thank them for being part of my team," he said.
In a statement posted Thursday on the sheriff's office Facebook page, Simmons said he believes that he has been appointed by God to be the sheriff in order to protect citizens' rights. Some people commenting on his Facebook post inferred his statement to mean he would let felons to possess guns, not just law-abiding citizens. Simmons said that's not the case.
"In my opinion, if you're a felon you're not a citizen," he said. "Felons don't have the right to vote or to carry a gun."
Under North Carolina law, people with only one nonviolent conviction on their record can petition to have their civil rights restored, including the right to vote and the right to carry a gun.
While Simmons might have a ready-made militia to fight off would-be gun seizures, he is not the only one. Randolph County Sheriff Greg Seabolt, whose county borders Davidson to the north, has also called for a Second Amendment-protection resolution.
Like Simmons, Seabolt, also a Republican, is less concerned than the general populace about losing Second Amendment rights, but it doesn't mean he isn't taking the possibility seriously.
"We will do everything we possibly can to prevent that from happening. We have state laws and federal laws," he said. "These are laws that have been kind of pushed to the side and you have other laws being created that are almost to the point of defying or doing away with the Constitution this day and time."
Seabolt said the Second Amendment "dictates" the other constitutional amendments, and any misinterpretation or modification of the amendment will only lead to "bad things."
"We just don't want any of our rights to be infringed upon," he said. "When that happens you can't govern as our founding forefathers intended."
Seabolt said he would introduce his proposed resolution to the Randolph County Board of Commissioners on Feb. 3.
'I put my guns down'
In the 2016 election, 73.4% of voters, or 52,870 people, cast a ballot in Davidson County for Donald Trump in the general election. The county is firmly Republican, and has a history of controversial law enforcement, as the years of Gerald Hege as sheriff demonstrate.
With thousands of comments posted on the pro-resolution, pro-gun Facebook page in favor of the right to self-defense, there appears to be online consensus on how commissioners should vote.
But not everyone agrees. Robert Curlee, a veteran of the Vietnam War and a former member the Lexington City Schools Board of Education, is one of the Davidson County residents who oppose such a resolution.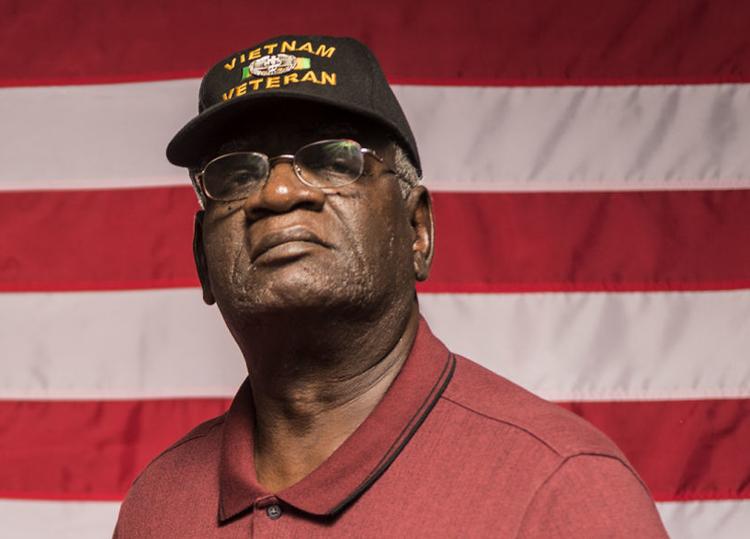 "Those who know the horror of war and the damage that those bullets can do to human tissue, that I as a combat medic have seen and experienced," Curlee said. "I put my guns down, and I have not touched a gun since 1969. There's been a few times in my life I've been out somewhere and wished I had a gun, and a few moments later in retrospect I would say, 'Oh, God I'm glad I didn't.'"
Curlee is anti-gun, saying it's only natural for people who have guns to want to use them.
"Pretty soon you're going to want to shoot something," he said. "Having shot people in Vietnam, which is what we refer to as sanctioned killing, I just know."
Curlee said he believes that a group of seven Republicans, such as the commissioners, should not be able to pass a resolution that might affect the entire county in ways unforeseen. Curlee said he would like to see a countywide referendum on the matter.
'Completely symbolic'
While the resolutions have captured the support of Second Amendment enthusiasts throughout North Carolina, they hold no official power, according to Wilson Parker, a constitutional law professor at Wake Forest University.
"These are completely symbolic," Parker said. "Counties are creatures of state law, and the federal Constitution has a supremacy clause. So any federal legislation trumps state legislation, and state legislation trumps county legislation."
While they can't pass their own laws protecting certain rights for gun owners, the Second Amendment-protection counties can choose not to enforce whatever gun laws are passed, similar to how some district attorneys no longer prosecute small marijuana cases, Parker said.
The Davidson County resolution deals with this exact scenario, and if passed, it would prohibit the county from allocating resources to the enforcement of gun-control laws.
However, a failure to enforce any law could result in a negligence case being brought against the sheriff and county, Parker said.
"If someone is a known violator of the law and the sheriff refuses to enforce the law and someone is killed, whether or not the sheriff would have civil liability for refusing to arrest a known criminal is interesting," Parker said.
He also said there is no local legislative mechanism to legally prevent, for example, the U.S. Bureau of Alcohol, Tobacco, Firearms and Explosive from seizing illegal weapons. Both Seabolt and Simmons seemed to disagree.
"I'm not going to let the government, I don't care what government you're talking about — the federal government — I'm not going to let them come in and take our guns and take our rights away from us," Seabolt said. "I think (this resolution) puts a nail in the coffin in reference to any inclination that we may allow that to happen."