Art — or in this case, Bart — is in the eye of the beholder.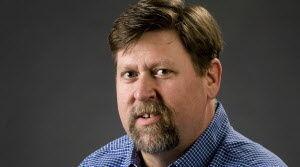 And if you've been paying even the least little bit of attention during your daily travels about town, odds are good that you have seen the goofy, decidedly amateurish handiwork of a spray paint-addled portrait artist who is fixated on one Bart J. Simpson.
Unoccupied houses and abandoned commercial buildings in out-of-the-way places would seem the most frequent and likely tagger canvases. But in recent weeks, more brazen Barts have turned up on a wall bordering walking paths outside Reynolda House Museum of American Art and a billboard close to Business 40.
Social media users have taken note and have been posting mini-updates about "Bartsy"— a takeoff on a famed New York graffiti artist named Banksy.
It may seem harmless, amusing even, but to property owners — and city workers who sometimes have to clean it up — it's more complicated. Police, specifically investigators charged with keeping an eye on gang activity, have noticed and are taking an interest, too.
"We've seen it all over the place," said Sgt. Tyler Walley of the Winston-Salem Police Department's gang unit. "It's not gang graffiti. It's just some goofball, probably a kid 15 to 18 years old.
"The issue with a lot of them, whether they don't know or just don't care, is that it takes time and money to clean up."
'All graffiti to us'
Bartsy's work is, as we've noted, rather crude and rapidly dispatched.
Most of the time, he (or she) swirls out a quickie outline of the Bart Simpson cartoon character and colors it in with white or red paint as time allows. Which is weird since Bart is yellow; maybe yellow paint is more difficult to come by.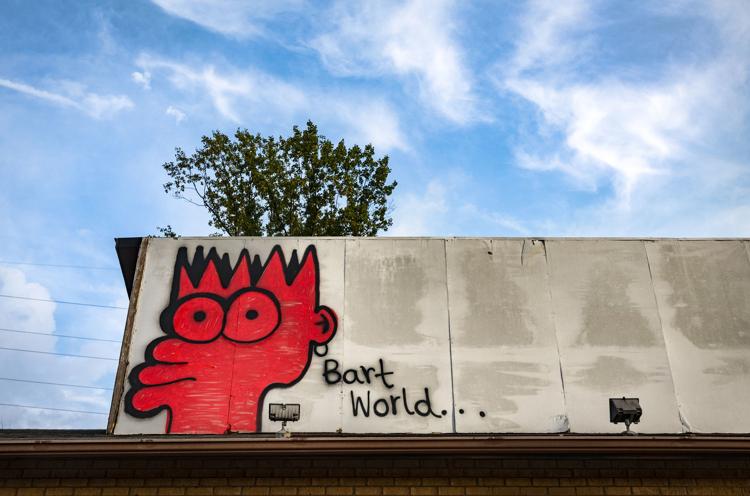 And our "artist" — or more precisely, vandal — has signed some work with "Bart World" or "Eat My Shorts."
It is graffiti, plain and simple, being put out most likely by a bored, mischievous kid with some athletic ability. Climbing up the side of an abandoned building isn't easy.
"There are two different types, gang and tag art," Walley explained while taking a break from a training conference. "One is an art form where people are trying to express themselves. They'll use polychromatic (paints), bubble letters and some design. ... Some of them are really, really good."
That would be the tag art. Typically, tag art can be found on railroad cars, overpasses and bridges when the tagger might be able to work undetected for longer periods of time.
Gang graffiti, Walley said, is a different animal. It rarely carries an artistic merit; gang graffiti is typically a quick, slashing scribble done in a single color. At its core, it's marketing.
The most notable examples would be red for Bloods, blue for Crips and black for Surenos/Sur 13. Yes, those well-known gangs really exist right here in little old Winston-Salem.
"It's not necessarily territory," Walley said. "Sometimes it's just them wanting to promote their gang. … It's pretty primitive. They're doing it super fast, under a minute, so it's difficult to catch them. They tag and they're gone."
Usually, the gang taggers are kids enamored of gang life or trying to get in. They can start with magic markers on bathroom walls in schools. "We tell (school administrators) to look at their notebooks," Walley said. "They practice on paper."
Bartsy doesn't fall into either camp. She (or) he is probably an unsupervised goof with a lot of free time available after dark. "Most likely wearing a hoodie, dark clothes and gloves," Walley said.
While graffiti typically isn't worth getting too worked up over — there are much better ways to use public resources — it does come with a cost.
A private property owner might have to fork over several hundred bucks to wash it off entirely. And when it involves public property, city time (and money) adds up quick.
It's nearly impossible to say with precision since the costs are paid through several different departments — streets maintenance, recreation and parks, code enforcement and the Downtown Winston-Salem Business Improvement District — but there are hints about the issue's scope.
The Downtown Business Improvement District, in the 2018-19 budget estimates that workers spend up to 165 hours a year just cleaning graffiti.
The code enforcement division handled 85 complaints about graffiti on private buildings in 2018. Crews cleaned 40 of them — and presented the property owners with a bill when completed.
"We don't separate the goofballs from gang graffiti," said Bruce Bailiff, the city's code enforcement supervisor. "It's all graffiti to us."
'Bombers' do get caught
At one point, a compact brick building in the 2800 block of Reynolda Road crammed between banks and grocers housed a Burger King and fed thousands who didn't mind eating in their cars.
Those days are in the rear view, however. Thigh-high weeds have sprouted in cracks in the pavement. Scavengers gutted the menu in the drive-through window for scrap metal long ago. Its windows are coated with a layer of unspeakable funk.
The only sign of recent human activity is up on its roof — a black and white Bart Simpson which seems to mock commuters zipping by. It's the same story across town at the former Pace gas station off Stratford Road, and on vacant houses.
Until a few days ago, a billboard off Business 40 near the Silas Creek Parkway interchange had a conga line of Barts on its face. (A personal injury attorney with a serious love of Wake Forest football has since bought the space. Hint: You'll know when you need him.)
It and several different Bart sightings recently took on an odd "Where's Waldo?" feel as individuals have started posting photographs to various online neighborhood groups. "New York may have Banksy But Winston-Salem has Bartsy" was trending up on Facebook.
"Someone is painting graffiti of Bart Simpson's face (a la 'El Barto) around Winston-Salem, and I find it sad yet hilarious," one man posted.
It's hardly the stuff of Most Wanted posters; nothing to get in a twist over. Still, there are real victims and would-be Van Goghs (and knock-off Banksy's) do occasionally get caught.
A few months back, in April, Winston-Salem police charged a 22-year-old man named Hunter Morgan with more than 40 counts of injury to personal property, graffiti, trespassing and driving while license revoked.
According to arrest warrants, he used the tag "Vae" to mar parks, state and city-owned buildings and private property. Hardly worthy of the Louvre — or the Reynolda House Museum of American Art — but beauty is in the eye of the beholder.
"Vae was his tag. His signature," Walley said. "It's short for 'Veethoven,' a nickname he had in prison. A takeoff on Beethoven. He's old enough to know better."
Morgan was released from prison in 2018 after serving close to three years for felony identity theft, breaking and entering, larceny and probation violations. Still, he fancied himself an artist. "He actually had a studio in his house where he practiced," Walley said.
For all the time he's put in learning about graffiti, Walley has developed an eye for art. He can tick off the names of notable tag artists and volunteers how much he likes the work of tag artists/muralists commissioned by downtown building owners.
"That old-timey underwater scuba diving mural at (the new) Hoots at Trade and 7th Street is good," he said.
And the googly-eyed Simpson kid, to most, is not. A few with unrefined and untrained eyes might quibble, but art — like Bart — is in the eye of the beholder.
An arrest is possible, though not likely without public input. Taggers are hard to catch, and Talley said police are happy to take information.
"We always encourage people, even if it's not gang graffiti, to call," he said. "If anybody recognizes a certain tag — somebody probably recognizes the Bart Simpson — let us know. If you see something, say something."