GREENSBORO — The City Council is taking a close look at a program that would provide stability and support services for people who are chronically homeless.
The initiative is called "permanent supportive housing."
Affordable apartments that come with a variety of services designed to help people stay housed are rare in the state. Only two other cities, Charlotte and Asheville, offer programs of the scope Greensboro is considering.
A group of community agencies is working on a proposal that could convert a city-owned building into an apartment building where residents could get easy access to health care, transportation and employment training.
The agencies in the first round of discussions include Cone Health, Community Foundation of Greater Greensboro, Interactive Resource Center, Greensboro Housing Authority and UNCG.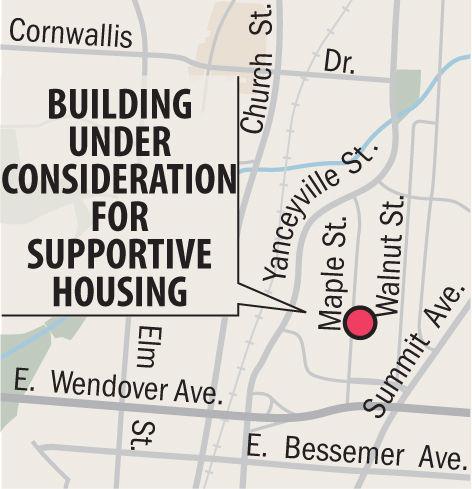 Several sites are being considered for the program.
One idea the group has come up with would use an existing 25,000-square-foot city office building at Fourth and Maple streets as the shell for scores of new apartments that would be located close to a variety of social services. The idea is to enable people who have been homeless to overcome their personal problems with continuing support from those service agencies.
Under the plan, for example, The Salvation Army may have an office in the building where it could act as a case manager for residents. The building might also house a health clinic.
The building the group hopes to renovate has several advantages, program supporters say. For one, it's near bus routes. For another, it's not in a heavily residential area giving neighbors a reason to object.
City officials said discussions of permanent supportive housing are in their infancy. A partner may eventually be found that can build new apartments for the program on another site.
City officials told council members on Tuesday that Charlotte's version of the program helped reduce reliance on community services.
For example, the people who live in Charlotte's 85 one-bedroom efficiency apartments accounted for 571 emergency room visits before they were housed in the city project.
Afterward, trips to the hospital dropped to 124. Arrests went down, too.
Council members and other city officials plan a trip to Charlotte today to judge for themselves.
At Tuesday afternoon's work session, City Council members discussed the program and had plenty of questions that went unanswered. The biggest one: What would be the city's financial commitment?
Also, Councilwoman Sharon Hightower added that she has an issue with the proposed location for the project. She noted that it is across Maple Street from a building that houses Greensboro police's Criminal Investigations Division.
"We just dump permanent supportive housing ... right across the street from a police station," she said. "It's a bad connotation."