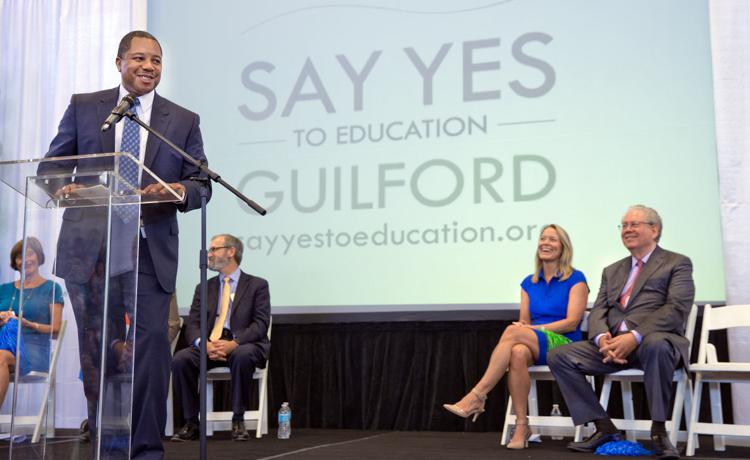 GREENSBORO — A report from a Washington, D.C., think tank found it "almost inexplicable" how badly leaders with Say Yes to Education miscalculated how much money would be needed to fund a new "last dollar" scholarship program in Guilford County. 
In its 200-page study released in June 2018, the Brookings Institution looked at the efforts and impacts of Say Yes to Education in three communities: Syracuse and Buffalo, N.Y., and Guilford County. The latest chapter in Cleveland, Ohio, which is giving out its first scholarships this year, was not included. Researchers interviewed more than 50 people, conducted focus groups and compiled and analyzed data for "Gown Towns: A Case Study of Say Yes to Education."
The Brookings Institution said the Say Yes initiative in Guilford County lost a unifying champion and cheerleader when Superintendent Maurice "Mo" Green left the district in 2016, and then suffered a second blow when they had to cut back on the scholarships being offered to students after spending around $5 million more than anticipated the first year. 
"Say Yes staff blamed the school district for providing faulty data on which the modeling was based," the researchers wrote. "District staff and some other stakeholders believe the Say Yes model was too crude. Certainly, the episode has damaged the reputation of Say Yes in the county."
Chuck Cornelio, the former local Say Yes scholarship board chairman, told the News & Record in 2017 that the average payout per student — about $2,411— was more than expected, though the total number of recipients wasn't. 
Say Yes Guilford has since gained local control from the national organization, while retaining ties and a good relationship, according to current Say Yes Guilford Co-Chair Mindy Oakley. 
In an interview with the News & Record, Guilford County Schools Chief of Staff Nora Carr said, "We're confident that the data we provided was accurate and that everyone worked hard to make sure Say Yes was a success here. We continue to support Say Yes."
A 'last dollar' tangle
Originally, Say Yes Guilford offered what was billed as a "last dollar" tuition scholarship for eligible Guilford County Schools graduates attending a North Carolina public college or university.
The idea behind "last dollar" is that Say Yes pays the remaining balance of tuition once all other federal, state, college, and other scholarship aid is directed toward tuition, allowing students to attend tuition-free.
The less the government and schools give a student for scholarships, the more Say Yes ends up covering. 
Leaders, apparently, made some assumptions that were based, in part, on how the scholarships worked in Buffalo and Syracuse.
But those communities are different from Guilford County. According to the Brookings Institution, 30 percent of families in Guilford County have incomes of more than $75,000. By comparison, the other two communities are each at about 20 percent.
"A common theme in our interviews with those involved, both at a national and local level, was "we just didn't have the data" or that the error was caused by "bad data".  What this seems to mean is that accurate data on the distribution of household incomes for families in Guilford County was lacking," researchers wrote.
Say Yes national staff told the Brookings Institution researchers that free and reduced K-12 lunch numbers were used in the scholarship modeling calculations. But as the study points out, that information speaks to the number of low-income families in a school district but says almost nothing about how many students are from higher income families. Such families, they said, are also more likely to send their students to four-year colleges, which are relatively more expensive. 
"Our own sense is that simply analyzing the demographics of Guilford County using published census data, and assuming similar college-going rates by income as in national datasets, would have generated much more accurate figures," the researchers wrote. 
Say Yes Guilford Co-Chair Robert Pompey told the News & Record that the model Say Yes national gave to the local scholarship board, based on the prior two communities, under-estimated the number of students who would get less financial aid and therefore need a larger Say Yes scholarship.
However, that's not the same thing as underestimating wealthy families, he added. There are multiple factors that the federal government uses in determining who gets federal financial assistance, he said, and it's not just wealthy people left without federal financial aid in a given year.
"You don't have to make $100,000 or $200,000 to not qualify for financial need," he said. "What drives that number would be more of your middle-class population."
Blame and hindsight 
Say Yes national staff members told the Brookings Institution that Guilford should have provided better or more data to create the scholarship funding model. And some even suggested that the school district had  purposely given bad data to undermine the scholarship.
Also, some of the national staff members suggested to the Brookings Institution that North Carolina colleges had reduced institutional aid to students and let the Say Yes scholarship cover any gaps left in tuition. They didn't specify which colleges. 
The News & Record reached out to the county's three public colleges to ask if they had reduced their institutional aid for Say Yes students.
Spokeswomen from GTCC and UNCG said their schools had not reduced their aid. 
"UNCG did not, nor will we, reduce our institutional spending so that students might receive more funding from Say Yes or any other foundation," the director of UNCG's financial aid office said in a statement. "Our goal is to help our students by having a positive working relationship with Say Yes. From the beginning we have worked diligently to assist Say Yes in their efforts to support Guilford County students."
A spokeswoman for N.C. A&T did not respond with an answer to the question. 
Carr, the school district chief of staff, said that along with the data on free and reduced lunch, the school district supplied Say Yes with numbers of students who graduate, the number of students in the senior class, and local census data, including income levels in the county.
Both Carr and Superintendent Sharon Contreras belong to Say Yes Guilford's current board, but Carr has a longer involvement with the local effort.
Contreras had worked with Say Yes Syracuse in her former role as superintendent there, but was not in Guilford when the scholarship payout projections and $70 million fundraising goal were set.
By August 2016, when Contreras was sworn in as superintendent, members of the first class of Say Yes Scholars were already starting their first semester of college. 
Out of the data Say Yes was looking for to inform the scholarship model, Carr said the only thing she knew of that the schools did not have at the time and could not supply was a breakdown of how many students went to college and what colleges students attended after graduating. She said the school district is now signed up to get this type of data through the National Student Clearinghouse.  
She said the schools also provided surveys of students saying what colleges they expected to attend.
The whole situation shows how important local context is, she said. 
"I think that's true for anything that we are trying to do in education," she said. "I think that's part of what makes it so complex."
Just as Guilford continues its efforts with the Say Yes program, the national organization is continuing its work.  
Just two months after the public announcement of the overspend in Guilford County, Say Yes to Education announced that leaders in Cleveland had satisfied early requirements toward bringing the initiative there.
This January, Say Yes announced Cleveland as its fourth community-wide chapter. This year's graduating class will be the first eligible for scholarships there. 
While smaller in size, Cleveland — a city school system about half the size of Guilford's county system — set a scholarship endowment goal of $125 million, much larger than Guilford's $70 million goal. And leaders there have raised $90 million in pledges and contributions. In Cleveland, there is a cap of no more than $5,000 per year in scholarships for students whose families make more than $75,000 annually. They have framed their effort as providing scholarships for the next 25 years, rather than indefinitely like Guilford planned when Say Yes launched here.