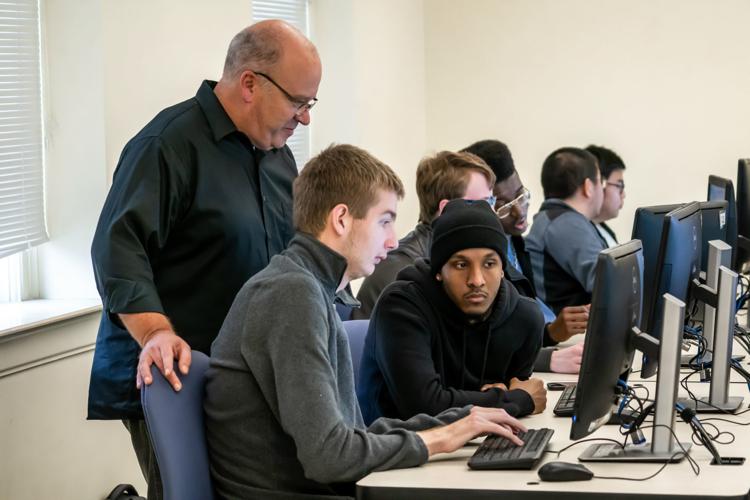 GREENSBORO — There's so much computer data out there these days that it's measured in something called zettabytes — a trillion gigabytes. Keep in mind that a gigabyte is roughly the amount of data on a typical DVD.
In this era of Big Data, there's a lot of information to be analyzed — and a lot of jobs out there for people willing to do that kind of work. To meet this high-tech demand, UNCG this fall will roll out a new master's degree program in analytics and informatics — the science of extracting meaning and information from trillions and trillions of bits and bytes.
"We're a public university. It's our job to respond to demand," UNCG Provost Dana Dunn said. "And there's sharp demand for graduates in this field."
Data science is about gathering, organizing and analyzing large amounts of information, Dunn explained. Informatics is an applied data science that uses this information to solve problems in a variety of fields.
"It's the solution-oriented part of data science," she said.
UNCG's informatics program will require students to take nine courses — mostly in statistics, computer science and information systems — and complete a capstone project. Full-time students will be able to finish the program in a year and a half. Part-time students will need about three years. Online classes are in the works.
The new graduate program grew out of existing informatics courses offered in several UNCG departments, Dunn said.
UNCG will start out with five concentrations — advanced data analytics; geospatial, or mapping; cultural; bioinformatics, which focuses on gene sequences and other biological areas; and computational analytics, which is used in the financial, health care, higher education and other industries. UNCG may eventually develop two other concentrations in sports and health informatics.
The director of UNCG's new informatics program, John Stufken, will start July 1 after five years at Arizona State University, where he held an endowed chair in statistics, and 11 years at the University of Georgia. He'll be the program's first dedicated faculty member.
UNCG plans to start a search this fall for two permanent professors. Professors from other UNCG departments — business, math, computer science, nursing and others — also will teach.
UNCG will be the sixth UNC System school to offer an advanced degree in analytics or informatics. The university anticipates that its new program will start with about 20 students this fall and grow to as many as 200 over five years.
The university's ambitious growth plan is buoyed by the success UNC-Charlotte has had with its own informatics program
Since it was introduced in 2013, UNCC's master's degree program in data science and business analytics has grown to more than 160 students. Its health analytics master's program, launched that same year, had 44 students as of last fall. The university's 10-year-old bioinformatics program, meanwhile, has graduated 22 master's students and another nine PhDs in the past two years.
"Bioinformatics is at the intersection of computing and biotechnology," said Lawrence Mays, a UNCC professor and chairman of its bioinformatics and genomics department. "As more people become aware of the power of this combination, interest in the field grows. We foresee steady growth as new applications for bioinformatics are developed."
Grad students seem to be attracted to the job prospects after college. LinkedIn, the professional social network, ranked data science specialist seventh overall in its year-end Emerging Jobs Report in 2018; the number of jobs in this field have grown fivefold over the past five years. The federal Bureau of Labor Statistics predicts jobs in the computer and information research science fields will grow by nearly 20 percent by 2026. Median annual salaries are already close to $120,000.
As Big Data grows ever bigger, Stufken said, informatics seeks to use all of these computerized records to build models, then use these models to make predictions. From these predictions can come better patient care for hospitals, more breakthroughs for scientists and more profit for businesses.
"People need to be able to make sense out of all that data," Stufken said. "What can you learn from it? …
"This is something that everyone should have some knowledge of," he added. "Data is in all of our lives."