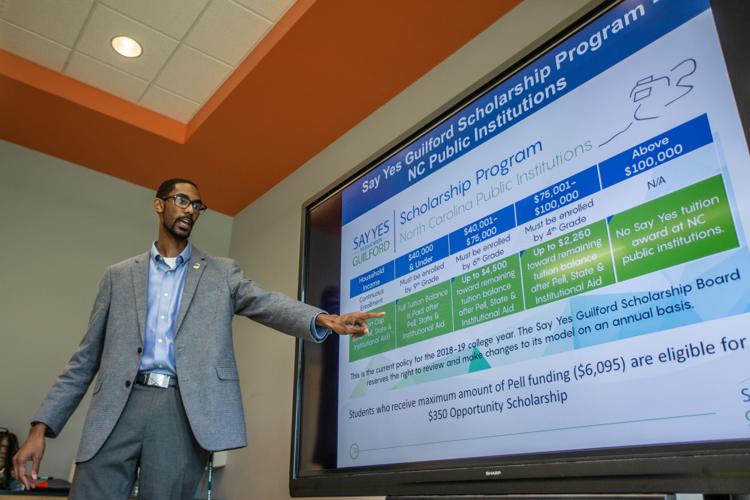 GREENSBORO — Just over two years ago, the then-chairman of Say Yes Guilford's local scholarship board stood in front of a gaggle of cameras and reporters to announce major cuts to its college scholarship program for Guilford County students. 
The so-called "last-dollar" scholarships, paid for with locally-raised money, were meant to bridge the gap to make sure all eligible students graduating from Guilford County Schools could get their tuition covered.
But their calculations were off by millions of dollars. Say Yes officials estimated Guilford would spend $800,000 to $1 million on its first year of scholarships. Guilford gave out $5.85 million in that first year, then had to quickly reverse course, mostly replacing the full "last dollar" tuition awards with more limited offers. 
In its 200-page study released in June 2018, the Brookings Institution looked at the efforts and impacts of Say Yes to Education in three communities: Syracuse and Buffalo, N.Y., and Guilford County. 
The overspend and its fallout have hurt Say Yes Guilford in the two years since, but local leaders continue to push the effort forward. 
Say Yes Guilford is still working with Say Yes to Education, the national organization that birthed it, despite taking the chapter under local control sooner than planned. 
And they are still giving out scholarships — more than $2 million since the overspend — despite a massive fall off in scholarship fundraising and having just $13.5 million of a hoped-for $70 million endowment.
Along with their new autonomy, Say Yes Guilford officials say they have finally begun coordinating supports for students at 12 local schools, despite a year's delay in starting into this pillar of the Say Yes strategy.
Mindy Oakley, co-chair of Say Yes Guilford's new board, said her group still aims to find a way to honor the original promises for scholarships and services, while acknowledging some of those promises aren't within their grasp today. Their vision of a county united to give students the preparation and support they need to continue their education still waits in the distance.
"I'm fond of saying this, and I think everyone is sick of hearing this: that's a marathon, not a sprint," Oakley said. "And so I think our focus now is just kind of putting our head down and doing the work."
New direction
One of the biggest changes to Say Yes Guilford is who is in charge.
The chapter gained local control from the New York-based Say Yes to Education a little under a year ago. 
Oakley, who is the executive director for the Edward M. Armfield Foundation, and Robert Pompey, N.C. A&T's vice chancellor for business and finance, chair Say Yes Guilford's Board of Directors. Pompey previously served on the local Say Yes scholarship board and Oakley on the local operating committee, which merged this winter.
Two weeks ago, they announced the hire of a new chief executive officer: Wendy Poteat, a nonprofit leader and Guilford County resident, who most recently led the Forsyth Promise. She starts work June 3.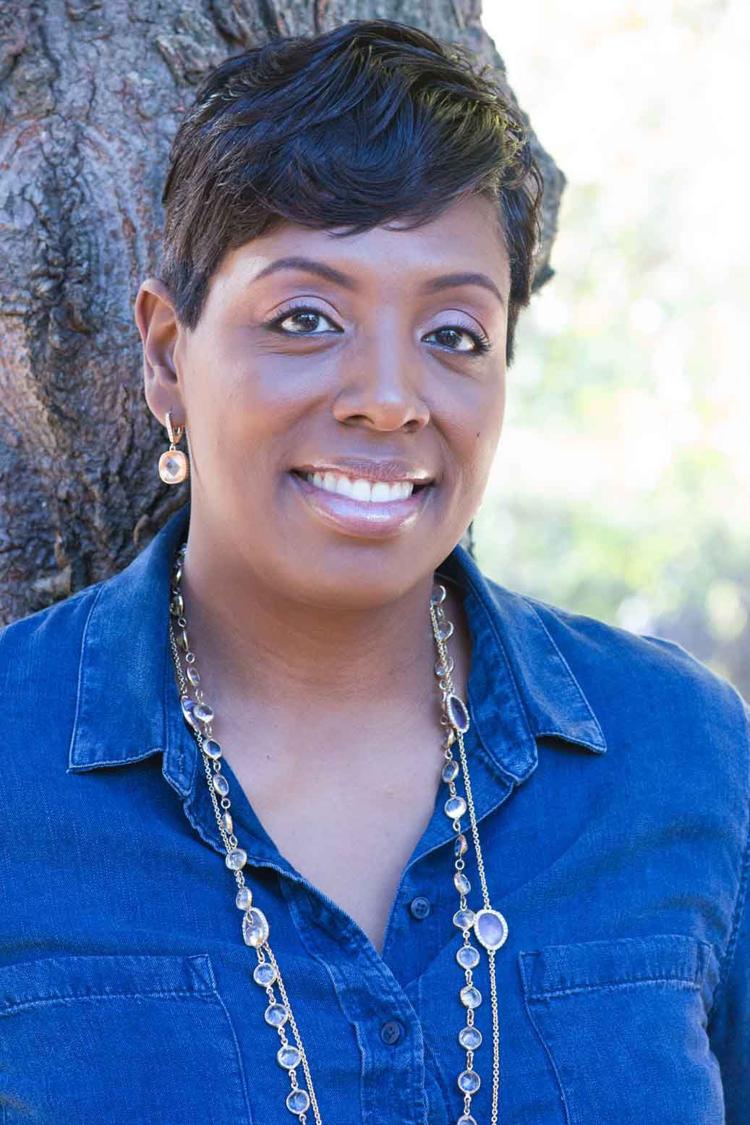 Poteat said she expects communication to be an early area of focus, and she comes into this job with experience healing a fracture between The Forsyth Promise group and the Forsyth school system, one of its key partners. 
"True partnerships and great partnerships move at the speed of trust," she said.  
The local Say Yes leaders have said they always planned for Say Yes Guilford to eventually go independent, but it happened a couple of years sooner than originally intended.
Oakley said conversations about it geared up over a year ago, around the time that Say Yes national was talking about seeking renewed agreements with the schools and local governing boards to support each other and work together. She said local leaders on the operating committee that advised Say Yes felt they had the buy-in and support from these key players and didn't see a need for new agreements.
Alan Branson, chairman of the Guilford County Board of Commissioners, said recently he would have voted against a new agreement to show his disappointment with changes put in place by the former local scholarship board that diminished or eliminated scholarships for some students after their first year.
"There was a lot of kids and a lot of families that banked on this opportunity," he said.
Around the same time the national organization sought to renew those agreements, Oakley said, local Say Yes leaders started a larger conversation about the ways the Guilford chapter might benefit from being able to make its own decisions.
Say Yes Guilford's local scholarship board had the power to make changes to the scholarships. That flexibility allowed the board to make changes to the scholarship requirements after the overspend. However, the local operating committee could only advise, not control, Say Yes Guilford's operations and potential service offerings to students.
When Guilford became a Say Yes community, it was the third community-wide program but the first outside of New York state. It was also the largest, by far, compared to the first two community-wide chapters in Buffalo and Syracuse, New York.
Guilford County Schools has more than twice as many students as the Buffalo public schools and more than three times as many as Syracuse. The county contains two major cities, has more diversity of income, and a different set of resources, Oakley said. Say Yes Guilford leaders felt they needed flexibility to adapt to local-level changes and needs as they arose, rather than getting national to sign off and having to follow the national framework.
Today, even though Say Yes Guilford no longer remains under the control of the national organization, there are still many ties between them.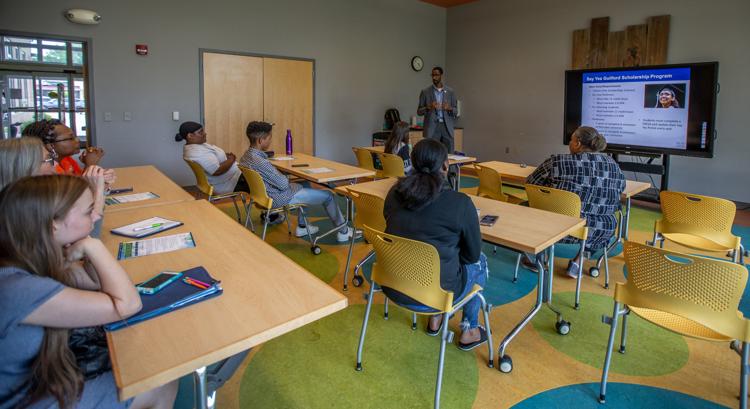 Starting with 2019-20, Say Yes national has agreed to provide the Guilford program with $3.5 million over five years, Oakley said. That was expected to be enough to cover scholarship staff salaries for three employees for five years with the rest going toward three years of operating expenses. Poteat is set to make recommendations on staffing this summer or fall. 
Say Yes Guilford has two full-time employees to manage the scholarships as well as a part-time office manager. Say Yes national eliminated some positions before the split. The staff still work out of rent-free offices in Greensboro's downtown central public library. 
Keeping the employees on the national group's payroll was a favor to Say Yes Guilford that helped avoid interruption in employee benefits, Oakley said. Meanwhile, Say Yes Guilford is contracting with the nonprofit Guilford Education Alliance to serve as its interim fiscal agent.
Oakley said they would have loved to get more funding for operations, but without a solid understanding of how much they might need to launch services and what they might spend it on, that was a tougher sell in negotiations with Say Yes national. She said they have a good relationship with the national organization, and they've reached out to them for advice at times.
"In truth, Say Yes could have said, 'Fine, do it — we are not going to give you anything,'" she said. "We were very thankful that they did."
GREENSBORO — Say Yes to Education Guilford is making a big change in how it operates.
When a team began planning for the July 1, 2018, split from the national organization and the road ahead, Oakley said the first question had to be, "Do we still want to do this?"
As they went around the table, Oakley said, everyone talked about why they wanted to keep going with the Say Yes effort.
"I think there's a strong sense of commitment to honor the promises we made," she said. "If you remember our launch was, 'Everyone is going to college and everyone is getting services K-12.' I mean, those are not financially feasible promises at this time, and so we really had to look at how do we scale back that vision and start to build the right momentum to one day, hopefully, honor that."
Scholarships
Say Yes Guilford is still giving out scholarships — just fewer per class and worth less money per student than in that first year.
Say Yes Guilford made drastic changes in eligibility and award amounts to make the scholarship program more financially sustainable.

Students whose families have an income of $100,000 or more per year are no longer eligible for Say Yes tuition scholarships to public universities. They may still be eligible for Say Yes Choice Grants of up to $5,000 per year to help cover tuition at participating private colleges.
Just one group gets a full, last-dollar tuition guarantee: students of families with an annual income of $40,000 or less who have been enrolled in Guilford County Schools since the ninth grade. They get a 100% last-dollar tuition scholarship — that's if other financial aid isn't already covering their total tuition.
Beyond that, the new rules tightened both the total cap of how much a family could receive and the number of years a student must have lived in the district to be eligible. Students with an annual family income of $40,001-$75,000 and enrolled since sixth grade can receive up to $4,500 in tuition assistance, after financial aid. For the $75,001 to $100,000 bracket, they must have been enrolled since fourth grade and can receive up to $2,250 in tuition assistance, after financial aid.
Any qualifying students who receive the maximum award through the federal Pell Grant program will receive a $350 per year Opportunity Scholarship from Say Yes. Previously, commuter students in that category got $350, but on-campus students could receive $1,000 per year. 
Separately, Say Yes partners with about 100 private colleges and universities around the country. These schools typically provide tuition scholarships, which cover tuition and mandatory fees, but not room and board or books, after all other financial aid is applied for eligible Guilford graduates whose family income is at or below $75,000, according to Say Yes Guilford.
For the 2017-2018 school year, Say Yes Guilford paid about $1.37 million to 938 college freshmen and sophomores. That's an average of just under $700,000 per class, per year, and it's basically right on track with how the scholarship requirement changes were designed.
As of Feb. 19, Say Yes Guilford had given away about $623,000 in scholarships for the fall 2018 semester to 759 students. The scholarship team will continue to grant awards for fall 2018 and spring 2019 through the end of the school year.
However, those first semester totals can't simply be doubled to get a full year tally, said Pompey, the co-chair of Say Yes Guilford's Board of Directors.
He expects the eventual total will be higher than doubling the first semester, but not significantly higher than the $2 million or so predicted for the third year based on their model from 2017-18. The award caps at most income levels makes it much easier to feel confident they won't wildly overspend than when they had the open-ended "last-dollar tuition" guarantees, he said.
From the data provided to the News & Record, it does not appear that Say Yes Guilford can keep up even the current scholarship levels for long without a major turnaround in fundraising or an investment miracle.
To get why, it's useful to understand a bit about how the scholarship funds operate.
The Community Foundation of Greater Greensboro and the High Point Community Foundation, which both helped raise money for Say Yes Guilford, hold and manage the nonprofit's scholarship funds. Each holds part of the Say Yes to Education Endowment, while the Greensboro foundation also holds a fund for non-endowment scholarship donations.
Money placed in an endowment is invested and a small amount released to the charity or nonprofit each year, explained CFGG president Walker Sanders, who is a big fan of Say Yes's potential to help future local workplace development. 
The general idea for endowments is that over many years the rate of gains from the investment will at least cancel out the rate of withdrawal from the fund, so that the endowment can exist forever as a source of income.
The Say Yes Endowment funds are set up to pay out at a rate of 4% per year for scholarships. They paid out for the first time in fall 2018, with the money helping pay for those first semester 2018 scholarships.
The foundations also charge a fee, similar to other endowments they manage, but discounted it for Say Yes Guilford. The fee is about 1% of the money in the endowment for 2019, and will drop to about 0.9% in 2020, Sanders said.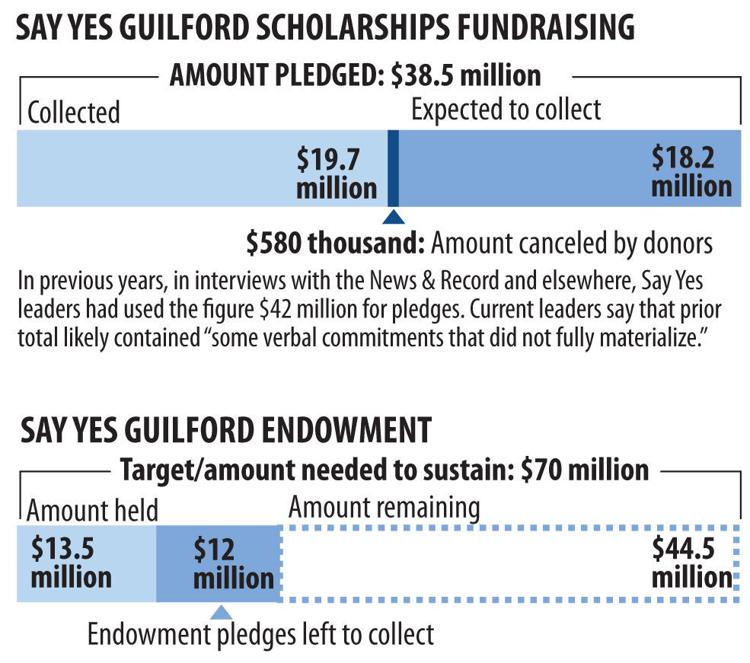 When they first announced the scholarships, Say Yes national leaders and their local allies set a goal of about $70 million for a scholarship endowment. When fully funded, it would be able to provide roughly $2.8 million per year — about $700,000 per class — at an annual withdrawal rate around 4%, they figured.
Leaders did not wait to raise the full $70 million before launching the scholarship program. Instead, they pursued a dual strategy of raising some money for the endowment and some to pay scholarships right away. Many of the pledges would be paid out over time, in three-year, five-year, and 10-year increments, for example.
That put them in a tight position when the overspend hit, and resulted in Say Yes national stepping in to cover about $1.9 million of the first year scholarship costs. 
The Say Yes board announced Thursday that it is tightening eligibility requirements for the scholarship program.
For the most part, donors have stuck with their commitments to Say Yes, despite the scholarship overspend, and are continuing to pay on their pledges, Oakley and Sanders said. But new donations and pledges for scholarships dried up, at least temporarily.
Data that Sanders sent to the News & Record showed about $2.6 million in new pledges and gifts to the funds in 2017, about $20,000 in 2018, and zero in 2019.
He wrote in an email that, "effectively nothing" had been pledged since the March 30, 2017, announcement of the scholarship changes, and that the foundations stopped fundraising until the new structure of Say Yes was finalized.
That's now completed, he and Oakley said, adding fundraising will be a big part of the job of the new CEO. 
They also said the scholarship overspend temporarily paused their fundraising efforts while they built better predictions for annual funding needs and worked with the schools on the implementation of family services. The expectation of services, they said, was a big reason donors invested in the effort.
Say Yes Guilford has about $13.5 million in its endowment, with another $12 million in pledges left to collect for it. Besides that, another $6 million in pledges remains to be collected for the non-endowment fund at CFGG.
If Say Yes Guilford were able to build its endowment to $25.5 million, it would be able to pay out about $1 million per year, at that 4% withdrawal rate. But that's still nowhere near enough to fund $2.8 million in scholarships per year at 4%. They need $70 million for that.
"Our fundraising has to continue," Oakley said. "Definitely the plan has been and definitely continues to be to fund raise and to raise that number."
The group is stressing they believe they now have a team in place to make it happen, with donors, community partners and a board excited about the future. 
These days, Oakley said, Say Yes Guilford makes it clear that scholarships are guaranteed for one year only, and may change. Factors that could affect the scholarships include adjustments by the scholarship board and changes in school tuition, family financial situation as measured by the Free Application for Federal Student Aid, and a student's grades and standing in college.
With that said, Say Yes Guilford doesn't anticipate making changes that would cut anyone's scholarship midway through college again, she said.
"Our intention is 100 percent to, once we get a freshman in a Say Yes scholarship, to continue that scholarship until they graduate from college four or five years later," Oakley said. "I think if any of us ever felt that we could not find a way to make that happen, I don't think we would set up that expectation. If we didn't think we had a scholarship to pay next year we wouldn't start it this year.
"Our intention very much is we are going to continue this program. That doesn't mean that the funding stream is obvious, it means that we are continuing to fund raise. We aren't there yet. A permanent endowment would be lovely if we knew that was going to kick out every year. We are having to work to raise money, but the intention in the community is that it is worth it to do so."
Support services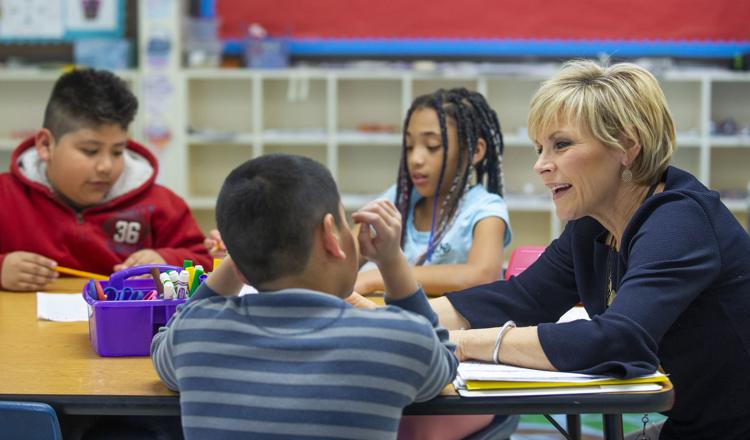 Again and again, local Say Yes leaders have stressed that helping communities bring support services to schools is a critical part of what they want to do, as central or more central than the scholarships.
Until recently though, the only such services Say Yes could point to were for high school students seeking to attend college. In 2017, Guilford was recognized for increasing FAFSA completions.
The split from the national program has given Say Yes Guilford the autonomy it wanted and the group has begun the work it has long talked about: finding ways to help schools help students and families, beyond just the college application process.
To start, teams are working with 12 schools to find what works best for that school, whether it's tutoring sessions in reading or arranging a college tour.
A team is working in High Point with Fairview and Northwood elementary schools, Ferndale Middle and High Point Central High; another in Greensboro with Foust and Wiley elementary schools and Jackson Middle and Smith High; and a third in the county with Sedalia and McLeansville elementary schools and Eastern Middle and High schools.
A grant from the High Point Community Foundation, announced in November, is providing up to $100,000 over three years to help support the efforts in the High Point schools.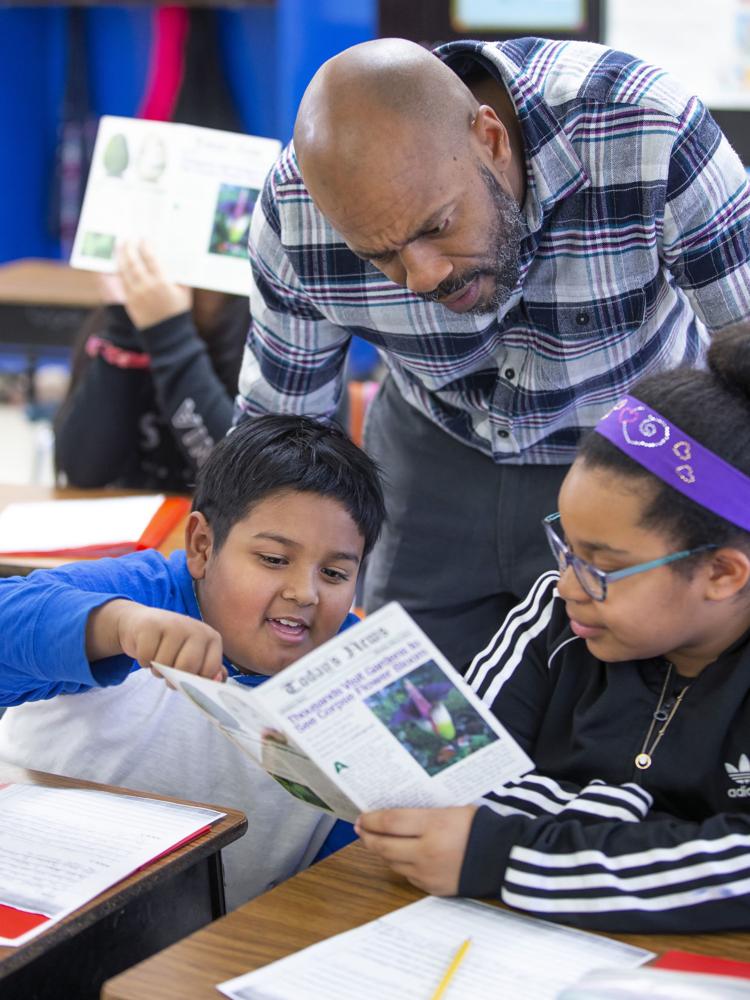 David Miller, the president of D.S. Miller Inc. precision machine shop in High Point, is heading up the support services effort.
He and other unpaid volunteers are calling donors and connecting with other nonprofits to fulfill a wide range of requests from principals. That's everything from testing students' eyesight to distributing books to buying cool pencils that teachers can give out as rewards.
"Each school has a little bit of different needs," he said. "Almost all of them are poverty driven ... poverty issues really kind of leach over into all of the schools quite frankly."
Each Say Yes team has one retired or former school principal and one person with strong connections to area charitable foundations, Miller said.
At the three middle schools and three high schools, Say Yes Guilford helped set up and pay for students to take field trips to Guilford Technical Community College. The idea is for students to learn about careers in Guilford County and the career-training GTCC offers.
In High Point, Say Yes Guilford helped set up a reading tutoring program funded by a local benefactor for Fairview and Northwood. The program pays professional teachers, many of them retirees, to tutor students who are behind grade level on reading. High Point University is helping them evaluate the results of the program, Miller said.
According to Oakley, Say Yes aims to get behind the school board's goal of boosting the percentage of students reading proficiently by the end of third grade.
"Guilford County Schools has put a stake in the ground around third grade literacy and that's what we want to support," she said.
Their idea is to try support services at a few schools to see if they bring results. If data show the services are helping to boost third grade reading, then Say Yes would talk to different funding sources, including county government, to expand those services to more schools.
The point is less about who provides the assistance, and more about talking the community into greater, more-effective support for the schools. Right now, the small scale, volunteer-led efforts look like a far cry from the district-wide programs or positions that Say Yes national helped to create or inspire in the smaller Say Yes communities in Syracuse and Buffalo.
"We don't know what the end of the race looks like," Oakley said. "We are at the very beginning."