GREENSBORO — Guilford County Schools' limited tests for lead in school drinking water should be just the beginning of the district's inquiry and action, said two national experts. 
Research shows when lead builds up in young children, it can harm their intelligence, focus and behavior.
"If there's one tap with high lead in a kindergarten or elementary school classroom, I think we'd all agree that's unacceptable, and we need to get that fixed," Virginia Tech researcher Marc Edwards said. "The first step is we have to find it."
Guilford County Schools took that first step last school year, drawing samples from one tap per site at 99 schools and 10 administrative offices that are connected to a municipal water source. 
It marked the first testing of this kind that the district has done that he knows of, said Scott McCully, the district's chief operations officer. 
Unlike some other states, North Carolina does not require schools to test for lead in their drinking water unless they use wells. However, the U.S. Environmental Protection Agency recommends districts also test taps at schools that draw from municipal sources. 
When Guilford's test results came back this spring, three faucets showed lead near or above the EPA's action level of 20 parts per billion. That's the point at which the EPA guidelines recommend schools take steps to fix a problem.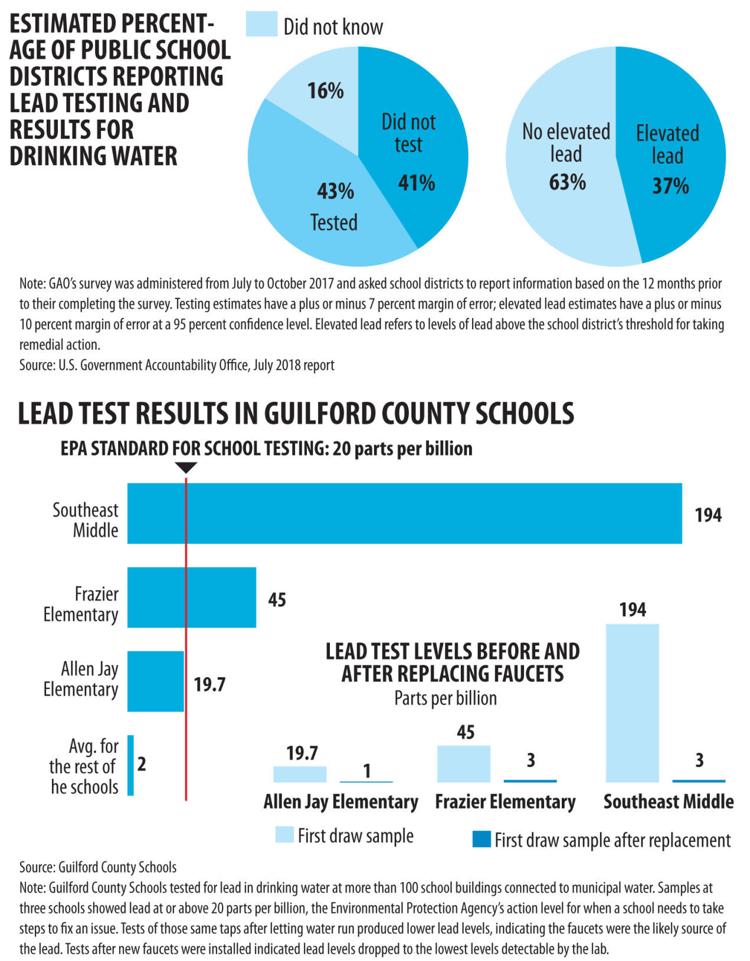 The highest concentration, 194 ppb, was found in a small, white sink in the kitchen at Southeast Guilford Middle. The other two highest results were 45 ppb at Frazier Elementary in Greensboro and 19.7 ppb at Allen Jay Elementary in High Point.
In each case the district identified the faucet on the sink tested as the likely problem, changed out the faucets, and saw lower lead levels when the tap was retested. They released the results in July.
At a meeting Thursday at Southeast Guilford Middle, parents spent more than an hour grilling McCully with concerns and questions.
The district has highlighted the overall results as a sign of the safety of the water in the schools, but McCully also said he and his staff had begun a parts inventory of faucets and drinking fountains. They want to find out where there might be more older-model fixtures, which are prone to leaching lead into water, like the three they replaced after the tests. 
The News & Record shared the district's test results with Edwards, a Virginia Tech researcher famous for his role in lead testing in Flint, Michigan, and Philip Landrigan, a Boston College epidemiologist and pediatrician whose research helped get the U.S. to ban lead from gasoline and paint in the 1970s. 
Both praised the steps the district had taken in testing and replacing taps. And Landrigan spoke approvingly of the fact that results from all but three taps tested below the EPA action threshold. He called it a "good news story." 
Still, both cautioned that tests from one tap aren't representative of the entire school. The EPA recommends testing, at a minimum, every tap in a school that regularly gets used for drinking water. The experts said if schools test more taps they are highly likely to find more faucets or other outlets that need a fix. 
About 30 parents, students and staff gathered for a meeting with school leaders Thursday night to discuss the safety of water from taps at school buildings in response to tests this winter that showed high levels of lead in water at three schools, including Southeast Guilford Middle.
Landrigan said the EPA's action level is a compromise between what top scientists say is potentially dangerous and what public health officials feel is feasible to address. There's not a lead level that's considered harmless for children to drink, he said. Over the past 10 years, high-quality studies have linked what had previously been seen as safe, low blood lead levels with injury to brain health. 
Edwards said most schools that get into the business of testing their water even set their action standard lower than the EPA's 20 ppb limit. Some set it as low as 5 ppb. Where it's voluntary, it's up to schools to decide what they will tolerate.  
"When it comes to lead in water, getting the bad news is really good news," Edwards said. "There's nothing we can do to reverse harmful exposure. We have to identify problems and fix them, and they've done so.
"It's a first step, but hopefully they are on track to finish the job. "
Trying something new
Southeast Guilford Middle parent Treena Jackson has had the water in her home tested. She packs bottled water for her children when they go on outings in public places.
She'd always figured that the school district had monitored the water for lead. So she never worried about the water her children would drink there.   
"I would think that something that hundreds and possibly thousands of students are consuming each day and that staff is cooking with, that you would test it, especially realizing the age of some of our schools," she said. 
The U.S. Government Accountability Office released a report last month showing an estimated 43 percent of school districts surveyed tested for lead in 2017. Of those, 37 percent found elevated levels and reduced or eliminated exposure. They varied in how many taps at how many schools they tested and how much money they spent. Many were in states that required testing, but some weren't. 
In Guilford County, Greensboro's water department suggested testing for lead in the schools. Assistant Director of Water Resources Mike Borchers said it wasn't driven by any worry or concern. His department had heard about a recent partnership to test for lead in the water in Winston-Salem/Forsyth County Schools and thought that sounded like a beneficial idea for the schools and the community. 
Guilford County Schools leaders were willing to try it. So they pulled together a team that included the schools and area municipalities. High Point and Greensboro serve water to the majority of those schools, but two schools are linked to the other municipal systems. 
Together, they conducted tests for both lead and copper. One test took place just outside each school, to show the levels in the water right before it enters the building. Then, school maintenance staff took samples from one tap per school, usually a sink in the school kitchen because that room is usually on the main water line for the school, Borchers said. At each tap they tested, they took one sample of water that sat stagnant in the tap overnight.
Greensboro and High Point tested the results and covered the costs, about $40 per sample.  
"From a logistics and a cost standpoint we thought we weren't going to be able to do it where we'd test every fixture in a building," Borchers said in an interview.  
When the results came back, there were no instances of copper above the maximum EPA contaminant level. Three taps showed high levels of lead in the first-draw sample of stagnant water.
Following the EPA protocol, the schools then re-sampled the taps, this time to analyze fresh water after the stagnant water in the tap had been flushed out.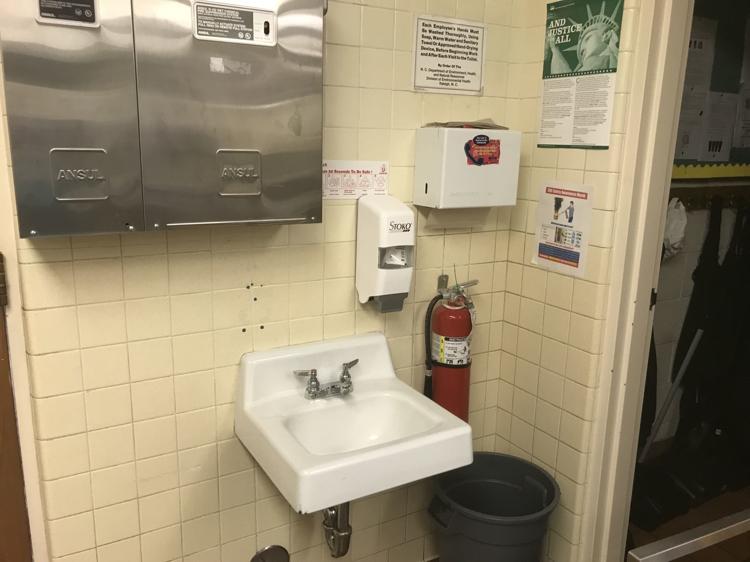 The spike in lead levels at those taps mostly disappeared in a flushed water sample — a sign that the lead is getting into the water in the faucet or tap, and not further up the pipeline. The schools decided to replace the faucets, which is one of the options the EPA recommends as a fix. With the new faucets, the lead was below the lowest detectable limit. 
To Borchers, the test results looked excellent. With about 2.5 percent of the taps testing higher than the EPA action level, that's similar or slightly better than results he's seen for a couple of major U.S. school systems, he said. It's further evidence, he said, the city's anti-corrosion controls in the water are working to keep down the corrosion in plumbing and therefore keep lead out of the water. 
The EPA testing guidelines, however, are more designed to help schools locate problems inside buildings than to be evidence about the municipal systems with which they connect.
In the southern United States, there's unlikely to be lead service lines joining the schools to the municipal system, Landrigan said. Faucets, water fountains and solder used to join pipes inside schools, are much more likely culprits to be leaching or collecting lead than anything that would affect an entire school, Edwards said. 
While Guilford's tests may suggest lead issues are likely spotty rather than building wide, what's coming out of the other faucets and water fountains is not clear because they weren't tested. 
"If a few of the taps around the school system have lead, I highly suspect that they are going to have more," Landrigan said.
Even pipes in a new building aren't immune. It's common to have 5 percent or 10 percent of taps in a newer school test positive for high lead, Edwards said. In a really old school in the northern U.S., he said, it's not surprising for tests to find high lead in the majority of a school's taps. 
Health of children
While not eliciting the same level of concern as lead found in paint chips that children might eat, high lead levels in water can also be detrimental to health, experts said.
Both Edwards and Landrigan said it would be bad for small children or for pregnant women to be regularly drinking water that's got 194 parts per billion of lead. That's what was measured in the sample from the Southeast Guilford Middle sink.
Edwards said if he had a young child who regularly drank out of a faucet or fountain that tested in the 100s of ppb level, he would consider getting the child's blood tested for lead levels.
He's not recommending that in this case though. Since the schools tested and then fixed the tap months ago, he said it's too late to get a useful reading in a blood test.
Even if someone rushed out within three weeks of the water test to get a blood test, there would have been no way to tell for sure whether the water caused it, or if the child came into contact with lead some other way.
Landrigan pointed out that the high reading from the sink at Southeast Middle came from an unflushed sample. The flushed sample had a much lower reading. That means it's likely that just the first few sips of water out of that tap each morning would have contained those high levels. That's reassuring, he said. 
Small children in the U.S. today are eating, drinking and inhaling far fewer lead particles than children growing up in the mid-20th century, but that doesn't mean the danger has gone away entirely. 
The biggest issue, according to the American Academy of Pediatrics, is children eating lead paint in the form of paint chips or paint dust in their own homes. Lead in water, the group has said, is a lesser contributing factor for U.S. children that sometimes gets overlooked.
Children who are 6 years and younger have a special, increased risk with lead, according to the EPA. They absorb lead more easily and are also more likely to randomly eat or chew on things. Their nervous systems are still growing and lead has been shown to negatively affect that development. Similarly, there's also increased risk for pregnant women and their growing fetuses. The kind of low lead blood levels that were considered safe a decade ago are still associated, on average, with small decreases in IQ. 
No loss is minor to Landrigan. 
"I think of IQ as basically a child's god-given endowment, and I hate to see a child lose any of that, whether it's a lot or a little," he said. 
Next steps 
Among the parents at Thursday night's meeting, many were impatient to see the district prove the school's other taps weren't harboring high lead.
McCully, the school system's chief operations officer, said the district hasn't yet committed to more testing, but it's a possibility.
Instead, their first steps are to conduct the parts inventory and to make sure every drinking tap in the district is flushed before school starts. That prevents children or staff from drinking water that sat in the plumbing all summer. District leaders also plan to schedule meetings soon with parents at Allen Jay and Frazier. 
Once districts are focused on it, they have  multiple options for fixing issues with lead in drinking water. The strategy of testing and replacing problem taps was a good one, the experts said. 
Edwards said some schools have opted to buy filters instead. Filters certified by NSF International to address lead are guaranteed to reduce the contaminant by a specified amount when lead is present in the water. The independent NSF International sets standards and tests products.
Filters can cost as little as about $30 per tap, he said. Using filters makes it possible to reasonably skip tap testing, which isn't 100 percent accurate in catching problems anyway, Edwards said. School staff would then need to change out the filter parts on a regular schedule. 
There's also a compromise possible, he said — designate a couple of spots with filters per elementary school where young children can confidently fill up their cups.
"You have to really encourage anyone who is doing anything," Edwards said. "There are many schools out there that don't want to know at all."