GREENSBORO — Longtime Northwest Guilford athletics director John Hughes announced in an email today that he is stepping down to become assistant principal at Eastern Guilford. The Guilford County School board approved Hughes' appointment as assistant principal Tuesday evening.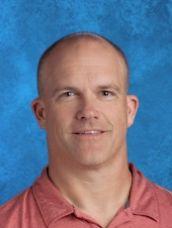 "I'm very much looking forward to being on the administrative and leadership side, having a bigger part in instruction and impacting kids that way," Hughes said. "... The tough part will be leaving Northwest High where I have called home for more than half of my life."
After 24 years at Northwest Guilford, including the last 15 as AD, not being directly involved in athletics will be "a life change."
"It's been a part of my life for as long as I can remember," Hughes said. "I played three sports in high school and coached three sports (boys soccer, girls basketball and baseball) when I got to Northwest, so it was difficult to transition to the AD job. This is just going to be another one of those transitions."
Hughes said the best part of being an athletics director was "the kids, dealing with the student-athletes."
"That is what gets you up in the morning, setting up situations where they can be successful," he said. "In an athletics director position you're not dealing with kids directly as much, but you're hiring coaches who impact kids. ... The best times were when you had interactions with the kids. Sometimes there were life lessons you had to teach as an administrator that were not all positive, but it was rewarding."
Among the sports in which Northwest Guilford won state championships during Hughes' tenure were girls basketball and wrestling. He will still be attending Vikings athletics events, with two of his children still at Northwest.
"I would like to thank all the coaches, teachers and administrators who have helped support our mission of education-based athletics at Northwest," Hughes wrote in an email. "Some of us have been together for a very long time, and I treasure the professional relationships and friendships that we have built around this school in the common goal of teaching and coaching our students to the best of our ability."
Northwest Principal Ralph Kitley will post the athletic director's position this week and be seeking a long-term replacement, Hughes said, and Donnie Watkins, Tammy Shoemaker and boys basketball coach Lee Reavis will share interim AD duties.
Hughes said he will begin transitioning to his position at Eastern Guilford this week.
"I'm here to support and learn from the people here," he said. "It's a great school. For my career, I'm looking forward to the diversity here because when you've been at a place for 24 years you have to take a step back and get some more experience in different places. That's where my career needed to go, and I'm very, very fortunate to be at Eastern Guilford."