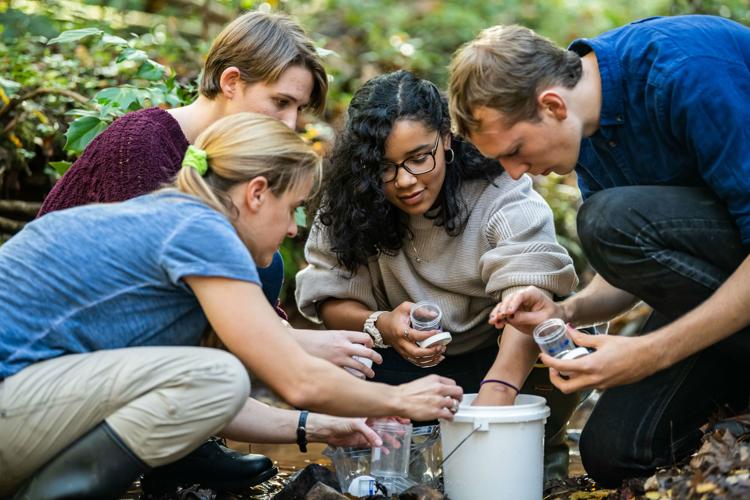 GREENSBORO — Between the hard hats, the heavy equipment and the chain-link fences that surround several buildings, it's hard not to notice that Guilford College is making some major campus improvement.
Less obvious but perhaps more significant is the overhaul of its academic program that Guilford will roll out this fall.
The private college of nearly 1,800 students has revamped its calendar and all of its courses across nearly 40 academic departments. There are new advisers, new minors — all designed by students — and a new emphasis on collaboration, real-world experience and working across traditional academic disciplines. Guilford has dubbed its new approach the "Guilford Edge."
Though other colleges offer mini-semesters and other components of the Edge, there appears to be no other program exactly like the one Guilford has assembled. Guilford leaders say the Edge will help better prepare its students for careers or graduate school and help the college stand out in a crowded higher education landscape.
Guilford's president, Jane Fernandes, calls the Edge a "prudent strategy," one based on surveys of current and prospective students and their parents and research into approaches that have worked at other schools.
"Using that intelligence, we created the Guilford Edge," Fernandes said. "We like being out on the edge — that's always been our approach at Guilford."
Here are a few of the big changes coming to Guilford this fall:
A revamped academic calendar. Guilford will split each 15-week fall and spring semester into two parts — a three-week session and a 12-week term. Students still will take four classes each semester. During the short term, they'll take just a single class that meets each day for three weeks.
"This really positions us to do a whole array of things with students that are much, much more difficult in a standard academic calendar …" said Frank Boyd, Guilford's provost and academic dean. "The kinds of things that employers and graduate schools tell us that students need — this structure better positions us to actually give students those experiences."
New classes. Every Guilford class will be new or revised over the next two years, Boyd said. Guilford's faculty members, many in collaboration with each other, created the three-week classes from scratch. They also adjusted the 12-week courses, which in some cases will have longer class periods.
Many of the short-session classes will focus on issues or social problems that aren't covered in the usual academic disciplines, Boyd said. These intensive new classes are designed to let students work with faculty and each other on projects. Some of these three-week classes will venture off campus and into the community — or to other countries.
New minors. Guilford is doing away with its requirement that students declare a minor — four courses, usually in a traditional academic department — in addition to a standard major. Starting this fall, Guilford students will devise their own minor. This "collaborative quest," as Guilford calls the new approach, is six classes organized around a theme. Before graduation, students will produce a final project on their self-designed minor.
"In liberal arts institutions, what we have always claimed is that we put students in the positions where they can make connections among areas of learning. That I believe is a true statement," Boyd said. "What we're doing at Guilford is actually putting structures in place to ensure that all of our students are going to engage in that kind of intellectual activity."
Advising teams. Starting this fall, all Guilford students will be assigned to a pair of advisers, called Guilford Guides, as soon as they step on campus. Students will keep a career guide the entire time they're at Guilford. (One of the career guide's main duties, Boyd said, is to connect students to alumni and community members who work in a career field a student is interested in.) Guilford students also will have an academic guide for their first two years and a faculty adviser in their academic major for the final two.
Many of Guilford's new offerings are rooted in the hands-on and collaborative approaches the college has used for years. One of those Guilford Edge forerunners Boyd cited is the college's Center for Principled Problem Solving, which has given students real-world experience working with local refugees and learning about the environmental challenges in the Cape Fear River Basin.
Fernandes predicted that the Guilford Edge will help the collect attract more and better-prepared students not just from North Carolina but outside the state. The Edge is designed to keep students in school — roughly 40 percent of Guilford's students leave before they graduate — and make them stronger candidates for jobs and graduate schools.
"In the process, Guilford will earn a stronger reputation and heightened national distinction as a college that changes lives," Fernandes added. "We will be widely known for our ingenuity in transforming the pedagogical paradigm of higher education to produce more meaningful, tangible and lasting success."