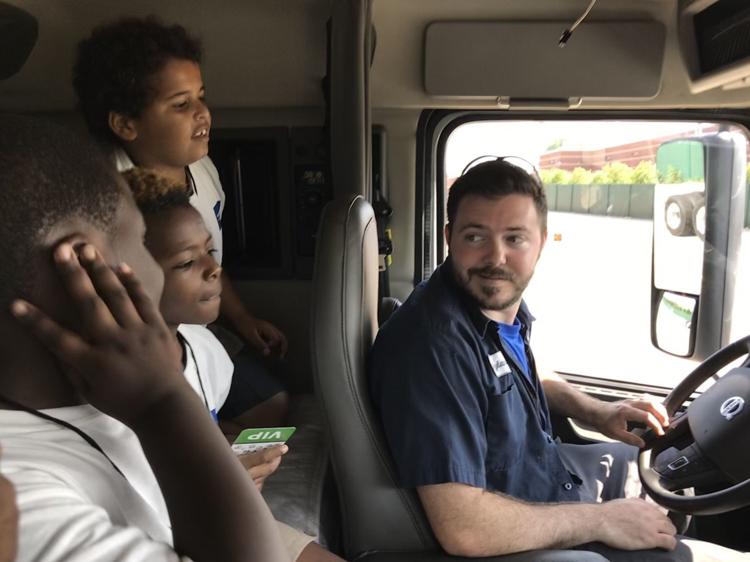 GREENSBORO — Well, that's one way to celebrate.
Six Gillespie Park Elementary students jostled up and down and flopped around on a mattress in the back seat of a big rig truck as their driver steered round and round a bumpy track with the truck's stereo pumping.
"This is funner than everything in the world!" called out third-grader Darryl McLaughlin.
More than 120 elementary students, about half from Gillespie Park in Greensboro and half from Allen Jay in High Point, earned a field trip tour and pizza banquet recognition ceremony at Volvo Group's campus in Greensboro in May. The company engineers, designs, tests and tinkers with Volvo and MAC trucks at the facility — hence the opportunity for the students to take some laps.
The new "Volvo Victors" program recognizes students for achieving and maintaining excellence at their schools.
Each school got to define what that meant. At Gillespie Park, third, fourth, and fifth grade students initially qualified based on passing scores on last year's End of Grade tests or beginning of the year assessments for this school year. Then they had to continue to meet specific academic goals for growth and learning measured throughout the year, plus keep up good behavior.
"What made me motivated is being confident in myself," said student D'Ari Burkes, who also gave a shoutout to his mother and grandmother.
Volvo Victors is a new program for the 2019-20 school year, but it builds on long-term partnerships between Volvo Group and the two schools.
Last school year, members of Volvo Group's Women in Engineering group started making periodic visits in the second semester to help lead science workshops in fifth grade classrooms at Gillespie Park, tying the science students need to know for their classes to its importance for professional engineers.
Principal Lei Washington is convinced that help was a significant part of the reason the school's science test scores leaped last year.
"Kids lacking prior knowledge, that's the whole conversation about the bias in testing," Washington said, explaining that students who grow up poor or marginalized often miss hands-on, real-life experiences that other students get, sometimes outside of school, that make test questions make sense. Whether it's glimpsing what it's like to work at a place like the Volvo Group campus, or seeing a science experiment that demonstrates a theory, those experiences and conversations broaden the reference points students have and the connections they can make.
Even before students took those tests, Washington was hoping to make more of the Volvo Group partnership, including a fuller commitment from the local Volvo Group campus as a whole, and a sense for students that these people cared about them and had high expectations for them.
"I said, 'You guys have got to do more than check it off of your list,' " she said. "You need to be a part of the children's lives every day."
A couple of representatives from Volvo Group then visited Gillespie to talk about next steps, and found out about the jump in science test scores.
"We saw how just a little bit of work yielded these phenomenal results," Executive Director of Corporate Affairs Robin Crawford said, explaining that made Volvo enthusiastic to do more.
And so both Gillespie and Allen Jay embarked on the new "Volvo Victors" recognition program with the company this year.
At Gillespie Park, there were visits from Volvo Group employees to encourage and challenge the students, a banner hung at the school, and a special event held at the International Civil Rights Center, where Gillespie Park students gathered to sign their names on the outside of a big rig truck, symbolizing a covenant between the students and Volvo Group, with students agreeing to deliver academic results and Volvo Group agreeing to recognize them for achievement and stand by them. The Women in Engineering group has also continued to work with Gillespie, including consulting on science lesson plans.
Washington cast the Volvo Group staff in a role somewhat akin to Santa Claus, warning the school at times not to let student academics slip because the Volvo engineers were keeping track.
"I do this whole spiel on, 'They are watching, they are excited, they have so much belief in you guys,' " she said.
The company plans to continue the Volvo Victors program with both schools next year.