Dearly beloved, these sure are strange times.
Here in the Triad, and indeed across the nation and the world, the things we most cherish as well as the things we take for granted, are being altered, delayed and postponed, right down to our most sacred ceremonies.
Church services, birthday parties, funerals and family reunions have all been put on hold, rescheduled or simply left hanging.
But maybe the saddest reality of what's going on is for of us being left at the altar. Or even worse, never seeing the altar to begin with.
Weddings in the era of coronavirus are socially difficult. So engaged couples are doing whatever it takes.
"It sucks but we'll get through it," said Adrianna Cobb of Winston Salem. She and Michael Turner, her fiancee, are typical of the couples in limbo.
They'd planned a wedding outside at a park and ceremony at Foothills Brewpub, grown their own flowers, designed and printed out their own invitations for an April 6 wedding.
So will Katie Nelson and Hien Rom of Greensboro. They'd decided on Memorial Day weekend. They'd arranged all the vendors. She'd already been to her first fitting for her wedding dress. The rehearsal dinner was arranged.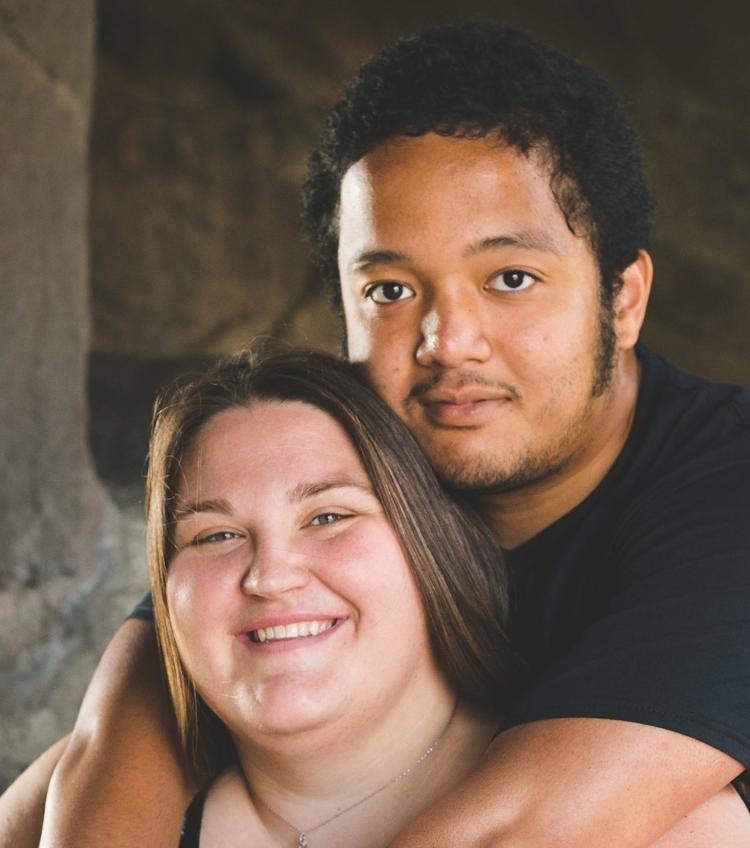 "I'm a planner," said Nelson, a youth director for two churches who found herself without a place for a wedding. "I'd done all the planning to take the stress out, and then I was stressed out anyway."
They'll still have the wedding as originally planned at the Botanical Gardens in Kernersville.
"The burden's lifted now," she said. "We've decided to do it on Sept. 6. It'll still be beautiful in September."
Desperate times
But will there still be a wedding industry? Flower shops and wedding planners have shut down. At Dahlia's Floral Design, a popular wedding and flower shop since 2007, is currently closed.
Hopeful couples calling Dahlia's now get a sobering message.
"Due to the COVID-19 coronavirus, and in hopes of making proactive positive choices, Dahlia's Floral Design is closed until further notice. If you need a pick-me-up, check out our Facebook page and Instagram for a daily dose of beautiful flowers."
The times call for desperate measures.
People are making appointments at the justice of the peace in small counties, registers of deeds in Winston and Greensboro and cities across North Carolina.
Some couples are opting for virtual ceremonies, with guests watching online.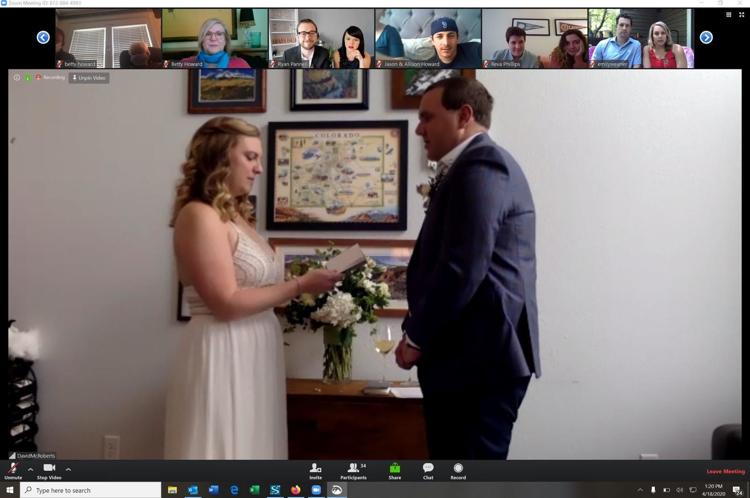 Instead of the Raleigh wedding she had planned, Greensboro native Ali Howard married David McRoberts in their Denver apartment on Saturday, April 18.
The maid of honor was in California, matron of honor in England and best man in Scottsdale, Ariz.
The couple kept their original wedding date, applied online for their wedding license, wore outfits they had on hand and exchanged vows on Zoom.
"David started off by welcoming everyone, then played a video of the couple that his mother put together showing them growing up, then as a couple," the bride's mom, Betty Howard of Greensboro said. "That brought me to tears. Then Ali walked down their spiral staircase at their apartment, and the ceremony began."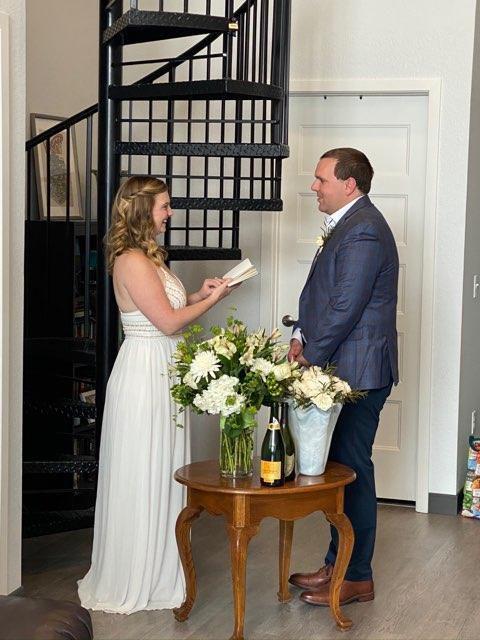 The obstacles probably made the ceremony more touching, Betty Howard said. "Even though they were disappointed, their resilience showed every step of the way."
The hardest part? "I couldn't hug her!" her mom said. "Her father couldn't walk her down the aisle."
Hugs and in-person celebration will come sometime next year, Betty Howard said.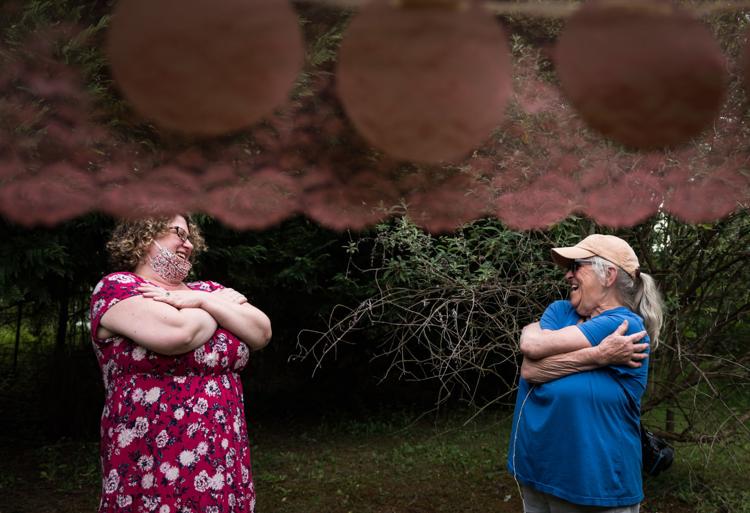 Some advice
Wedding experts have only a few suggestions: Don't dare attempt a "destination wedding." Wait until August to even think about inviting family and friends. And according to Bride.com, keep calm, understand any cancellation policies, and if you insist on a wedding outside of the United States this fall, buy CFAR (cancel for any reason) travel insurance.
Jessica Johnson of Winston-Salem would one more bit of advice: Innovate, overcome and adapt.
"I asked Kelly my fiancee to marry me on New Year's Eve," she said. "At that time, we didn't know anything about the virus, so we proceeded to make plans to go to Washington D.C. and elope.
"We were ready to pay for it all when the first news of the virus started coming out. I work for a major cruise line, so I was hearing things before others. I told Kelly we probably needed to make a local plan, so in February we decided to get married on April 20, 4-20-20. We thought that was cute. So we made plans to go to Charleston, S.C., where we'd found a place to get married. That's when things got really bad."
So for a third time, they changed plans, opting for Topsail Island and presumed seclusion in a small park.
They began to scramble, trying to get refunds and change, once again, everything from flowers and music to the cake and the minister.
"We got refunds," she said, "and I almost feel bad complaining that I can't plan my wedding. But then we found a woman to marry us in our front yard. We were going to have someone just drive up in the car and give us a ceremony in our yard. And then she canceled."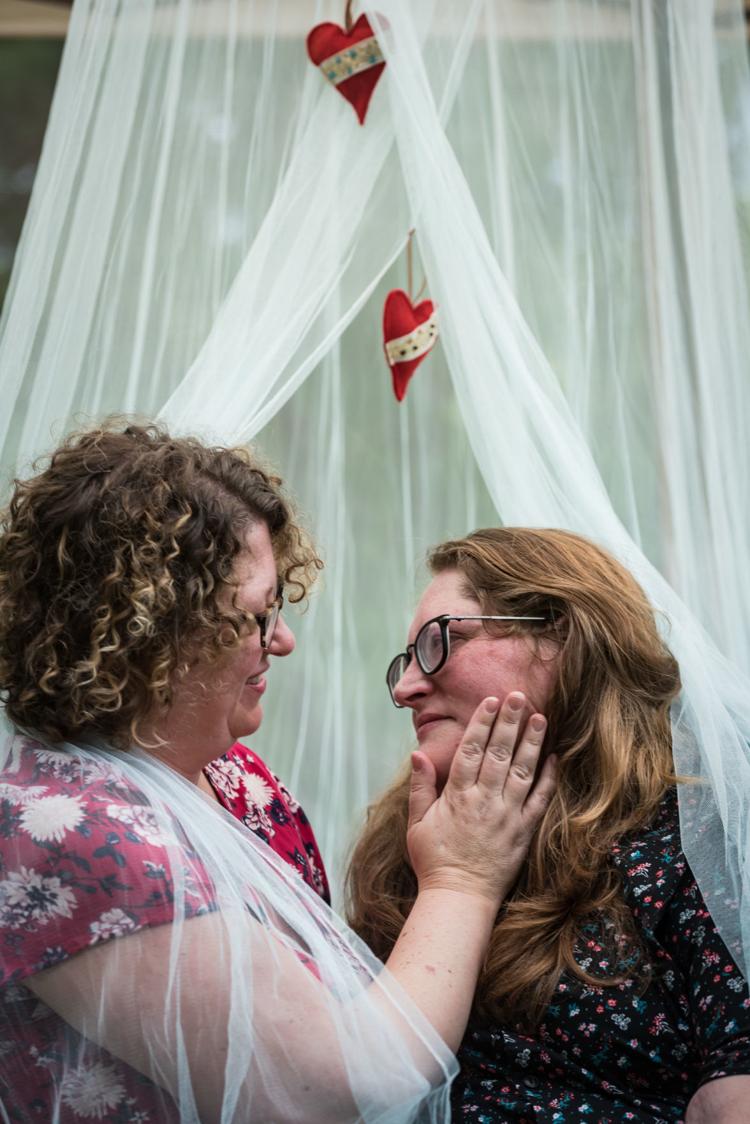 So they decided to just schedule an appointment at the Magistrate's office in Winston-Salem for Monday and hope for the best.
"In the South, if you're not married, things can be a little tricky for a same-sex couple," Johnson said. "Since I work for the cruise line, and Kelly works at Baptist hospital, we're both high risk. But we're going to make this happen."
They were married on Monday.
Finding strength
Across the region and all over the world, really, people are making plans and revising plans and praying that one day they can be in a church, or a park, or a beach, or just about anywhere on earth for a special day they will remember forever.
Couples struggling to keep their sanity are finding strength in each other. And their support groups will be there waiting.
Adrianna Cobb said she and Michael are still growing the flowers. And they're still planning to meet at Foothills when this all blows over.
"We're all ready to party when the time comes," she said.
For now, the party's on hold.