To say Robert "Bob" Miller, the first dean of UNCG's College of Arts and Sciences, was eager to serve in World War II would be an understatment.
"As the son of a World War I veteran, I tried to join the Marine Corps at 17," says Miller, 93.
Despite the lasting effects of the Chicago native's childhood bout with rheumatic fever, he was determined.
"The cursory physical examination did not catch the heart issues left by rheumatic fever, but my lazy eye couldn't negotiate the eye charts," he said.
At 18, he memorized the eye charts, and the Army accepted him in April 1944.
"Even with a bad eye and having never fired a weapon, I earned a sharpshooter's badge," he recalled. "Originally trained as a medic, I went overseas as a rifleman with the 808th Replacement Battalion aboard the SS Nieux Amsterdam."
Assigned to the 84th Infantry Division, Miller earned combat campaign stars for the Rhineland and Central Europe Campaigns.
After VE-Day, Miller was ordered to Antwerp — as a medic. He remembers that well.
"A journey that would be five hours by automobile today took us five days by train in 1945," he said. "Most of the railroads were heavily damaged by the war. Some of the GIs claimed they could have reached Antwerp faster by walking."
Space doesn't permit details, but Miller recalls that the boring train ride brought on mischievous behavior that would have ordinarily resulted in brig time.
Reassigned as a medic, Miller and another enlisted medic joined an Army doctor as the medical team aboard the SS Claymont Victory — bound for Boston.
Miller speaks plainly about his Army service, "I was a sheltered Chicago kid. The Army showed me a world I never knew — and changed my life for the better."
Thanks to the GI Bill, he earned a bachelor's degree in biology and a master's degree in biochemistry from the University of Chicago, he said. "My terminal degree in physical chemistry came from the Illinois Institute of Technology."
Miller was honorably discharged in 1946 and became a busy civilian. In addition to beginning his college career, he worked as an assistant on the television show, "Mr. Wizard."
He married Virginia Southard in 1946. After 27 years of marriage and four children, Virginia Miller died of cancer.
In 1968, Miller became the first dean of UNCG's College of Arts and Sciences, a position he held for 17 years. Concurrently, he was a professor of chemistry for 30 years. He also held numerous key leadership and interim positions during his UNCG career.
Miller married a UNCG secretary, Bonnie Berard, in 1975. She is the daughter of a career Army veteran and is a Gold Star sister, having lost a brother in Vietnam. Collectively, the Millers have six children, 14 grandchildren and three great-grandchildren.
More than 50 years after his arrival at UNCG, he is still teaching.
"I developed an online course on the history of science for our graduate school master of arts program," he said. "The course is essay-based. Macular degeneration doesn't allow me to read as well as I used to. Fortunately, my wife verbalizes the material and records my responses."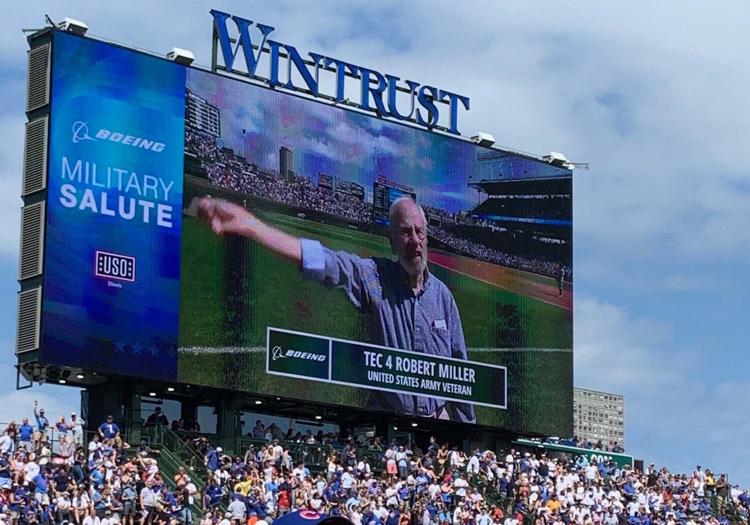 Miller is a lifelong, avid Chicago Cubs fan.
"I was sickly as a kid, but listened to radio broadcasts of every Cubs game," he said. "They had no stronger fan. I knew the players and I knew the stats — verbatim."
That strong fan had never been to Wrigley Field, home of the Cubs.
But that was about to change thanks to diligent work by his family — and sponsorship of the USO.
Miller was scheduled to be the honored military veteran at the July 19 Cubs game.
Bonnie and Bob Miller were taken back a bit when their Thursday flight from Greensboro to O'Hare was canceled due to storms, but courageously booked a 6 a.m. flight Friday that would get them to Wrigley Field on time.
When the 6 a.m. flight was moved to 8:30, then to 11, the Millers gave up — Bob Miller's 90-year-old fantasy would have to wait.
It finally came true this week.
Miller was recognized during the fourth inning of the Cubs-San Francisco Giants game on Thursday.
"It was thrilling for us to finally be there," Bonnie emailed Thursday evening. "What a special memory."
Bob Miller's team even won, 1-0.
Obviously, Miller could have gone to many Cubs games over his adult life.
His son, Martin, offers an explanation: His father is "highly practical, hard-working and someone who is fairly uncomfortable in the spotlight," Martin emailed. "He regarded going to professional sporting events as an extravagance."