My Take On Wake: A (very unofficial) pre-spring depth chart for Wake Forest football
By Conor O'Neill Winston-Salem Journal
Wake Forest's football team will begin spring practices in about two weeks ...
 ... and will conduct 13 practices leading up to the April 4 spring game (and then one closed practice after that).
The Deacons are coming off an 8-5 season that saw the program land in the College Football Playoff rankings for the first time ever but also saw the Deacons fizzle with four losses in the last five games.
Here's a stab at what Wake Forest's depth chart will look like throughout spring practices.
Note that it doesn't include signees who will enroll in the summer, such as the two graduate transfers the Deacons announced earlier this month:
Quarterback: Sam Hartman | Michael Kern | Mitch Griffis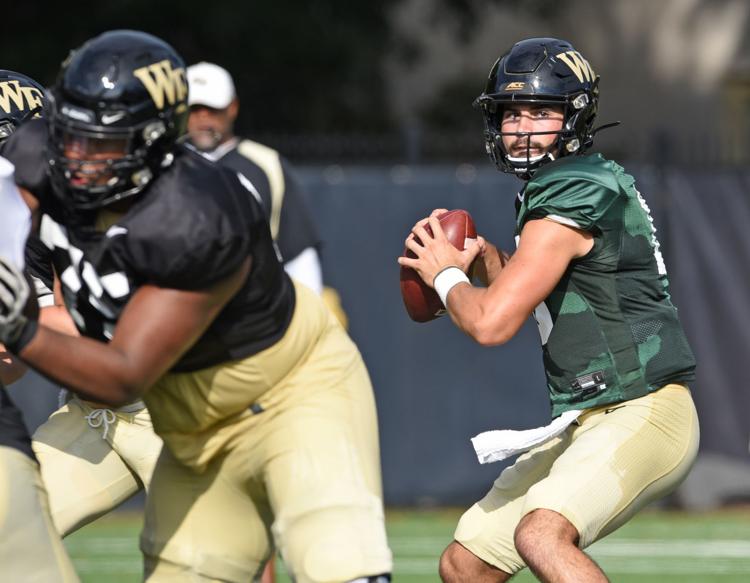 It's now Hartman's team, presumptively, but it goes against Coach Dave Clawson's history to just hand him the starting role.
That means it's likely that Kern, and possibly Griffis, are asked to push Hartman in the spring. And with Wake Forest's recent history at the position — John Wolford in 2014 is the only quarterback to start every game of a season — the Deacons need to be in a good place with the situation behind Hartman.
Running back: Kenneth Walker III OR Christian Beal-Smith | Kendrell Flowers | Quinton Cooley OR Ahmani Marshall
This sets up as one of the most-interesting positions on the roster, at least in terms of developing a pecking order during spring practices.
It figures Walker and Beal-Smith, who's been reinstated after his three-game suspension to end the season, will split the bulk of first-team reps when spring practice starts. Walker burst onto the scene as an explosive runner last season with 579 yards and four touchdowns on 98 carries (team-best 5.9 yards/carry); Beal-Smith has shined at times in the last two years.
How the freshmen fit in behind those two, and whether they can carve out larger roles, will be intriguing. Flowers redshirted last season but got some experience at Clemson. Cooley and Marshall are a couple of talented in-state products, and Clawson has said (and shown) that he doesn't have reservations about playing freshmen without redshirting them.
Wide receiver: Donavon Greene | A.T. Perry
Here comes Greene.
The four-game taste that Wake Forest got of the Mount Airy product might be enough for the Deacons to feel like they've got — again — one of the best 1-2 punches at wide receiver in the ACC. Greene's one-handed, late-game 36-yard catch against Duke set the stage for his seven-catch, 172-yard performance in the finale against Syracuse; and Greene's acrobatic touchdown catch in the bowl game (and another that was negated by a penalty) showed he's got a knack for big-time catches.
Perry isn't to be forgotten — the 6-5, 190-pounder had a 28-yard catch to convert a third-and-10 in the bowl game and should continue to develop.
Slot receiver: Jaquarii Roberson | Taylor Morin OR Nolan Groulx
The Deacons go from Greg Dortch to Kendall Hinton to … now Roberson, who's shown flashes in past spring practices and fall camps, and had six catches for 80 yards and a touchdown in limited duty last season.
Behind Roberson is a bit of an unknown. Morin and Groulx would seem to be the leaders, and if Roberson doesn't seize the starting role, either one could force their way onto the field as a redshirt freshman.
Of note: Isaiah Isaac suffered a season-ending injury roughly halfway through the season and is expected to return for fall camp.
Wide receiver: Sage Surratt | Jahmal Banks
The first of Wake Forest's three returning first-team All-ACC selections appears here.
Surratt became one of the best wide receivers in the country with 1,001 yards and 11 touchdowns in only nine games last season. He was dominant at times, a reliable target who can win the majority of 50-50 balls and create extra yardage after the catch. He'll be one of the top offensive threats in the ACC.
Behind Surratt, though, there's room to find out if Banks — an early enrollee from one of the top prep programs in the country, St. Frances Academy in Baltimore — can contribute early.
Tight end: Brandon Chapman | Blake Whiteheart | Drelyn Ford OR Cameron Hite
For a team that almost always sticks with 11 personnel (one RB, one tight end and three receivers), Wake Forest certainly has a surplus of tight ends with eight on the roster — though five are scholarship players and three are walk-ons.
Chapman would seem to slide into the starting spot with the graduation of Jack Freudenthal. Whiteheart has had two seasons to go from a receiving TE to a well-sized one, and the Mount Tabor product should see an increase in reps as he becomes the primary backup.
Left tackle: Zach Tom | CJ Elmonus OR Spencer Clapp
I'll throw this out here now: There's a little more guesswork when it comes to the offensive line than most other positions. That tends to happen with replacing three multi-year starters and not having seen a practice since August.
This, and the corresponding move down below, should rank as the biggest surprises. Tom started every game at center last season and was graded at 92% through the regular season by the coaching staff. But he's also got the versatility and agility to move to tackle, and if he's the best option, he'll be the choice to replace Justin Herron.
Left guard: Loic Ngassam Nya OR Sean Maginn | DeVonte Gordon OR Taleni Suhren
Ngassam Nya and Maginn rotated throughout the season and that might continue, or one of them could move to tackle — with Maginn being the more likely of the two to move to tackle.
Center: Michael Jurgens | Taleni Suhren
Tom moving to tackle is only possible if the staff is comfortable with Jurgens taking over at center, which was unofficial word during the season. Jurgens is entering his third spring practice — his development of going through two years in the program seems to be on par with how the staff wants its offensive linemen grown.
Suhren seems like he'll be prepared to play all three interior positions.
Right guard: Terrance Davis | DeVonte Gordon OR Taleni Suhren
Davis started 31 games at Maryland, all of them at guard. The graduate transfer should bolster the offensive line immediately.
It'll be interesting to see how much of an impact Suhren can have. The lightbulb seemed to click for him in fall camp, and he became a serviceable backup and special teams player.
Right tackle: Je'Vionte' Nash OR Spencer Clapp | George Sell
Nash is suited to play guard or tackle, and is probably more needed at tackle at this point. Clapp is a redshirt junior whose development was hindered early in his career by injuries, but has been healthy for a while now and could emerge in a key role.
Defensive end: Boogie Basham | Royce Francis OR Mike Allen
Basham had one of the best seasons for a defensive end in Wake Forest history, was an All-ACC pick and will enter next season as one of the premier pass-rushers in the ACC, if not the country.
Francis proved able to fill in at times last season, and Allen's spot here is assuming the Deacons have enough interior linemen to move back outside.
Nose tackle: Sulaiman Kamara | Miles Fox | Dion Bergan Jr.
This position and the next one are pretty interchangeable for the Deacons' scheme, and that means defensive line coach Dave Cohen has plenty of depth to work with for his interior spots.
The nose tackle is never going to rack up a ton of stats and will be something of an unsung hero of the defensive front — but Kamara and Bergan were both valuable last season, and now Fox gets thrown back into the mix after suffering a season-ending injury in the spring.
Defensive tackle: Tyler Williams | Justin Williams
Tyler Williams had a delayed start to last season, missing the first three games, and still tied for fourth on the team with 6½ TFLs. The sacks didn't come at a rate that might have been expected, but he's able to generate pressure up the middle — it's a safe bet sacks will materialize next season.
Notable here: Rondell Bothroyd is expected to miss the spring but return for fall camp after suffering an injury at Syracuse. And of note: James Ash and Malik Puryear both enrolled early and Clawson said both project as defensive tackles. But it's tough to see them making an immediate impact with seemingly five established players in front of them, plus Justin Williams and Will Smart, both of whom redshirted this past season.
Defensive end: Ja'Corey Johns | Shamar McCollum
Johns quietly put up decent production — 53 tackles, 8 TFLs, 3 sacks — and perhaps more importantly, seemed to improve with every game. For a player who went from not playing a single snap in his first year in the program to starting 10 games as a redshirt freshman, that's significant growth to build on.
McCollum's effectiveness dipped as the season wore on — for a freshman, that was almost to be expected. How he bounces back will be interesting to track.
BUCK: Ja'Cquez Williams | Chase Jones | Zach Ranson
Of all the season-ending injuries suffered last season, it's arguable the most devastating one was to senior linebacker Justin Strnad, who was enjoying an All-ACC caliber season.
It's also arguable that Williams, upon stepping in for him, was the best of the players who were asked to step into starting roles. The fifth-year senior finished second on the team in tackles (73) and sacks (3½) despite spending the first half of the season playing as the primary backup for both linebacker spots, and is poised for a big final season with the Deacons.
MIKE: Ryan Smenda Jr. | DJ Taylor OR Chase Monroe OR Jaylen Hudson
Smenda is another defender who improved throughout the season, and will now have some more competition behind him that should push him. Taylor returns after missing all of last season — don't forget, he had 50 tackles in nine games as a first-time starter in 2018.
ROVER: Luke Masterson | Traveon Redd | Kenneth Dicks III
Masterson returns after missing the second half of the season, and he was coming into his own as a versatile defender and valuable special teams player. Redd filled in with some standout plays in the second half of the season, and the position is deeper because of his experience.
Cornerback: Isaiah Essissima | ?????
Now the big question marks.
Essissima played sparingly as a freshman and it seems like he or Tyriq Hardimon will be a first-team CB in the spring.
That's not a bad thing — it's just an inexperience thing. Offensive line and cornerback are the two positions that will be closely monitored throughout spring practice.
Free safety: Trey Rucker | AJ Williams OR Peyton Woulard
Rucker had some extreme highs and equally extreme lows in his freshman season, and now the goal is to smooth out the bumps in the road.
Williams redshirted after showing some promise in fall camp, while Woulard returns after missing all of last season.
Strong safety: Coby Davis | Zion Keith
First, the obvious that you might have forgotten: Nasir Greer is expected to miss the spring after his season-ending injury against Syracuse, but will return in the summer or in fall camp.
That means it's time to get Davis back to his 2018 fall camp form. At that time, Davis was the best cover-safety on the roster and was a standout nickel back, and then he suffered a season-ending injury at Tulane. Last season, Davis never seemed to find his footing. If he can, the depth at safety will be enhanced before Greer's return.
Cornerback: Ja'Sir Taylor | Tyriq Hardimon
All of a sudden, Taylor is the most-experienced cornerback on the roster. So it bodes well for the Deacons that he had interceptions in each of the last two regular-season games — the Deacons will need more ball-hawking this season.
Hardimon is unproven and entering his fourth season in the program — Wake Forest likely needs him to become playable. And it might not have a choice.
Placekicker: Nick Sciba | Zach Murphy
"Sciba is money."
What else is there to say about the NCAA's record-holder for the longest-ever field goal streak (34)? The junior kicker has made 43 of 47 field goals and all 97 PATs in his first two seasons; Sciba's 226 career points is already sixth in school history.
Kickoffs: Nick Sciba | Zach Murphy
A position that will be boosted in the summer when Jack Crane, a graduate transfer from Washington State, enrolls.
Punter: Ivan Mora | Zach Murphy
Mora takes over for four-year starter Dom Maggio, whose 46.8 yard average on punts last season was the second-best in school history.
Holder: Zach Murphy | Ian Driscoll
And here's the other spot that Wake Forest will be replacing Maggio. Murphy was the backup last year.
Punt returner: Taylor Morin | Sage Surratt
Morin was in the running during last fall camp's wide-open competition for returner spots, and if the Deacons want to keep Surratt fresher, Morin might be the pick for punt returner.
Kick returner: Kenneth Walker III | Christian Beal-Smith
The top two running backs are also the only two players on the roster who returned kicks last season — Beal-Smith had 143 yards, Walker had 139.
Long snapper: ?????
Anybody got any eligibility?
Not meant to incite panic, but Wake Forest doesn't have a long snapper on the roster. Dayton Diemel graduated after a consistent and probably underappreciated four seasons, while walk-on Noah Turner transferred.
The Deacons signed Jacob Zuhr, who's the top-ranked long snapper in the country according to rubiolongsnapping.com. But Zuhr won't enroll until the summer … again, anybody got eligibility and know how to snap for punts and field goals?
Nominate your favorite businesses for a chance to win a $100 gift card!
Enter for a chance to win a VISA GIFT CARD to go towards your next backyard cook-out!