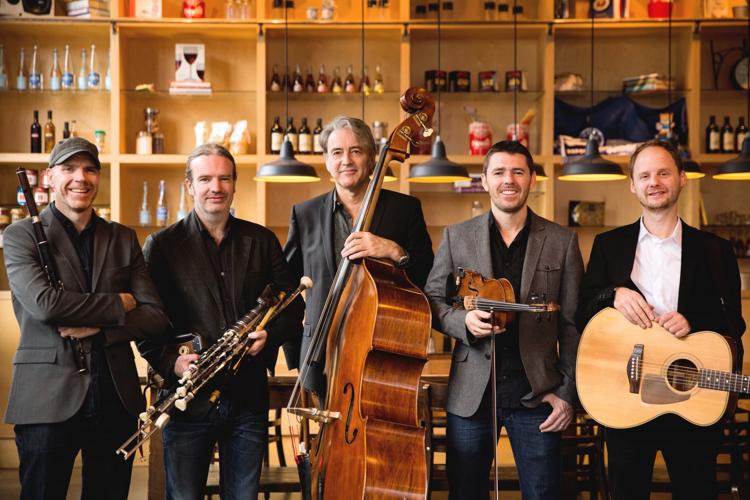 Lúnasa is an all-instrumental Irish band with more than 20 years together. They are devoted to the idea of both preserving and expanding the music around which they've bonded. Their mission has made for an interesting tension between maintaining tradition while allowing the music to evolve in new ways.
Their career trajectory has followed what might seem to be a counterintuitive path. As a young band, Lúnasa started out taking "a lot of liberties," in flute and whistle player Kevin Crawford's words, with Irish music. More than two decades later, however, they are now seen as "a very traditional band."
In reality, Lúnasa hasn't changed quite so much as the Irish-music scene around them. Speaking by phone from his apartment in New York City, Crawford elaborates on this and more.
"Now, the envelope for Irish music has been really, really stretched," he says.
"People are coming up with a lot of things not even vaguely connected to the older melodies. It's beautiful, and I applaud everybody, and the music can take it. I'm not saying it's not a good thing."
But contrarily, Lúnasa — whose name derives from an ancient Irish harvest festival — has found itself subtly re-embracing its roots in a tradition that encompasses not only Irish music but also the family and social milieus through which they learned the music.
"Apart from our bass player, all of us have come from the tradition," Crawford explains. "Our families were immersed in the music as very staunch, non-contemporary, Irish dance-band lovers. It goes back to our childhoods, where you learn these tunes and have respect for the way they're passed down."
"Therefore, when you bring all that into a more arranged, slightly more commercial field, you just have that foundation. You want to create something that's your own, but you're not going to mess with it to the point where it's not what you feel. I think we've got a good nose for keeping it within the realm of where you can take it for now."
Incidentally, Lúnasa's aforementioned bassist, Trevor Hutchinson, had previously played with the Irish rock group the Waterboys. The other members are Cillian Vallely (uilleann pipes and whistles), Sean Smyth (fiddle and whistles) and Ed Boyd (guitar).
The group's lineup has been largely stable, with Crawford, Smyth and Hutchinson coming together in Ireland as founding members back in 1997. After Lúnasa initially toured as a four-piece group, Vallely expanded them to a quintet just two years into what is now a rich, lengthy history.
Guitarist Boyd is the newest member, having joined in 2012. Around that time, fiddler Smyth — who is also a doctor — returned full time to his medical practice. Though Smyth is still a member of Lúnasa, he tours with them only in the U.K. and Europe. His replacement when they play in North America and elsewhere is Colin Farrell (not the actor), and he will be fiddling for Lúnasa when they perform at the North Carolina Folk Festival in downtown Greensboro this weekend.
"Colin has been with us now for about six years," says Crawford. "He's just incredible. I grew up with him in Ireland, and he lives in the U.S. now, too. We play a lot together and just completed a duet album."
Lúnasa has been a successful and revered force on the Irish-music scene from the beginning. Success came quickly, with their self-titled debut album from 1997 earning acclaim as a classic of contemporary Irish music, and their 2001 release, "Merry Sisters of Fate," winning an award for British/Celtic Album of the Year from the Association for Independent Music.
Their latest release — "Cas," which came out last year — marked their 20th anniversary. Lúnasa threw a new wrinkle into the project by working with singers. Guest vocalists included Natalie Merchant, Mary Chapin Carpenter and Tim O'Brien.
"When we started off, some of the grief we got was that we didn't have a singer," says Crawford. "People said, 'You'll never survive without a singer.' And we did!"
"It's not like we had a thing against songs, but we wanted to explore melodies more. Over the years, various singers have been very kind to invite us to play on their albums. So we have recorded with singers, just never on our own albums. This was our way of returning the compliment, and it turned out really lovely."