GREENSBORO — Music lovers at the N.C. Folk Festival this weekend will not go hungry.
Scents of culinary delights from around the world intermingle with the notes coming from the stages throughout downtown.
Alongside local favorites like El Azteca and Ghassan's are food trucks from around the Piedmont and beyond, serving a range of dishes from fried Oreos to giant turkey legs to chana masala.
Here are a few highlights.
Off the Hook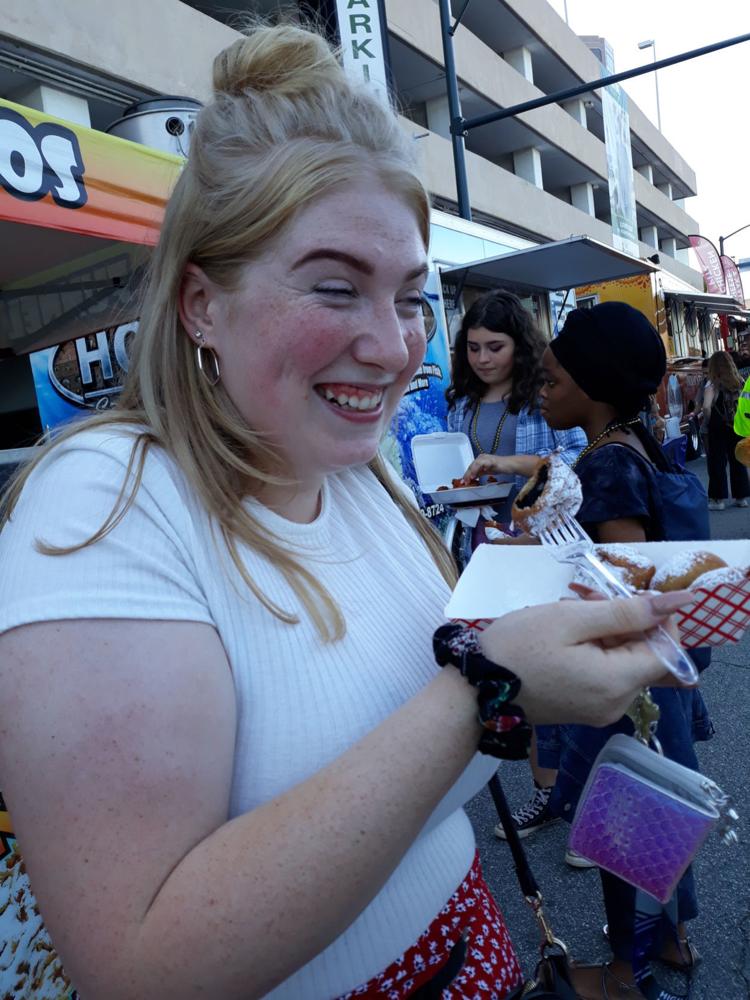 The food truck is best known for its fried seafood, but next to it owner Barrington Riddick set up a little stand selling fried Oreos, which was attracting a good crowd Friday evening.
Jordan Muldrow, who was working the stand, was ripping open packs of six Oreo cookies and dipping them into funnel cake batter. He likened the end result to a warm doughnut.
Among those who were partaking was Fern McCall, a student from Scotland who is enrolled at High Point University.
"Because I'm not from the States, this is really exciting," she said, while taking a bite. "It's too hot. But, I also really like it."
Kerala Curry Express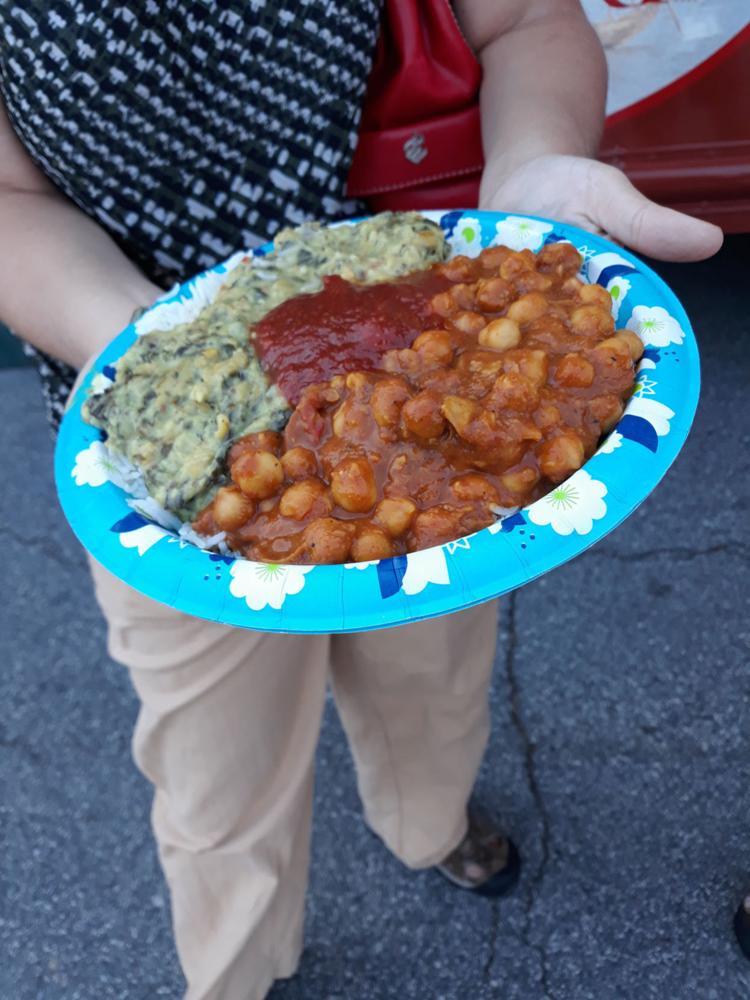 The Graham-based food truck, which grew as an offshoot of a food manufacturer, serves Indian dishes such as chicken curry and spinach dal. Workers can adjust the spice according to customers' tastes.
Sarah Praskievicz ordered up a veggie plate with some spinach dal and chana masala, which is made with chickpeas and curry sauce.
"I'm always afraid to order 'very spicy,' because I'm afraid it'll be too spicy," she said. "So I say medium, which is still pretty spicy," she said.
Buddhalicious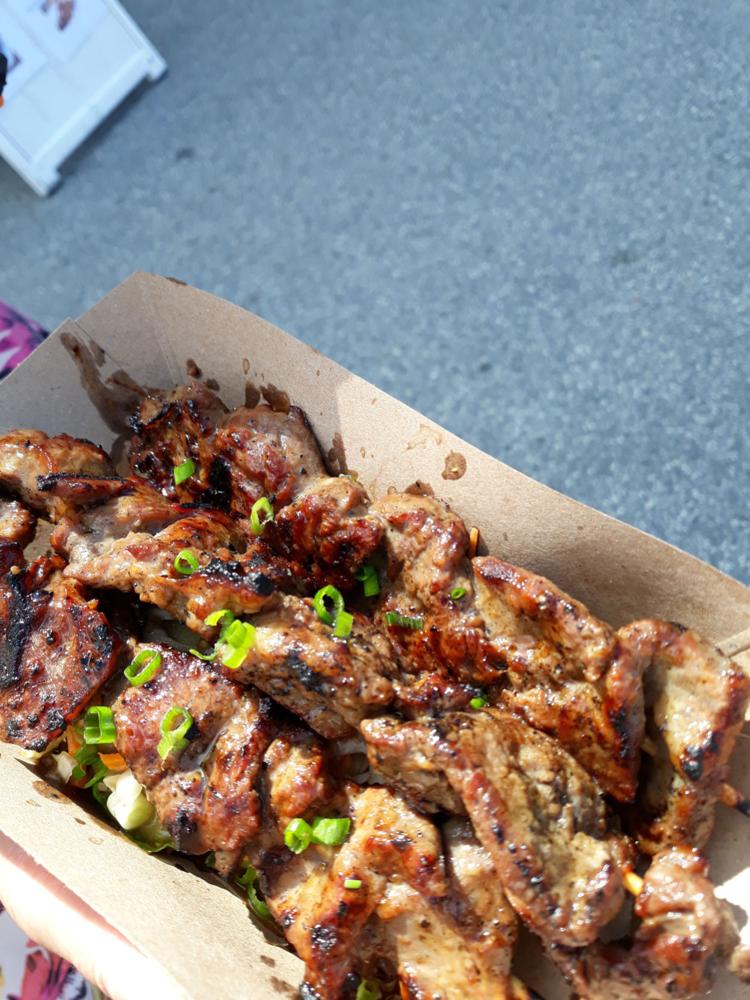 This food truck specializing in Asian-style grilled meats is run by Jimmy Chhay, who also owns Scratch Fried Chicken in Greensboro.
Most popular are strips of ribeye marinated in soy sauce, sesame oil, ginger, garlic and other seasonings. They are served on skewers.
"I planned this in my day," said Rebecca Maust of Greensboro, who ordered up the grilled beef on Saturday. "I don't eat a lot of beef. But these are just so tender."
Spanglish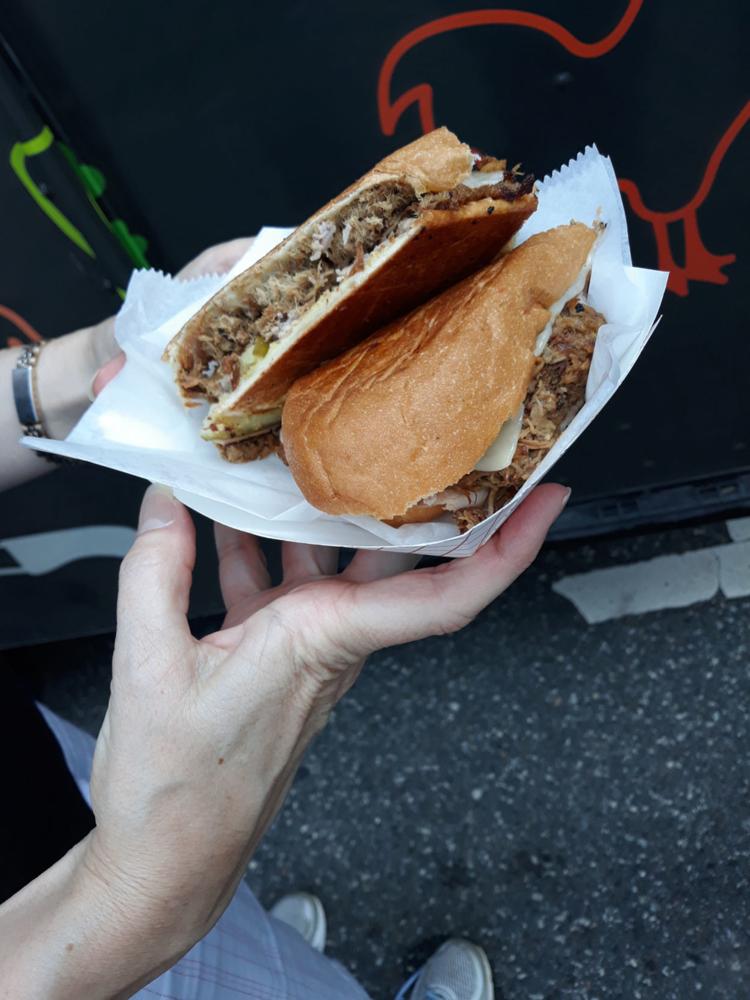 Rice and bean bowls and fried plantains are on the menu at this food truck, which specializes in Puerto Rican cuisine.
On Saturday many were lining up for the Cuban sandwich, which is the truck's most popular item.
"It has our slow-roasted pork in it," said owner Doel Gonzalez. "It's a three-day marinade, 12 hours in the oven. Low and slow, Carolina-style, but with Puerto Rican spices, citrus, garlic oregano, coriander."
Hickory Tree Turkey BBQ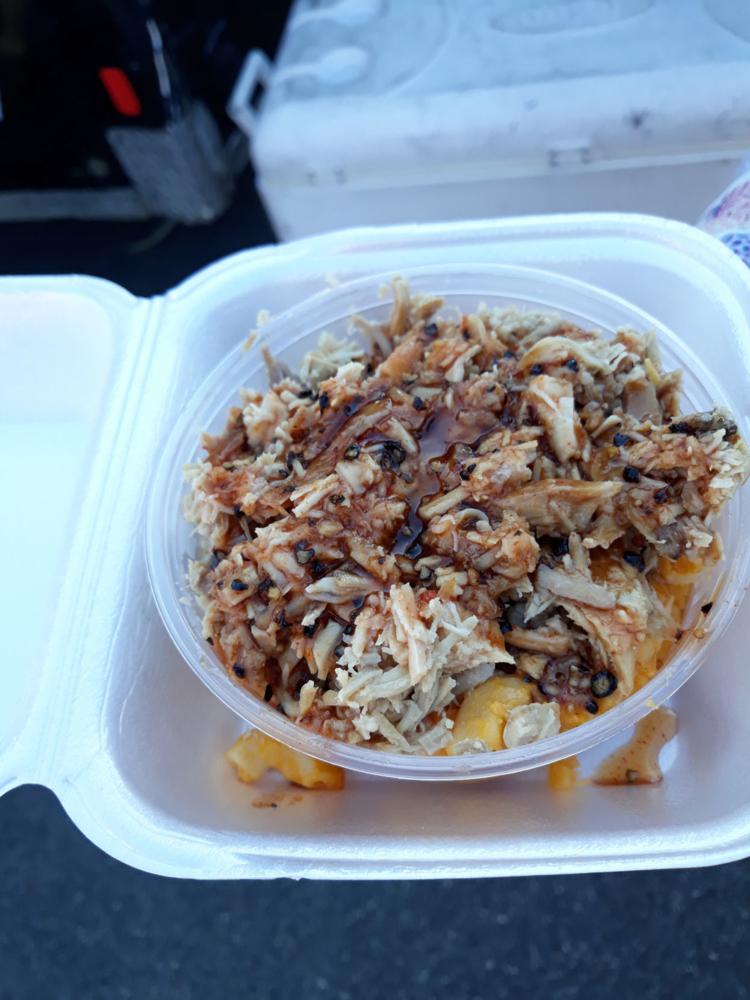 A giant turkey leg adorns the side of this food truck, an offshoot of a restaurant on Randleman Road. Many people were trying to wrangle those into their mouths Friday. But probably most popular was the eatery's signature crack-n-cheese — a bowl of macaroni and cheese topped with turkey barbecue, turkey cracklins, and barbecue sauce, a most decadent treat.
"This, this is really something different," said Caroline Thomas of Oak Ridge. "It has all this good stuff on it. I thought I'd splurge a little."
Dusty Donuts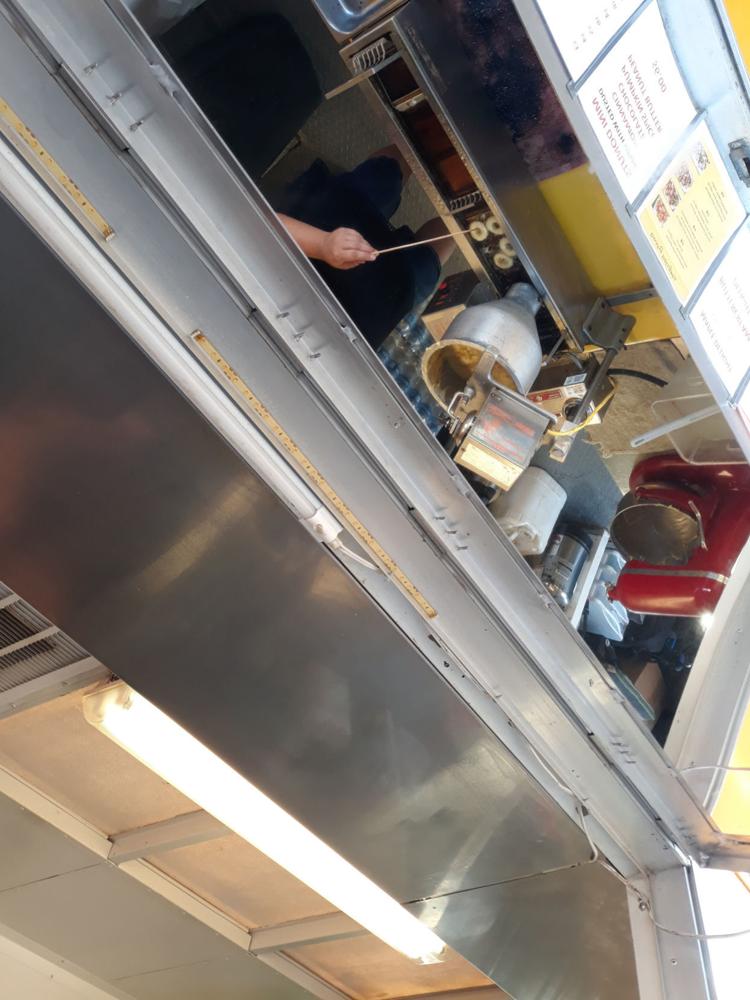 A big mirror hangs over the ordering window of this Chapel Hill-based food truck. Those standing in line can watch their donuts sliding into hot oil. A little mechanism pulls them up once they're done, and workers give them a generous coating of cinnamon and sugar. For a little bit extra, customers can get some s'mores doughnuts drizzled in marshmallow cream and chocolate sauce. They can also get an iced coffee to help wash it all down.
"We already had lunch, but we thought a little treat would be nice," said Alison Sizemore of Greensboro, who was holding a little bag of donuts.