Greensboro alcohol and drug treatment center sidelined by positive COVID-19 tests.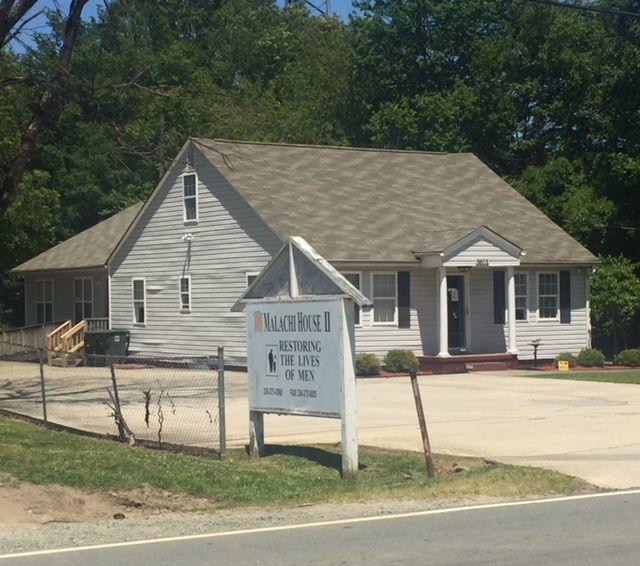 GREENSBORO — A residential alcohol and drug treatment center in eastern Greensboro has shuttered temporarily after three of its clients tested positive for COVID-19.
None of the three men at Malachi House II showed any signs of the disease before they received their positive findings, said Willie Wooten, the treatment program's production manager.
"They are all off campus now," Wooten said of program participants. "Right now, we are completely shut down. All our operations are shut down."
Wooten said that to the best of his knowledge the three who tested positive remain asymptomatic.
Based at a house in the 3600 block of Burlington Road, the faith-based program was added Friday to state government's list of local, "congregational living" facilities experiencing COVID-19 outbreaks.
The list also includes two Guilford County nursing homes and a strawberry farm with on-site housing. One residential care facility in Greensboro dropped off the list last week after all four of its residents recovered from the new coronavirus.
One of the local nursing homes, Camden Health & Rehabilitation in western Greensboro, reported that four of its residents who tested positive have died, according to the latest report by state officials. The state also said that three residents with COVID-19 died at Clapp's Nursing Center in Pleasant Garden.
Both Camden Health and Clapp's reported increased COVID-19 caseloads in last week's updated reporting.
The state Department of Health and Human Services defines an "ongoing outbreak" at such group-living centers as two or more positive test results for COVID-19 that have been confirmed by a laboratory.
Each outbreak remains in effect for 28 days after the staff member or resident "identified as the last case began having symptoms," state officials say. If that last person never develops symptoms, the outbreak is lifted four weeks after their specimen was collected for testing, according to state guidelines.
All remaining program participants and staff members at Malachi House II are being tested, Wooten said. He said there were about 20 participants.
Wooten added that while he understands the need to quarantine people in such situations, COVID-19 has had a devastating impact on the local program and its efforts to help people turn their lives around.
"We are a nonprofit," Wooten said. "We've lost revenues, but the bills still go on."
The nine-month program helps men battling such problems as substance abuse by imparting job skills and other values that can lead to lifetime vocations. It focuses on character building, discipline and recovery principles.
The program also operates as an alternative to imprisonment and requires participants to complete an educational program on chemical dependence.
In addition to working with groups such as the High Point Market that occasionally need temporary workers, the group keeps its door open by operating a car-washing business.
All that is on hold now, Wooten said, adding that he does not know for sure when the situation might improve.
He said the group currently is relying on its fundraising efforts. People who are interested can learn more about the program by visiting its website, Wooten said.
In its latest report on group-living centers statewide, DHHS documented a total of 43 ongoing cases of COVID-19 at Clapp's Nursing Center and 39 at Camden Health.
The News & Record reached out Monday to executives in the Camden Health and Clapp's organizations to verify DHHS's latest statistical report, but they did not respond.
DHHS updates its COVID-19 statistics every Tuesday and Friday for nursing homes, residential care centers, prisons and jails, and other organizations that offer group housing for workers or program participants.
Rudd Strawberry Farm in northeast Greensboro was the only other local facility with active cases in the most recent DHHS tally.
The state agency reported nine active cases at the farm on Hicone Road — an increase of one from earlier reports.
Heritage Greens, a senior living community on Meadowood Street, was bumped to DHHS's list of "previous outbreaks," meaning that officially it no longer has any ongoing cases of COVID-19.
Along with six other facilities across the state, Heritage Greens made the list of centers that formerly had outbreaks after four of its residents who tested positive at one time recuperated and were dropped from the DHHS file of active cases.
The statewide list of sites that still have two or more active cases includes a total of 89 congregational living sites with ongoing outbreaks. The list encompasses 51 nursing homes, 27 residential care centers, four jails, one prison, three farms and three other operations with group housing.