As the coronavirus rages on, all we can do is prepare. And wait.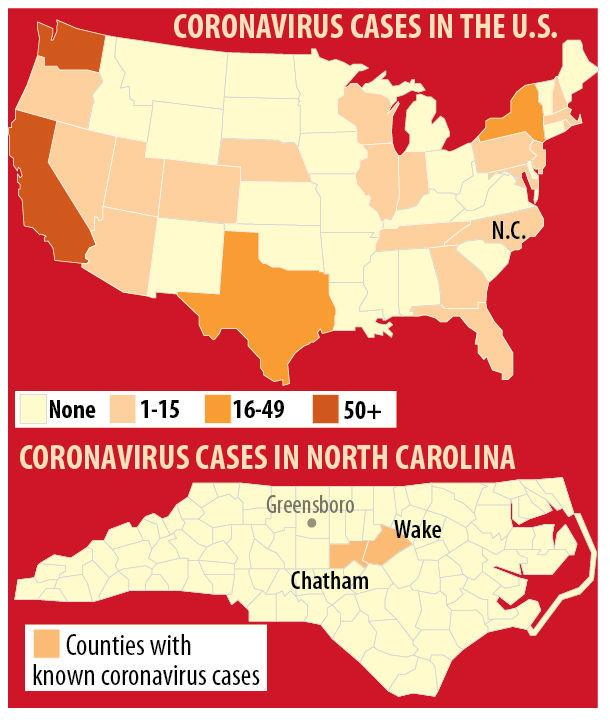 GREENSBORO — The stock market took its biggest plunge since 2008. Ireland canceled St. Patrick's Day parades. And five more North Carolina residents have tested positive for the new coronavirus strain, bringing the total number of cases to seven statewide.
On Monday, these were some of the biggest headlines generated by the outbreak of the coronavirus strain COVID-19.
In Greensboro, all we could do is prepare. And wait.
For another ripple effect.
For another piece of bad news.
For the crisis to possibly hit us.
Across Greensboro, from City Hall to Piedmont Triad International Airport, public officials and business leaders on Monday approached roughly Day 70 of the outbreak with a mix of pragmatism and optimism. They continued to make careful preparations for a disease that has already touched Wake — where six have the virus — and Chatham counties.
But not here. Not yet.
With thousands of fans coming to Greensboro for the ACC men's basketball tournament — the first time it's been in the city since 2015 — the timing couldn't be worse.
Still, you wouldn't know it if you were at the Greensboro Coliseum on Monday. Team logos were installed. A worker repaired a chip on the court. UNC basketball coach Roy Williams held practice.
In other words, a typical day on the eve of the event.
Today, when the tournament begins for the 67th time, things shouldn't seem out of the ordinary except for a couple of new things.
"The coliseum has put out additional hand-sanitizing units in the arena," said Andrew Brown, the public relations manager for the Greensboro Coliseum Complex. "We are also putting up posters with the (Centers for Disease Control and Prevention's) recommendations to help mitigate the spread of germs."
Guilford County health and emergency officials say things are in place to test people showing signs related to the contagious disease.
"We have the availability to test individuals as needed and are meeting the testing requirements," spokeswoman Lora Coffey said by email.
Coffey said those requirements include having a fever and respiratory symptoms as well as being a recent visitor to such "affected geographic areas" as Iran, Italy, South Korea and China — where COVID-19 originated.
Only people who meet all three requirements should ask about being tested, Coffey said.
Cone Health is recommending that anybody who feels they may have contracted COVID-19 to contact their doctor.
Tonight, school administrators will present a report on emergency preparations at the Guilford County Board of Education meeting in High Point.
Wanda Legrand, the school system's chief student support officer, said additional cleaning supplies were ordered a couple of weeks ago in anticipation of heavy demand. Additionally, training sessions were conducted with custodians, cafeteria managers and others to review how to clean common areas such as doorknobs and desks.
Over at PTI, you may notice more staff than usual wiping down handrails, cleaning door handles, sanitizing baggage areas and disinfecting seats.
Airport officials said they began taking the precautions weeks ago when the first reports of the coronavirus surfaced.
On Monday, city officials said they are monitoring the latest news and what effect it may carry for residents.
"If things progress, we will certainly adjust on the fly," said Jake Keys, a city spokesman. "We'll continue to watch and monitor and make decisions based off the current situation."
Only time will tell if that situation will change.