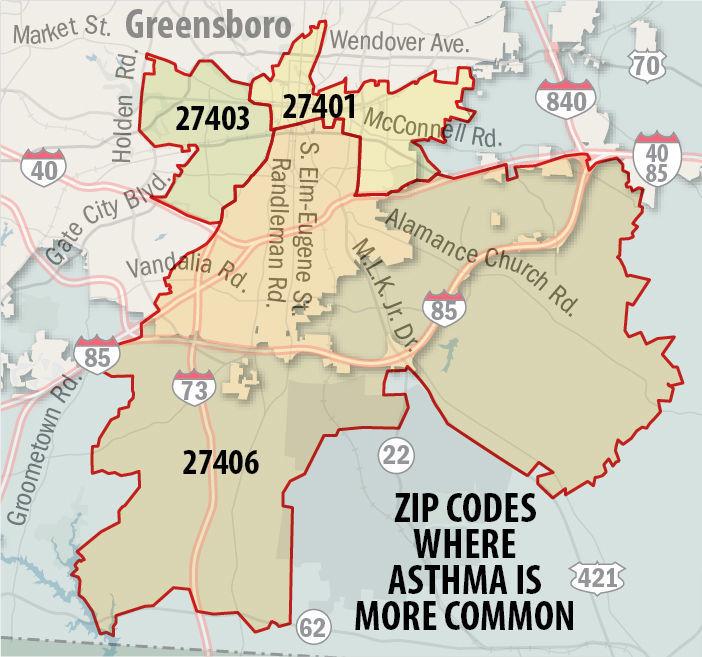 GREENSBORO — More than 6,000 Greensboro children live in substandard housing that causes asthma or makes their condition worse, UNCG research shows.
In recent years, a group of housing and health advocates has concentrated on the low-income Cottage Grove neighborhood in east Greensboro to begin a cooperative experiment that could improve children's health around the city.
Apartments and houses with mold, mildew and residue from pest infestations can cause asthma and send children to doctors and emergency rooms. In many cases, if you repair and clean up the home, you cure the problem, said Josie Williams, the director of community engagement for the Greensboro Housing Coalition.
And thanks to a national group of foundations, her group will soon have a national grant of $250,000 to widen the program into three zip codes where bad housing is causing bad health.
The group, Collaborative Cottage Grove, was notified of the award of funding and additional resources last week.
The BUILD Health Challenge, as the award is called, was granted to only 18 teams out of 130 that applied. The BUILD Health Challenge was created four years ago by the de Beaumont Foundation, the Colorado Health Foundation, The Kresge Foundation, and the Robert Wood Johnson Foundation.
This grant is designated as the "3.0" version of the program. The Greensboro group is already working on a previous grant from the program under the "2.0" designation.
Under 2.0, local housing advocates concentrated on Cottage Grove, helping to develop neighborhood leaders, finding sick children and cleaning up the causes of their illness.
Now, with some matching money from Cone Health and cooperation from a variety of Greensboro community and government groups, The BUILD Health Challenge will soon help the group to widen its efforts to eradicate housing-caused asthma in the 27401, 27403 and 27406 zip codes of the city.
"When you address things at the root, you have a greater impact," Williams said. "If you effect policy change, then that can help an entire district in the city, not just a neighborhood."
Partners in the local program include the city of Greensboro, Cone Health, Greensboro Housing Coalition, Guilford County Department of Health and Human Services, New Hope Community Development Group, Center for Youth Family and Community Partnerships at UNCG and Mustard Seed Community Health.
Williams said the groups will work together to identify children with problems and do what it takes to help them. For example, some children may need immediate health care from Cone Health. While they're being treated, another agency from the cooperative group might identify the child's home as a cause of illness. Finally, the city's Inspections Division might be brought in to force a landlord to make repairs to a badly-maintained apartment.
All options are on the table, Williams said. And the program is designed to break down barriers between health and housing agencies to solve common problems.
"We cannot get this type of thing done in silos," Williams said. "Anyone that tries to do that, I caution them to just stop and go back to the drawing board. Silo work does not create change in the community."
Nurses who work at schools for the Guilford County Department of Health will be key to helping the program work, Williams said. They already manage the cases of sick children in schools. Through the program, they will now be connected to housing agencies in addition to health agencies. That can begin the process of finding ways to correct any problems at home.
The Greensboro Housing Coalition will handle the grant and hire a "healthy homes coordinator" that will work with a broad range of community and government agencies.
"Your housing is your safe haven," Williams said. "Nobody wants to be in an environment that is making you feel worse. I'm very proud of what I see coming. This is really systemic change that we're trying to address."