City of Greensboro pushes to reduce racial and gender disparity in its contracts and purchases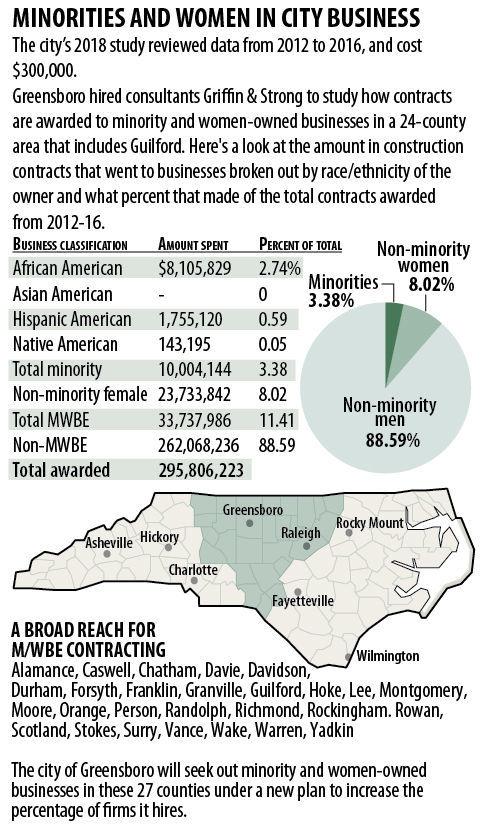 GREENSBORO — When Dawayne Crite was searching five years ago for a city to open his own engineering firm, he looked at markets from Atlanta to Greensboro.
He chose Greensboro because the business community is diverse and he believed the city's program to seek out and hire minority and women-owned businesses could help him get city contracts for the kind of engineering work he wanted to do.
"Greensboro is very unique," Crite said. "Outside of Atlanta, we have the most (minority business enterprises) in a centralized region than any other place that I've seen in North Carolina."
He attributes that, in part, to the many N.C. A&T graduates who have stayed and gone into business.
While evaluating cities, Crite watched their city council meetings and read minutes of the deliberations.
Greensboro, Crite said, talked about diversity in business and was beginning to find ways to include more companies outside the traditional white-male dominated economy.
"It told me as a potential business owner that this was a city that would support me in my path and my journey as a business owner," he said.
He said that while his business has done well, that's not the case with all businesses owned by women and minorities.
The city began a sweeping new program July 1 to try to correct that disparity with beefed-up budgets, more staff members and a citywide effort to review where every dollar goes so it can hire more businesses that may have been excluded in the past.
In 2017, Greensboro spent $300,000 to hire the Griffin & Strong law firm to prepare a "disparity study" to find out whether the city's minority and women-owned businesses were getting a fair share of city business.
The study found that, whether through discrimination or faulty contracting procedures, those companies were getting a disproportionately low percentage of business from the city.
The study showed that the city spent $296 million in contracts from 2012 through 2016. Minority-owned businesses received about $10 million of that money, or 3.38%; non-minority female-owned companies received $24 million, or 8%.
It's unclear how many minority and women-owned businesses there are because not all of them are certified through a complex process to be eligible for city contracts.
But the city government's critics have long maintained that the percentage of such businesses is far higher than the value of contracts steered their way.
"At the end of the day, the sustainability and growth of African American business should be the No. 1 priority of the city of Greensboro," said Earl Jones, a former City Council member and a founder of the Greensboro Business League, a group of black business owners who formed to eliminate discrimination in contracts for goods and services in city government.
Jones said African Americans pay 35% of city taxes but those tax dollars are not flowing back into the black business community. And the city is only making excuses when it says not enough businesses are certified through the process that requires various licenses and insurance, Jones said.
"Those are pretexts to justify systemic racial discrimination against African American businesses," he said.
Jones' group and an advisory committee of community members, including Crite, have been working with city leaders since the Griffin & Strong study came out in spring 2018.
City Councilwoman Sharon Hightower has, for much of that time, worked both behind the scenes and at council meetings to draw attention to a constant shortfall in city spending with minority and women-owned business enterprises, or MWBE.
At nearly every council meeting, Hightower highlights individual contracts to ask about their portion of MWBE participation.
Now, with broad council support, the city is beefing up its office that supervises MWBE contracts.
The group will soon have a bigger staff with a bigger budget — from $310,000 in the last budget year to $580,000 this year — and sweeping powers to supervise nearly every contract put out for bid by city departments.
The office reports to Assistant City Manager Kimberly Sowell, who recently told the City Council at a work session that several new powers and goals should have an effect on the amount of work the city does with "underutilized businesses," as the Griffin & Strong study calls them:
The city can now contract with businesses from a marketplace that has expanded from 10 counties to 27 counties.
More minority groups have been added to the list of available businesses.
In addition to existing goals for doing business with subcontractors in construction businesses, the city can now set goals for doing business with professional-services firms.
Sowell said her office's "aspirational goal" is that 46% of all money is spent with minority and women-owned businesses. But that is nearly impossible as it would likely require the city to do business with every eligible company in the area.
A more realistic number might be 20%, she told council.
She admits that building to that number is a big job and creating a stronger MWBE office in City Hall is like starting a new business.
Sowell is not only implementing new procedures, working with new employees and finding creative ways to handle issues; she is in charge of changing the culture of a half-billion dollar city government.
That means getting monthly MWBE reports from every department and teaching each of hundreds of employees that spending city money, whether through a small painting contract or a major sewer project, can have an effect on underused businesses. That also means no casual purchasing choices, no working with the same contractors over and over.
Jones, who has been pressing the city for years to do a better job, is mindful that a little patience is in order as the city pursues change.
He said he is cautiously optimistic the effort will work even while he cautions members of his group that 12-18 months is not a long time to wait for results.
"You've got to keep grinding it out and grinding it out," he said.
The city MWBE office's first step is to define what success means, Sowell said.
"We want to start measuring utilization month-by-month because we should start seeing the needle move, however small," she said. "Once we start implementing the changes, if we move 1% in a month that's success for us, but that doesn't mean that you stop. ... If we get to 10% we're going to be happy because that's an improvement from where we were, but that's not where we want to stop."
Sondra Wright, the owner of JW Wright & Associates, a landscaping firm, said that while her company is successful, it's still difficult to work with public contracts as a minority businessperson.
In one recent case, a primary contractor hired her company but put what Wright called onerous obligations in her contract that she said weren't in the main contract with the city.
"It put too much of the weight of the contract on the small business and took too much of the weight off the prime business," she said.
Wright went to the city for some support.
"Unfortunately, there was no support for me," she said. "Do I turn this work down? That's a tough situation to be in."
For Wright, changes in the city's MWBE program can't come soon enough.
"When the results came out, the city had a responsibility and obligation to move swiftly and with a sense of urgency," Wright said. "While I am pleased we're moving in a positive direction, it could have and should have happened sooner, and there is a lot more that should be done."