His dog ran away while he was hospitalized for emergency surgery. Now the Climax man is reunited with his beloved Pearl.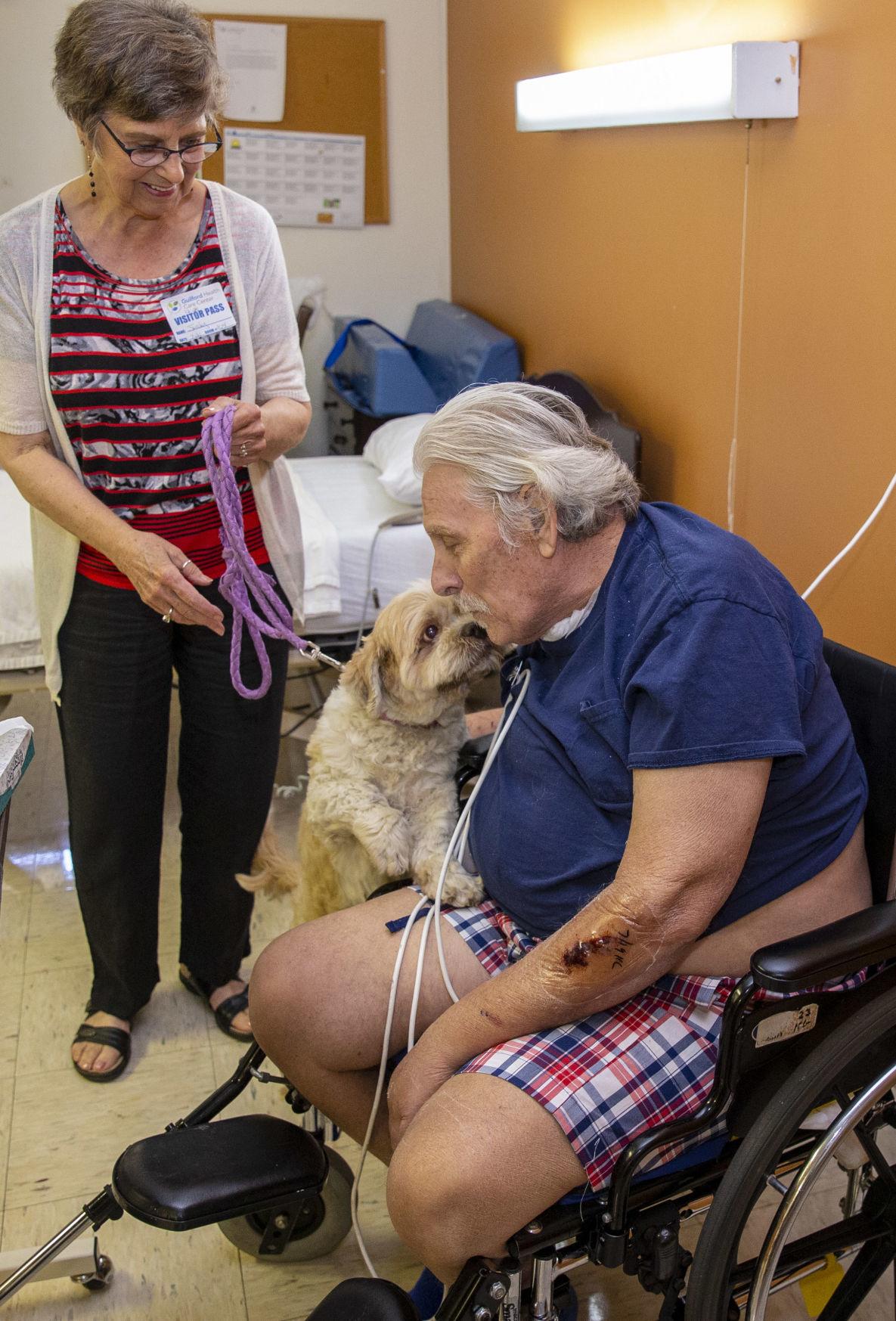 While Keith Robertson lay heavily sedated in Moses Cone Hospital after emergency surgery, his beloved dog — who had run away — was being put up for adoption.
Don't fret, the story has a happy ending, although it probably caused a few gray hairs for Robertson's sister and his neighbors, who had been taking care of the Lhasa apso named Pearl before she vanished.
It began May 15, when Robertson was admitted to Moses Cone Hospital with a blockage to his intestine. He doesn't recall this, but he was kept sedated in the intensive care unit to allow time for the wound from the surgery to heal, his sister Judy Mabe said.
While he recovered, Robertson's neighbors took care of Pearl.
Robertson lives in a building with four apartments in Climax, where the close-knit neighbors look out for each other and whose dogs often hang out together.
Pearl "was coming into my apartment on a regular basis anyway," said Dennis Wehmeyer, Robertson's next-door neighbor.
"Everybody has a dog," said another neighbor, Kathy Mounts.
And the neighbors have doggie doors, so Pearl had a habit of visiting everyone, Robertson said.
Then Pearl disappeared.
"We were so scared for him to come home and she's not there," Mounts said. "I looked for her for a week."
Mabe said she was hesitant to tell Robertson that Pearl was missing while he was recovering in the hospital.
"I was not going to tell him that, because that's the only thing he's got," she said.
Still worrying about how she would eventually break the news to her brother, Mabe looked at her Facebook feed on a Friday night in June and saw a Pet of the Week feature posted by a WFMY meteorologist.
"There is Ed Matthews with a Pet of the Week dog to be adopted on Saturday and it was her, Pearl. I just panicked," Mabe said.
She quickly sent Matthews a message and called the SPCA of the Triad, which was closed, but left a message. "I said 'Don't adopt that dog. That's my brother's.' "
The SPCA called her the next morning and told her they had called the number associated with the microchip implanted in Pearl, but it wasn't working.
"I said, 'No, it's not, because he's in the hospital,'" Mabe said.
Pearl's adoption was stopped and she's now back with Robertson's neighbors while he continues to recover.
On Sunday, they took Pearl to Guilford Health Care Center, where Robertson is now recuperating, for a reunion.
"It was just like a gift from heaven," said Robertson, 67. "I don't know what I'd do without her."
He adopted Pearl as a puppy in South Carolina, naming her after his grandmother.
"She's a sweetheart," he said. "She's stayed with me for 11 years — this is the only home she's ever known."
Lori Cummings of the SPCA said the group will hold an animal for 72 hours if it is unable to locate the owner. They also contact the Guilford County Animal Shelter to see if anyone has reported the dog missing.
"We absolutely love happy endings like this," Cummings said.
She said the incident is a good reminder for people to update their information associated with their pet's microchip.
And alternate numbers can be added, so if the owner is incapacitated, a relative or friend can be contacted, said Tom Shad, a spokesman for Merck Animal Health. The company operates HomeAgain, a pet recovery service that includes pet microchipping and was used by the SPCA to check Pearl's ownership records.
Robertson was all smiles during his reunion with Pearl, noting that she looks great with the grooming she got at the SPCA in preparation for her adoption. He is looking forward to going home, possibly in another month, and getting back to spoiling her.
"It's just like one of those deals on TV," Robertson said, "like 'Lassie Come Home.' "