Steve Showfety, PTI chairman, retired president of Koury Corp., community activist dead at 72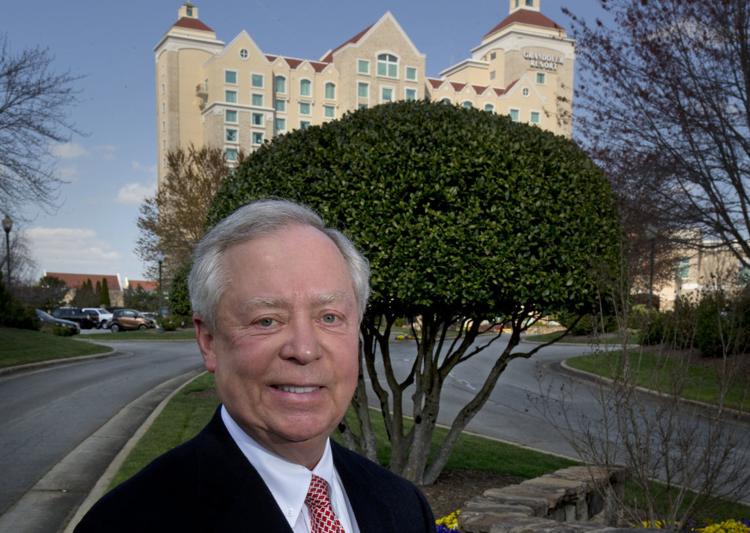 GREENSBORO — When Steve Showfety joined the board of the Piedmont Triad Airport Authority 10 years ago, he had already spent decades learning about real estate development and finance from Joe Koury, a master of his craft.
As president of the company that Koury built, Showfety was managing the Sheraton Greensboro Hotel at Four Seasons/Joseph S. Koury Convention Center and the Grandover Resort.
He brought a fine-tuned attention to detail to an experienced board of directors that had spent the previous 25 years turning the regional airport into an economic powerhouse for Greensboro and the Triad.
Showfety, 72, was still the chairman of the airport authority when he died Wednesday night of glioblastoma, the rare brain cancer that felled U.S. Sen. John McCain in August 2018.
Showfety retired from his position at Koury Corp. earlier this year. But even in the months after surgery in May, Showfety remained active with the airport, attending board meetings by phone and calling the airport's executive director, Kevin Baker, weekly for strategy sessions.
"It wasn't like we were just having conversations and just keeping him informed — he was actually making good suggestions and providing advice as valuable as if he was still on duty," Baker said.
But the type of cancer Showfety had is "an insidious disease," Baker said. "He put up a valiant fight, but I think especially over the last few weeks he had spiraled downward. Steve did things on his own terms. Steve probably just decided that he had had enough of this and wasn't going to put up with it anymore."
Baker said Showfety had depth far beyond his high-profile success.
Four years ago, when Baker had a heart illness and was preparing for a hospital procedure, his wife was juggling Baker's illness, issues with their children and even a sick kitten that needed attention.
"He offered to leave his office and drive the 20 miles out to my house and take the cat to the vet," Baker said of Showfety. "She didn't take him up on it."
After Showfety had served for five years on the board, he succeeded retiring Chairman Henry Isaacson.
Isaacson, who had begun a number of initiatives that included the airport adding hundreds of acres of land for economic development, said Showfety's tenure was marked with intelligence and clarity.
"He came along and he built upon things that we had envisioned for the airport," Isaacson said. "Steve was a devoted member of the board and passionate about the airport authority. It gets in your blood."
During Showfety's tenure as chairman, transportation officials completed construction of a taxiway bridge connecting the western runway to land across Interstate 73 from the airport. And the airport also broke ground on a $61 million air traffic control tower.
"I'm so sorry that he was felled by a disease rather than being able to leave his position at a time of his own choosing," Isaacson said. "I think that he would have liked to have stayed on and continued his work, but this disease took hold and he had no choice. That's the sad and very tragic part of this story."
Showfety was a champion of the growing aerospace industry at the airport, and local economic developers say they worked with him closely.
Stan Kelly, the chief executive officer of the Piedmont Triad Partnership, the regional economic development agency, wrote in a statement: "Steve was a leading champion for regionalism believing that a 'Win for one was a win for all' and that together we are better."
Brent Christensen, the chief executive officer of the Greensboro Chamber of Commerce, said that "I can tell you that there probably wasn't a day that went by that Steve didn't think about economic development in this community. He was very focused particularly on the airport. But of course he also had a business that provided lots of opportunities for economic development."
Showfety was also a firm manager who made his wishes clear.
"He was laserlike focused and wanted others to be as well," Christensen said. "I was working on something that he didn't feel was the highest and best use of my time and he let me know that.
"He wanted folks focused on what he was focused on and made sure everyone was pulling with him. This phone call wasn't unpleasant; it was just urging me to focus on something he wanted me to focus on," Christensen said.
Showfety grew his career with one of the most successful developers in the city's history. As an employee of Koury Corp., he helped Joe Koury develop such major properties as the Koury Convention Center and Grandover Resort and then managed those properties and their subsequent growth after Koury's death.
Grandover's marquee tenant is the headquarters for the Atlantic Coast Conference.
In addition to membership or chairmanship on a long list of local professional and business boards, Showfety was committed to education. As a graduate of East Carolina University, Showfety served on its board of trustees, including two years as chairman, and received two distinguished service awards from the university.
In August, Showfety received the Stanley Frank Economic and Workforce Development Award from the chamber and the Order of the Long Leaf Pine award from the state of North Carolina, its highest civilian honor. He received the awards at the Greensboro chamber's annual luncheon.
"It was wonderful to be able to do that when Steve was still with us," Christensen said. "His family came from all over to see him get the award. His daughter and grandson accepted it on his behalf."
Loren Hill, the president of the High Point Economic Development Corp., said in an email, "I've watched and worked with him in many of his roles — as real estate developer, economic development expert, hospitality guru, and airport board chair. In all of those roles, Steve Showfety was an inspiration to all with whom he interacted."
A spokeswoman at Koury Corp. said funeral arrangements are incomplete.