'These are human lives, not just numbers.' Groups speak out in Greensboro on Trump's plans to limit asylum seekers, refugees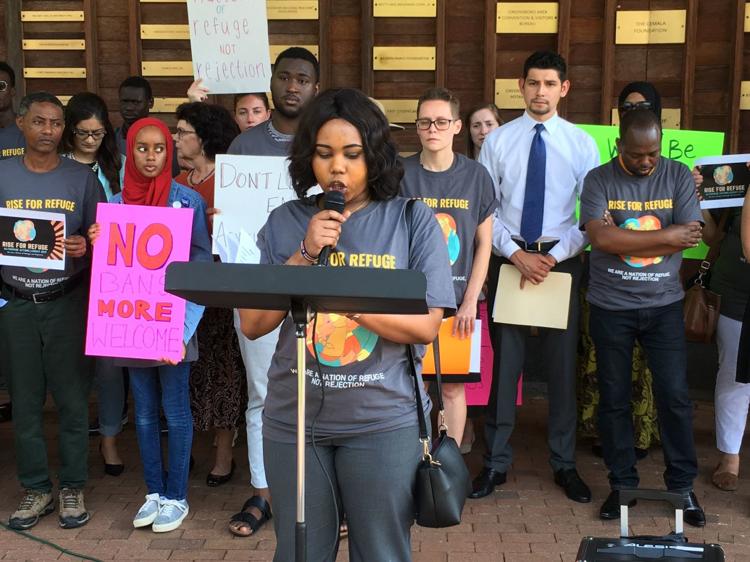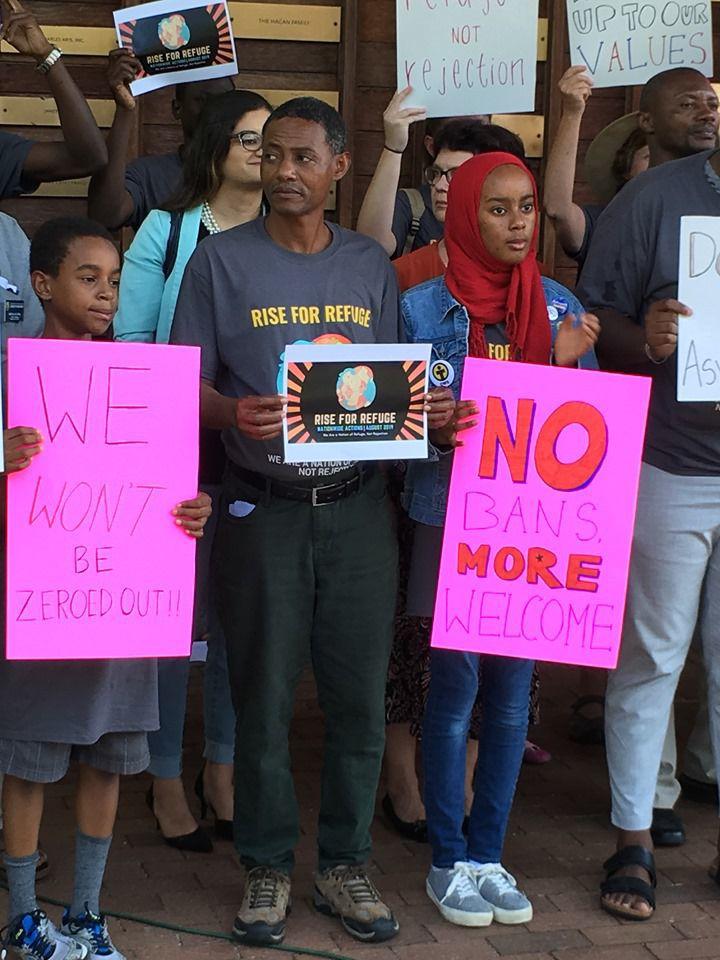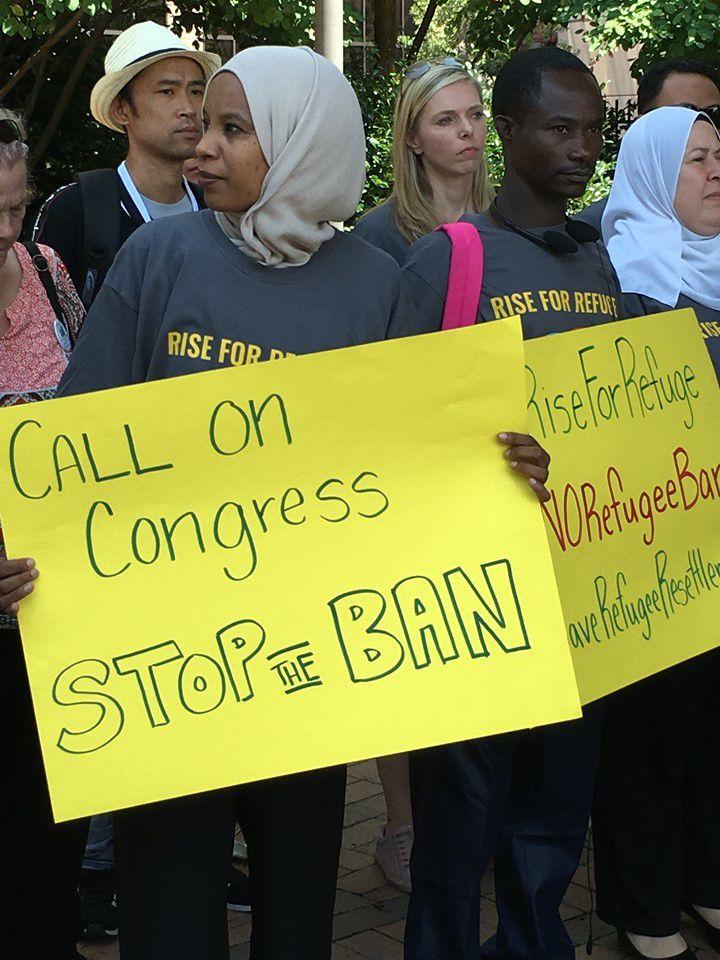 GREENSBORO — As those who gathered Thursday spoke about possible new U.S. restrictions on the number of refugees and asylum seekers, Cheryl Hairston recited the words from the base of the Statue of Liberty.
Her speech came at the end of a rally of refugee and faith leaders, civil rights groups and business people demanding an end to what they see as an assault by the Trump administration on protections for refugees and asylum seekers.
Considered the most recognizable welcome for immigrants, the statue's writing begins with the phrase "Give me your tired, your poor, Your huddled masses yearning to breathe free," and ends with "I lift my lamp beside the golden door!"
Hairston, the leader of the nonprofit Women the World Over, told about 40 people gathered for a press conference at the Center City Park pavilion that to her the lamp is lifted to symbolize those fleeing the darkness of their situations. The golden door recognizes their arrival.
"No matter how we have gotten here we join ourselves together to say this," Hairston said. "Any administration that stands behind the golden door and seeks to close it will be met on the other side of that door by those of us who will push — and push and press and push and never stop pushing — until we know for certain that that golden door will remain open."
Thunderous applause followed.
The coalition is urging the public to contact members of Congress and other legislative leaders and ask for their help.
Adamou Mohamed of the resettlement group Church World Service railed against proposals barring virtually all refugees from seeking asylum at the country's southern border and dropping the number of refugees resettled in the 2020 fiscal year to zero.
"All during the worst refugee crisis in history, with more than 25 million refugees worldwide in need of safety — closing the door on families already waiting years to reunite and abandoning the world's most vulnerable people," Mohamed said.
The Rev. Julie Peeples, after reciting a litany of verses from the Bible that call for welcoming the stranger, focused her words on Christian lawmakers.
"Stand up for the faith you say you practice," Peeples said, as those behind her hoisted signs calling for "Refuge not Rejection" and "Save Refugee Resettlement."
Several former refugees spoke of leaving behind war and other atrocities. Of opportunities here. Of loving their new country.
"I feel so safe being here," said Anusia Uwineza, who was resettled from the Democratic Republic of the Congo.
She and another more recent refugee, Jean-Claude Shamamba, both said family members remain in the camps.
"We are still hoping," Shamamba, here less than two months, said through an interpreter.
City Councilwoman Marikay Abuzuaiter is the wife and the great-granddaughter of refugees.
"Had my great-grandfather not been given asylum at the age of 12, I would not be here," she said.
There are 40,000 people who are in various stages of being resettled here and waiting, said Megan Shepard, site director for Church World Service Greensboro.
The people in the program became refugees while escaping violence or extreme poverty in their native countries and have signed up for United Nations programs that move them to safety.
When the United States accepts refugees, contracts are signed with resettlement agencies like Church World Service and the North Carolina African Services Coalition to find them housing and to provide a support system as they work to become more independent. These agencies use the money to develop their budgets for the year. Their whole operation relies on how many people they get from year to year, which is based on the number a president's office approves.
Delays, even when they are short, also provide a major hindrance for refugees.
All of the background checks, including health paperwork, must be valid at the same time, and that's a very tight window. And if one expires, they may have to start over.
"These are human lives," Shepard said, "not just numbers."
Since the administration's proposals came to light, local organizations, ranging from the resettlement agencies that help with applying for Social Security cards to those like the education and advocacy FaithAction International House, have been under tremendous pressure. Some refugees already here are worried about family members who are awaiting entry into the country.
Under federal statutes, there can be a ceiling of 50,000 refugees — or a number determined by the president.
It was 85,000 under President George W. Bush.
President Barack Obama raised it to 110,000.
Early in his administration, Trump put immigration officials on notice that he would not go above 50,000. It was about half of that last fiscal year.
The coalition, which passed out information on reaching lawmakers, is asking the community to especially contact U.S. Sen. Thom Tillis, a North Carolina Republican who is on the Judiciary Committee that a president must consult with before deciding on a figure.