Guilford Green grants fund programs ranging from adding LGBTQ books in schools to helping aging gay adults without support systems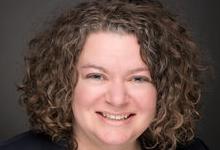 GREENSBORO — Among the grant requests that caught the Guilford Green Foundation's attention is a plan to put grade-level appropriate LGBTQ books in more than 100 Guilford County Schools and to work with school librarians to incorporate the books into the curriculum.
GSAFE Greensboro, a chapter of the national Gay Straight Alliance for Safe Schools, has been awarded $5,000 to help with the effort.
Four years ago GSAFE Greensboro started a project to ensure that every student in the local school system had access to LGBTQ-inclusive books in their schools.
"We believe in its positive impact," said Alexa Briggs, the group's co-chair.
The money is part of the $30,000 in grants recently announced by Guilford Green — one of about a dozen lesbian, gay, bisexual and transgender community foundations in the country. A good number of the applications come from grassroots organizations without a grant writer who are often competing for a dwindling pool of money.
"Compared to other foundations we have a very small pot of money, but we are also more flexible with how we can use that money," said Jennifer Ruppe, the foundation's executive director.
The foundation, which works to create unity through programming and philanthropy that advances equality and inclusion for LGBTQ communities, gets more than $100,000 in grant requests each year.
"There are always going to be programs that you wish that you could fund," Ruppe said.
One of the more successful ones came from the FaithAction International House, an anchor in the community, which sought help serving LGBTQ immigrants coming to the area. The priority with immigrants usually focuses on housing and other basic needs. But there are a good number of them who have left countries where being gay is considered a crime.
"It may impact a small number of people," Ruppe said of the $2,500 grant for education and outreach, "but it will have a huge impact for that small number of people."
With GSAFE's project, Briggs pointed to GLSEN's 2017 School Climate Survey, a national survey of the experiences of LGBTQ youth in the nation's schools, which found that less than half (41%) reported they could find books or information on LGBTQ topics in their school library.
Briggs said the survey also reported that students in schools with LGBTQ resources, like books, were less likely to hear homophobic remarks, were less likely to feel unsafe because of their sexual orientation, were less likely to miss school because they felt unsafe, and performed better academically, including having plans to pursue higher education.
Since the early 1990s, Guilford Green's mission has been to focus on challenges facing the local gay community. Besides being a financial resource in the LGBTQ community, the foundation hosts programs and initiatives and serves as a resource for residents through the LGBTQ Center as well as an online guide of services and community groups.
But at a time when less than 1% of all foundation dollars across the country went to gay, lesbian, bisexual and transgender issues, the group has raised more than $700,000 for projects ranging from meals for people diagnosed with AIDS/HIV to a documentary on a gay couple before the legalization of same-sex marriage.
That couple, Lennie Gerber and the late Pearl Berlin of High Point, were the face of the country's marriage equality movement.
The foundation's grants typically range from $1,000 to $10,000.
"What we are looking for is how the Guilford Green Foundation dollars can build capacity for a program, help provide seed money for a program or take a program to the next level," Ruppe said.
At Senior Resources of Guilford, an agency that works with the elderly, that means being able to focus on the problem of loneliness that affects members of the gay community. Renee Griffin, the nonprofit's assistant director, remembers hearing about the SAGE-Table at a national conference on aging. (SAGE stands for Services & Advocacy for GLBT Elders.) The program addresses the fact that a lot of older gay adults may not have the traditional family and community support surrounding them while they are aging. Through programs, such as different generations coming together around a meal for conversation, the program encourages younger people to participate as a way of building community and also understanding aging issues.
Senior Resources already partners with the foundation and AARP to provide "Gay and Gray" social activities and services at Guilford Green's LGBTQ Center.
"I can't even tell you how excited I am," Griffin, who wrote the grant, said of getting the news about the $4,500 award to expand outreach. "We would not be able to bring this program to Guilford County without it."
Some of the money will also be used to host SAGE training for other service providers who come into contact with the elderly to make sure their staff and working environment are welcoming and affirming.
"I think a lot people are reluctant to seek support because of the way they think they will be treated," Griffin said.
The largest grants of $7,500 each will be used for LGBTQ youth. One of them, One Step Further's Family Factor Program, works to bridge the gap from non-acceptance to acceptance between youth and their caregivers, and to increase the mental health and well-being of these youth.
Another $7,500 was given to the Youth Focus Act Together Crisis Center, which funds emergency shelter, meals, and support for LGBTQ youth. According to Guilford Green, an estimated 40% of homeless youth in the United State identify as LGBTQ.
The other recipients are:
The North Star LGBTQ Center, $2,000, to empower "LGBTQ youth with the knowledge, skills, and tools to achieve and maintain an affirming, balanced, and healthy life." The grant includes paying a trained professional to host youth support groups.
The Equality NC Rural Youth Empowerment Fellowship, $1,000, to sponsor one RYE fellow in a one-year leadership program designed to equip LGBTQ youth from rural North Carolina "with the skills to create positive change in their local community."