Where there's smoke, there's ... dinner? Readers share their holiday cooking mishaps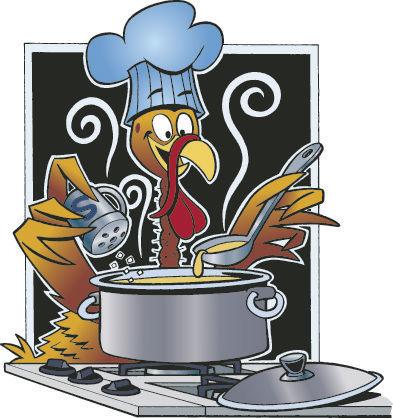 The image of a perfect Thanksgiving dinner is etched in our minds.
Happy, congenial loved ones seated around a large table.
The turkey is succulent and golden.
The many delicious side dishes — at least one favorite per guest — are all ready at the same time, precisely at the designated meal time.
But that's not a reality for most of us.
The pressure of fixing a holiday meal is intense, especially if it's your first time.
Or your first time hosting.
Or your first time using a turkey fryer.
Or your first scratch-made pumpkin pie.
You get the idea. Holidays might not be the best time to try something new.
I cooked my first Thanksgiving turkey with the plastic bag of giblets and the neck inside, and my family still ribs me about it.
The next year, my husband and I proudly and meticulously removed the bag, only to discover — after the turkey was done — that there was a second bag.
But let's face it: Mishaps make memories.
As you sit down to enjoy your "perfect" meal, we hope you'll enjoy these cooking mishaps, shared by our readers.
Next time, cook on the driveway
One Thanksgiving, I was excited to use my brand-new turkey fryer.
I set it up following all of the directions and heated the oil. The time came to put the turkey in.
Apparently it hadn't thawed all the way, and as soon as the ice crystals hit the oil, most of it splashed out on my deck and started a grease fire!
The only thing I had that would put it out was baking flour. So, there I was with a flour-covered deck and a turkey that I still needed to cook! (It turned out great by the way.)
From now on, the fryer gets set up on the driveway! Lessons learned, memories made and laughs for years to come!
— Kim Dance, McLeansville
Up in flames
I was happy to host my extended family in our new home for Thanksgiving in 2013.
Preparations were underway as my cousins and their families began to arrive.
My sister was carefully watching the sweet potatoes under the broiler (marshmallows need to be toasty, you know) when one of my cousins arrived. She left her post to hug the newly arrived family and promptly forgot about the sweet potatoes.
Smoke alarm goes off, smoke fanning, window opening and chaos ensues.
That crisis averted, we were settling in for wine and appetizers when my uncle backs up and falls over the coffee table, breaking a wine glass and scaring us half to death.
He's OK, and we proceed with the meal.
I put the second tray of angel biscuits in the oven, and we sit down to eat. You guessed it.
They are in flames, but it's caught before the smoke alarm. I have not hosted Thanksgiving for my extended family since.
— Libba Genova, Whitsett
Best pumpkin pie ever?
Up until this year, I have hosted my family for Thanksgiving at my house.
One year, I decided to make the best pumpkin pie ever. I even went to a local farmers pumpkin patch and selected what he called "an old-timey pie pumpkin." He assured me it was better than anything I could buy in the stores, and since he's been in the farming business most of his 82 years, I believed him.
Closer to Thanksgiving, I slow-cooked the pumpkin, strained it, did the whole laborious process of turning a whole pumpkin into the puree needed for the pie. I selected a recipe that had 5 stars from over 1,000 reviews and promised me it would be the best pie is ever tasted.
How could I go wrong?
We sat down ready to dig in to dessert, and everyone was oohing and aahing over my pie, impressed with the lengths I went to for the world's best pumpkin pie.
All pie was dished out, and we dug in, only to discover that I had completely forgotten to add the sugar! So we had the world's best sugarless pumpkin pie. My dad kept saying he preferred it because he didn't need the calories, but he's a good liar.
I have been nervous about the pie situation ever since.
— Alice Owens, High Point
Rain date for the rain date
Last year, our Thanksgiving was ruined on account of norovirus.
We rescheduled for a Saturday in December, since we already had all the fixings. That afternoon, the turkey was taking a little longer than expected, so we reached out to family members to warn them they might want to have an afternoon snack before they came to dinner.
They were extremely confused — as we had actually invited them to SUNDAY dinner. Good news: everything reheated beautifully.
— Amanda Lehmert, Greensboro
Forgetting a classic family recipe
My holiday cooking mishap may not be super funny to everyone else, but it was to our family! As it involves a family recipe that everyone knew how to make!
My Aunt Terri was making one of our all-time favorite recipes, sausage balls! Not a Christmas has ever passed that they are not on the table. The recipe calls for sausage, cheese, bisquick and few drops of water. The sausage is to remain uncooked.
Well, last Christmas, Aunt Terri forgot about that part of the recipe and cooked the sausage. The problem with this is that when you do that, it doesn't stick together to form the balls. So when Aunt Terri makes the sausage balls, we now call them "Sausage Cheese Biscuits."
The part to this that's extra funny, is that while making the recipe, Aunt Terri lost her glasses and still to this day has not found them!
— Erin Wilburn, Greensboro
Edible tree decorations?
It was cold and rainy on Thanksgiving Day, 1980. I think the high was around 35. I didn't care. My wife and I and our West Highland white terrier, Mac, were warm and cozy, cuddled by the fire. Dinner would be around 5 during the Detroit Lions game.
I don't know why, but you could always count on the Lions playing (and losing) on Thanksgiving Day. There would be no cooking mishaps that Thanksgiving Day; at least not like the one that happened on Thanksgiving Day 1979, when we cooked the turkey upside down.
This year, the turkey was pre-sliced from the grocery store, the green beans were in a can, as was the cranberry sauce. The mashed potatoes were instant. The pumpkin pie was from the store's bakery department.
So what could go wrong?
Plenty.
For some reason that year, I wanted to go au naturale with the Christmas tree. I decided to get a live tree. There are two kinds of "live." One is a freshly cut Fraser fir. The other is an uncut Fraser fir, meaning you buy it rootball and all and plant it after Christmas.
I also wanted natural decorations that year, meaning gingerbread men (are they still men, or people?) and strands of popcorn.
Once I dragged the tree into the house — it must have weighed 200 pounds — I popped the popcorn and put the gingerbread men in the oven (350 degrees for 15 minutes). I finally got the tree into a bucket and soaked its burlap-wrapped rootball.
While my wife tied the red ribbons through holes in the gingerbread men's heads, I started stringing the popcorn together, bleeding profusely from my right forefinger.
We wrapped the popcorn around the tree and then added the gingerbread men. The tree was beautiful. The dog was asleep. And all was well — until we returned from putting candles in the upstairs bedroom windows.
Our mishap was hanging the popcorn and gingerbread men too low on the tree; low enough for Mac to have a field day devouring all the popcorn and gingerbread men he could reach; for which he soon became as sick as … well, a dog.
Of course he recovered by dinnertime. My biggest mishap that year was buying the live tree and then planting it. I don't think it lived to see New Year's!
— Raymond Reid, Kernersville
'We'll just go out to eat'
This was not a holiday cooking mishap but a holiday non-cooking debacle. A few years ago, when both parents were living at home, before my dad died, they decided to have Thanksgiving at their house, but they didn't want to cook, so they said, "We'll just go out to eat."
I had usually had a Thanksgiving lunch at home for my stepdaughters and their families, but since we moved to High Point, plans had changed and they couldn't come.
I had never "gone out" for Thanksgiving, but it sounded like a good idea to me since we would be driving an hour and a half to get there. I didn't want to bring anything.
We got there and had some conversation for a while. Then we picked out the restaurant and went, only to find it closed. We drove around, and all the other ones were, too, including the fast- food ones. While we were driving around, the grocery stores also closed, so we went home to see what was in the freezer.
We ended up having hotdogs with no buns, a couple cans of green beans and some French fries that were completely encased in a ball of ice, probably from the last ice age. Lesson learned.
— Leah Murdoch, High Point
Biscuits are easy, right?
Having been born and raised in Greensboro, I am familiar with Southern traditions!
So for a family Thanksgiving in the mid-'70s, since bringing bread was one of my assignments, I decided to treat everyone to homemade biscuits.
This was a first for me, and, in hindsight, not the time to wade into uncharted waters! Obviously, I felt somewhat secure in producing light, flaky, multi layered, buttery biscuits.
Surely, this wasn't rocket science! I proceeded to make and bake! DISASTER!
It was too late to dash to the store, so I managed to wedge the embarrassing hockey pucks into the bountiful holiday spread! When the pies, cakes, puddings, etc., were served, I was not the least bit offended to discover my mishaps were all still there!
Eager to master this skill, I mailed one of the failures to my aunt in Virginia, since, by all accounts, she was considered THE Queen of Biscuits!
I enclosed a note asking, "Where did I go wrong?"
Her kind reply was that on her next visit, I would get hands-on — no recipe needed — instructions on turning out perfect beauties that would be welcomed at any future gathering! Finally, success!
Now, the family is truly thankful to see and enjoy my tasty, homemade biscuits on the buffet! Thank you, Aunt Mae!
— Emma Keith Olson, Greensboro
Is this a bathroom or a pantry?
"Did you see the turkey in the fridge I bought for Thanksgiving?" I asked my husband.
"Yes , but what's the olive oil doing in the bathroom sink?" he asked.
"I use the oil for my cuticles," I replied. "According to the beauty tips listed in my magazine, olive oil is good for cuticles."
"OK, but why is the sugar in the bathroom?"
"Another tip was to mix sugar and olive oil together and use to exfoliate lips. See, look how soft and supple my lips are."
"I get it, but why are the potatoes in the bathroom?"
"They're for the dark circles under my eyes."
"But you don't have dark circles under your eyes."
"Now I don't, but one day … one day."
"Gotcha … and the cucumber?" he asked.
"For puffy eyes, of course. Would you want a wife who has puffy eyes with dark circles?"
"I shudder at the thought."
"Why's the cornstarch in the bathroom?" he said.
"One tip was to lightly dust cornstarch over face after applying makeup for a matte finish. Since my T-zone is prone to being shiny, I figured it makes sense to try it. Doesn't it?"
"Perfect sense. And the white vinegar?"
"It's part of a solution to clean the shower head."
"What about the baking soda?"
"It's the other half of the solution. You just can't clean a shower head with vinegar alone, you know."
"I know now."
"Why's a bottle of grapefruit-scented spray in the bathroom? Are we going to use that now instead of matches to remove what you call 'the stench?' "
"No, wise guy, the scent will make me appear six years younger."
"It may also make anyone standing next to you hungry for grapefruit. I don't understand why you'd want to smell like a grapefruit when you don't like grapefruit."
"One thing has nothing to do with the other. I may not like the way grapefruit taste, but I love the way it smells; lucky me, smelling my way to a younger me."
"You know, I could buy a grapefruit, squirt you with it and then eat it. It would be like a two-for-one special. I'd get pleasure from eating it and squirting you, and you'll walk around smelling fruity and believing you're six years younger. If I squirt you with two grapefruits, will you believe you're 12 years younger?"
"Right now, I believe you're getting on my nerves. Here, take this lettuce downstairs and put it in the fridge."
"In the fridge? You mean you're not going to give yourself a facial with it … or soak in a tub with it?"
"No. The lettuce belongs in the fridge. I'll make a salad to have on Thanksgiving. I can't believe you thought I was going to perform some bizarre beauty ritual with it. I honestly don't know where you get such crazy ideas."
— Cindy Argiento, Greensboro
A cooking mishap — in rhyme
A holiday mishap, boo-boo or blunder, causes more raucous than lightning and thunder.
Add two, active, crumb-snatchers that won't stay still, and you're exhausted like Jack & Jill going up the hill.
Thicken the challenge with folks you love quite a lot; in-laws in this holiday scenario, easily thicken the plot.
Our perfect folks were like Better Homes & Gardens magazine; Mama Margaret created, canned, and cooked Bon Appetite' cuisine.
Hubby prayed I could creatively coordinate the best, for our special, No. 1, Tennessee house guests.
Way before Google, I got a step-by-step cookbook, Followed every instruction to become an instant cook.
Planned, shopped, prepped, kissed the boys in bed; cooked dinner all night; put my soiree' way ahead.
Napped a few, showered, completed breakfast in a snap, taking care of business, without a guide, or an app.
Our sons always nudged me from start to stop; they thought their Wonder Woman could fly, fight and hop!
Wonder Woman finished dinner and breakfast for her crew; does that feat sound super-duper simple, for many of you?
Bacon, sausage, fruit, scrambled eggs, cheese N' grits; burning y'all like Don Cornelius' Soul Train Greatest Hits!
Everyone loved breakfast cuz dinner was ready too; I asked, "we got biscuits, don't y'all want a few?"
Kids nodded, munched, rubbed their bellies; homemade, scratch biscuits, with jams and jellies?
I was transformed into a connoisseur, ready for HGTV; till my face changed colors, opening my oven, what did I see?
12-round biscuits, hard as rocks, colored Easter-egg green! I was embarrassed, unnerved, crying, like a deposed Scott Queen!
Hitting a hole-in-one; green, golf balls fell in the garbage can; like Tiger Woods, I just needed one stroke, from that greasy, baking pan.
Mama Margaret consoled, "We've had much more than enough to eat;" as she removed my cute apron, and ordered, "take a seat!"
She said, "Baby, you work hard all day, helping pay bills with money. Don't you dare worry yourself over those green, hard, biscuits, honey!"
"We'll go get the quick, frozen biscuits that you just bake and serve; they'll fit better in your schedule, and put you ahead of the curve!"
So Dr. Seuss, I love you, and your Green Eggs and Ham! But now I avoid letting green, hard, biscuits, put me in a jam!
— Mable Springfield Scott, aka Able Mable, Greensboro