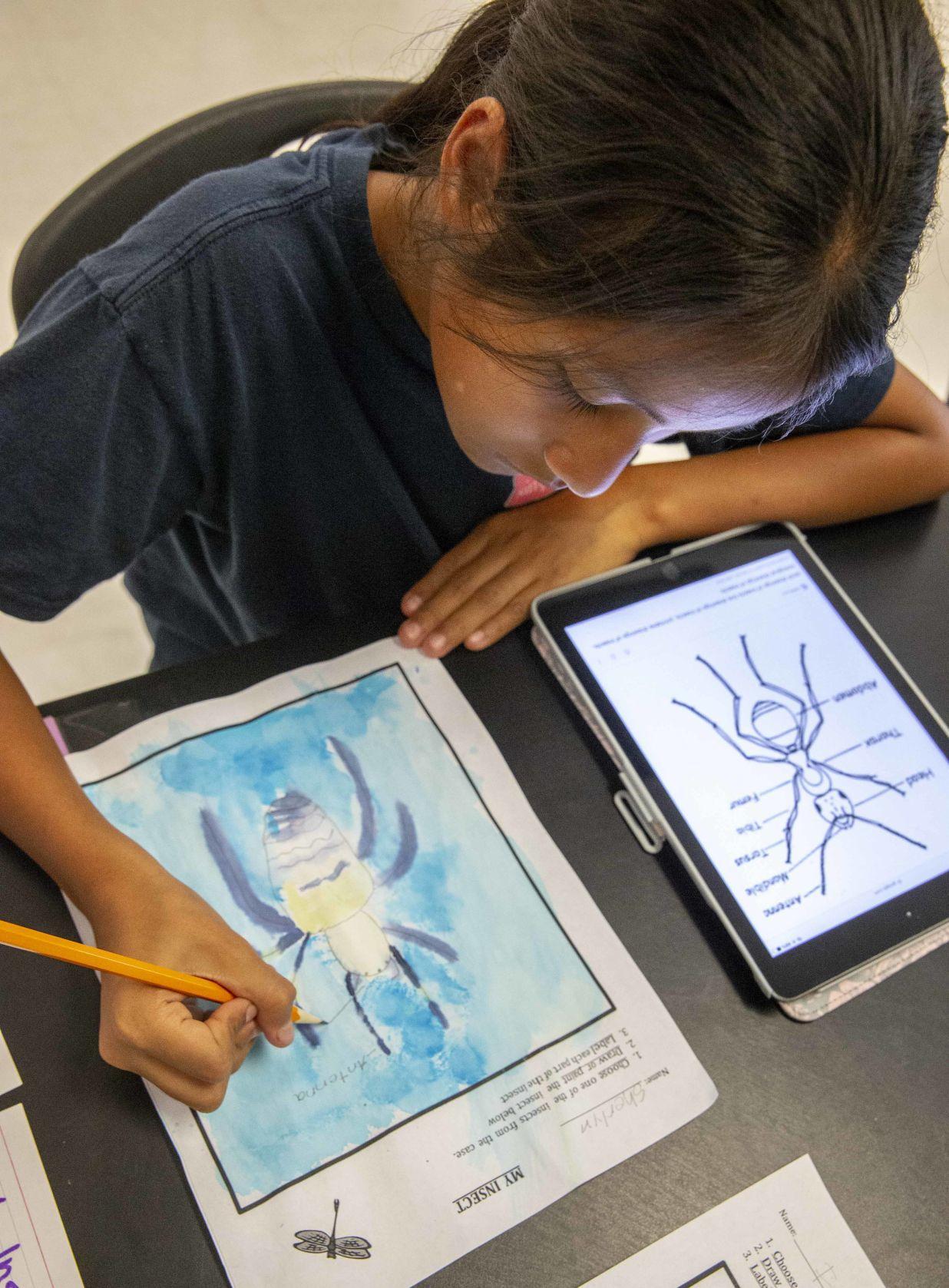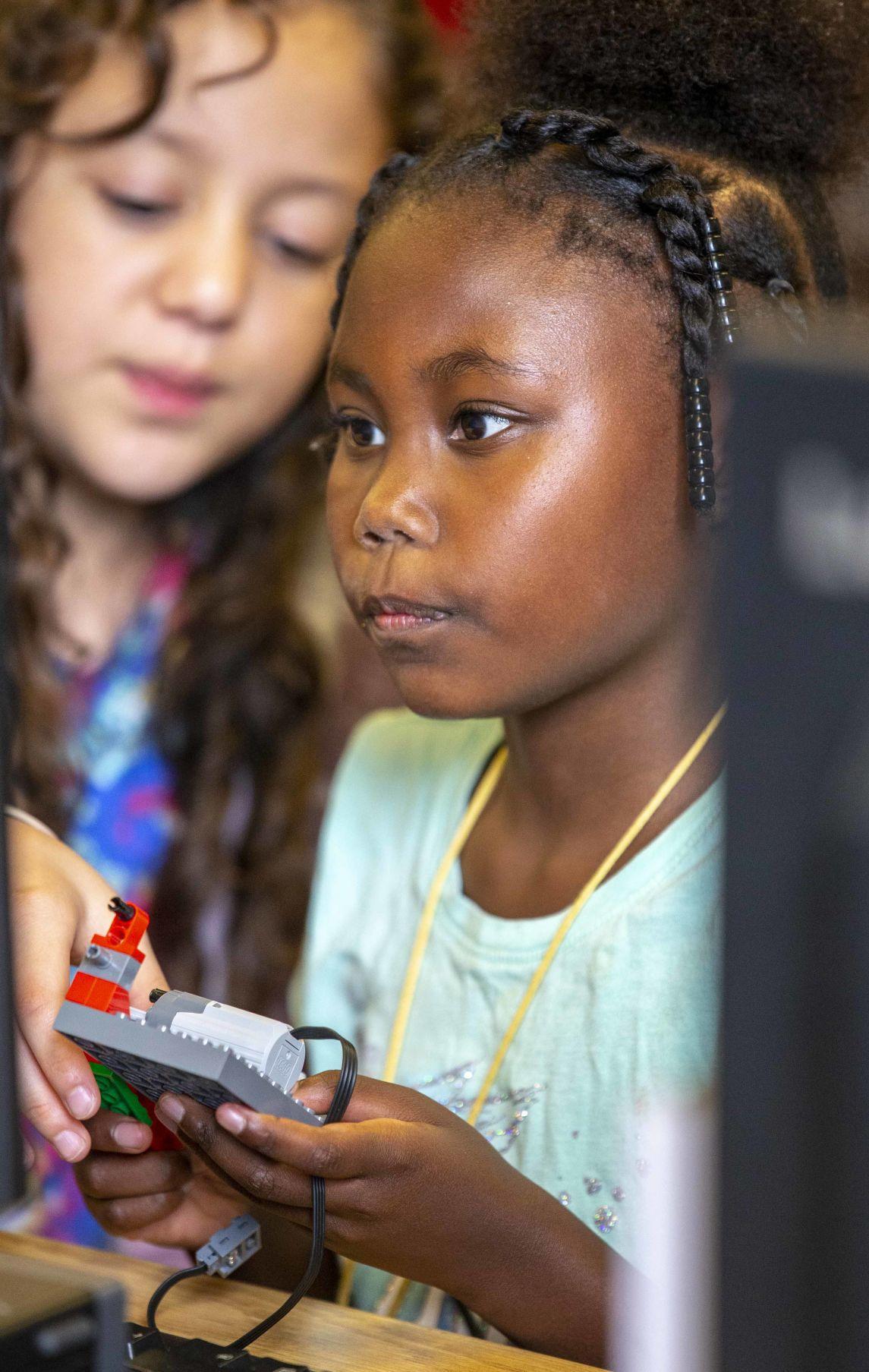 GREENSBORO — With darting fingers, rising fourth-grader Isaiah Sierra tried to poke past his tiny "goalie" robot, testing for weaknesses in the defensive movement pattern he had programmed for it to block a miniature soccer goal.
The Lego robotics class he took recently is one of the new parts of a dramatic expansion and combination of Guilford County Schools summer camps this year.
In the past, the school system has emphasized a few major, separate camps that students could take part in: one for elementary reading help for invited students, one for the arts and one for rising high school freshmen who are academically gifted. The camps took place in different places at different times, and for different amounts of time; families had to sign up for everything separately. This year the school system has pulled those camps together under one umbrella and added a bunch of new offerings. School officials hope about 3,000 students will have taken part by the end of summer break.
Basically, the Ignite Summer Camp is designed to be a sort of one-stop shop for families. Camp began June 17 and runs through Aug. 12, with the option to register for a variety of offerings each week through the summer. It's open to all grades, but has the most options and participation in the later elementary school through early high school ages, according to Nathan Street, the school system's director of fine arts. Students can choose to try out arts, sports, science and technology, history, and more. Students from various special-needs programs in the school system are participating as well.
It's all free, with the exception of some arts offerings, and even those have full scholarships for families that need them. Registration for this year is closed, but the school system expects to do it again next year, with some tweaks and changes.
Street, who had experience with the arts camp, brought the idea for the Ignite Summer Camp to Whitney Oakley, the assistant superintendent for teaching, learning and professional development.
Oakley said the idea looked attractive, especially because it offered a chance to change a few aspects of the reading camp.
The state of North Carolina requires school systems to offer a free Read to Achieve camp for rising second-, third- and fourth-grade students who score below certain thresholds on their state reading tests.
The idea is to help students catch up so they do better in reading.
Statewide, Oakley said, reading results from the camps have been inconclusive. She said Guilford is seeing some improvement from holding the camps, but not a "significant" amount, and definitely not as much as it would like.
Nationally, the recommended duration for such programs is at least six weeks, Oakley said. Guilford County Schools only receives enough money to run its reading camp for 12 days.
By uniting and centralizing camps, school officials are able to offer four weeks of Read to Achieve, she said.
Another issue has been getting students to attend the reading camps.
"What we have noticed in the past several years is only a small percentage of the students that qualify for Read to Achieve summer programming actually attend," she said.
School officials said they face other issues to participation.
Parents say they need full-day care for their children, so a part-day camp like Read to Achieve is problematic. Some children struggling with reading may not want to spend their summer practicing more reading. And Street pointed out that under state rules, the invitations for the camps don't go out until after state tests, so many families may already have plans for the summer.
Leaders are hopeful that the Ignite Summer Camp could help on at least the first two issues.
Students participating in Read to Achieve at the Ignite Camp read in the morning, but in the afternoon get to pick from among a bevy of special activities, such as Lego robotics.
Students being picked up by a parent can stay as late as 6 p.m. Those who ride the bus get to participate in one afternoon activity before leaving by 3:30 p.m. Those who stay later can choose a second Ignite Summer class. Previously, Read to Achieve Camp ran from 8 a.m. to 2:30 p.m.
School officials said they hope the wide variety of classes and activities for afternoon sessions will make students invited to Read to Achieve more excited about coming.
Oakley and Street said there have definitely been some struggles and lessons with the new Ignite Summer Camp, everything from registration to transportation.
Oakley said one or more main sites need to be in the Greensboro area next year. The camp sites were clustered in Jamestown and High Point this year.
In the Read to Achieve programs alone, about 700 students participated in the first week, which Oakley said seemed on par with the first week of the program last year.
During a recent lunch at the camp, the Ragsdale High cafeteria in Jamestown was filled with campers waiting to head to the first round of afternoon classes. Teachers walked in with giant poster board signs for "African Dance," "Arts Exploration," "Citizen Science," "Spanish" and "Local History," among other options.
Isaiah waited at a table with his counselor and the 10 other students from his Read to Achieve class.
For Isaiah, the activities, and Lego robotics in particular, have been the best part of camp. His classmate, Simeon Libby, said he likes the reading best. He talked about being in the middle of a book called "Andy Shane and the Queen of Eqypt."
There's a lot going on in the cafeteria, but Kathy Thompson, their counselor, said that the transitions have been pretty straightforward. Every camper also has a name tag that lists on the back where they are supposed to be at any given time, so that helps, too, she said.
Isaiah's Lego robotics instructor was a woman in a Harry Potter T-shirt named Patrila Hardy, who works as a third-grade teacher for the school system during the regular school year. She showed the class video clips from the Women's World Cup soccer tournament for a little "current events" tie-in, and then set students to work building and programming soccer-related robots using special Lego-brand pieces, motors and software programs.
Isaiah's partner wasn't there, so he worked by himself, and earned a chance to demonstrate his goalie robot to the other children who crowded around.
"Great job!" said Hardy, as Isaiah smiled up at her and accepted a high-five.