Multimillion-dollar redo ahead for Bryan Boulevard interchange at New Garden and Horse Pen Creek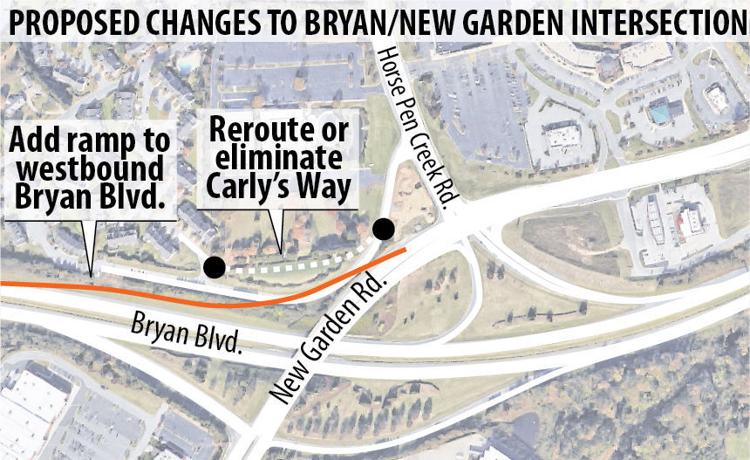 GREENSBORO — State and city transportation officials are planning to redo part of a heavily used Bryan Boulevard interchange to reduce car wrecks by cutting down the number of risky left turns across traffic.
City of Greensboro transportation planner Craig McKinney said they turned their attention to Bryan's three-way intersection with New Garden and Horse Pen Creek roads because the current design triggered a relatively high accident rate.
The main improvement would be to provide a traditional "diamond leg" on-ramp to westbound Bryan Boulevard for drivers heading south on New Garden Road, McKinney said.
The new ramp also would be used by motorists coming from Horse Pen Creek Road who want to go west on Bryan, he said.
"This won't eliminate all accidents there, but it will eliminate a predominate cause of the accidents," McKinney said.
Right now, motorists traveling south on New Garden who want to head west onto Bryan toward Piedmont Triad International Airport must make a left turn across several northbound lanes to reach the existing ramp.
State and city transportation planners have scheduled a public meeting on the planned improvements from 4 to 7 p.m. next Thursday at St. Paul the Apostle Catholic Church, 2715 Horse Pen Creek Road, to gather comments and suggestions from area residents.
The church, located just north of the interchange, is making its fellowship hall available for the drop-in format meeting.
Bryan's existing westbound on-ramp also has been difficult for drivers on Horse Pen Creek Road to use, said Bobby Norburn, a Raleigh-based engineer working on the project for the N.C. Department of Transportation.
Their vision is blocked by the current road design as they start to cross New Garden to enter the existing westbound ramp, Norburn said.
"All this is what's proposed. We have to see what the public thinks of it," Norburn said of the public meeting's purpose.
He noted that the improvements are being planned in conjunction with another city government project already under way: Widening Horse Pen Creek Road from the Bryan interchange to Battleground Avenue.
Work on the interchange had been scheduled to begin next year. But at a recent meeting, the Greensboro-area Metropolitan Planning Organization decided to allow more time for planning and design by pushing construction back to 2021.
The existing Bryan Boulevard on-ramp for westbound traffic would remain in use, but only by drivers heading north on New Garden. They would continue using it as they do now, by making a right turn onto the current westbound Bryan ramp.
Transportation engineers favor such right turns that do not cross oncoming traffic as a maneuver less likely to result in a wreck. When the redesigned interchange is complete in two years, a concrete median would block all other traffic from using the current, westbound ramp.
Preliminary estimates envision total project costs of $4 million, including $2.25 million for construction, $1.25 million for right of way acquisition and $500,000 to relocate utility lines.
Residents attending the public meeting next Thursday will see two options to critique, one of which would make room for Bryan Boulevard's new on-ramp by moving the neighborhood street Carly's Way to the north.
The other choice would eliminate Carly's Way as a through street, creating instead several cul-de-sacs that would provide enough clearance for the on-ramp on land now occupied by the neighborhood street.
Public officials want to gather opinions about both options and any other suggestions that residents might have at next week's meeting.
City transportation planners don't favor the cul-de-sac approach, McKinney said. It would leave some neighborhoods around the church with only one public street, St. Paul's Lane, for access to that residential area, he said.
McKinney said that for subdivisions of any significant size planners prefer to have at least two public streets for motorists to enter and leave. That's so people have a way in and out if one of the streets is closed for some reason, he said.
In addition to providing the new on-ramp, the proposed interchange improvements also include adding a sidewalk to the New Garden Road bridge over Bryan Boulevard, and widening short section of New Garden Road and parts of two existing ramps, according to state DOT planning documents.