Eden City Council appoints interim city manager in wake of embezzlement plea deal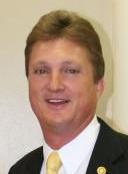 EDEN —Eden has a new interim city manager in the wake of an embezzlement plea deal for his predecessor.
Roughly 48 hours after disgraced longtime City Manager Brad Corcoran pleaded guilty via Alford plea to stealing thousands of dollars from the city, council members appointed part-time Public Utilities Director Terry A. Shelton as interim city manager Thursday night.
Shelton has held multiple positions within the public utilities department since 1979.
"We're all excited Terry is willing to step up and help us during this tough time,'' Mayor Neville Hall told the council after members voted unanimously in favor of Shelton.
City administrators hope to hire a new full-time replacement for Corcoran within the next couple of months, Hall said Friday morning.
On Tuesday morning, Rockingham County Superior Court Judge Stan Allen ordered Corcoran, 58, to serve a suspended five- to 15-month prison sentence for falsifying his daughter's time sheets when she worked as a seasonal employee for the city in 2017. Corcoran also padded the time sheets of another daughter and son who worked for the city between 2007 and 2017, according to Rockingham County District Attorney Jason Ramey.
Corcoran, who had enjoyed popularity in his post since 2001, paid $20,000 in restitution to the City of Eden on Tuesday as ordered by Allen.
As part of the plea deal, Corcoran will serve 18 months of supervised probation in lieu of prison time and 75 hours of public service.
In an apparent effort to allay fear about the city's accounting in the wake of Corcoran's crime, Hall issued a letter on social media Friday morning, saying: "It is important for citizens to know that the City of Eden's financial condition is sound, in fact it is better than any time in its history.''
Hall stressed that saving taxpayer funds is the city's "highest priority'' and said the city spends conservatively. And the mayor highlighted Eden's 38-year record of clean audits of its financial records.
***
The mayor voiced high confidence in Shelton.
"Terry has an impeccable record serving Eden's citizens,'' Hall said. "He's well respected among his peers and coworkers.''
Shelton, 64, a Virginia native raised in Collinsville and Ridgeway, moved to Eden to work for Hardee's after high school graduation in 1973. By 1979, Shelton joined the staff of Eden's Public Utilities Department and "served in most positions available'' in the department tenure before retiring in 2014, Hall said.
The Virginia Tech grad who lives in the Eden area, has worked part-time as public utilities director since 2015. Shelton also holds his state Realtor's license and owns Five Star Realty in Eden with his wife, Faye.
Faye Shelton said this week that she listed Corcoran's 4,300-square-foot Eden home for sale for $381,000 on the night of Aug. 24, three days before Corcoran resigned as city manager and accepted a plea deal that saved him from serving prison time.
Typically, regional agents garner between 4.5%- 6% of the sale amount of any house they broker, according to area experts.
If the Sheltons handle the Corcoran property for a fee of 4.5% of the asking price, they could earn roughly $17,000.
The mayor said he doesn't see a conflict of interest with the Sheltons' connection to Corcoran's home sale.
The Sheltons' company lists the four-bedroom brick home in The Oaks development on its website. Property records show Corcoran purchased the 1999 two-story at 171 Oak Ridge Drive in 2004 for $355,000.
***
During his 39 years with the City of Eden, Shelton's duties have included handling budgets and analysis of the city's water filtration and wastewater treatment plants, as well as work with the Environmental Protection Agency on compliance issues.
Beyond the daily operations within the department, Shelton has also worked closely with city administrators to recruit industries and share his water-systems expertise in matters involving large water-user corporations.
When a new water filtration plant was built in 1979 to provide large water volume to then-incoming Miller Brewer, Shelton was named plant operator, according to the City of Eden's website. He would later serve as superintendent of the plant.
By 2010, Shelton was promoted to head of the city's Environmental Services Department.
Beyond those roles, Shelton, a retired 21-year member of the Eden Fire Department, serves on the Eden Board of Adjustment, the Keep Eden Beautiful Committee and the Rockingham County Local Government Emergency Planning Committee. He holds memberships in a number of professional organizations and holds multiple state certifications in water and wastewater management. He is also a former director and treasurer of the Rockingham County Board of Realtors.
Hall said Shelton's salary will be made public once his contract is finalized.
***
The fact that Corcoran was able to manipulate his daughter's time sheets when she worked as a part-time seasonal employee for the City of Eden brings into question the city's nepotism policy.
Rockingham County District Attorney Jason Ramey said Corcoran also doctored time sheets of another daughter and a son while they worked for the city between 2007 and 2017 as seasonal employees at the municipal pool and public works department, respectively.
Ramey said Corcoran added hours to his childrens' time sheets, falsely indicating they worked more hours than the part-time schedules they actually completed.
In some municipalities and businesses, and under certain circumstances, hiring relatives is not allowed.
There is no state law that mandates cities or towns to have a nepotism policy, but Mayor Hall said Friday that Eden does have one.
"We have a nepotism policy, and that's not the one that was violated (by Corcoran),'' Hall said.
A copy of the policy was not readily available at press time.
"The policies related to nepotism are entirely up to each unit of government,'' said Bob Joyce, professor of public law and government at UNC Chapel Hill's School of Government. Joyce. Many smaller cities and towns never get around to adopting such guidelines, he said.
But crimes such as Corcoran's point up the need for examination of a city's map of best practices, noted Monica Jackson, senior assistant general counsel for the N.C. League of Municipalities in Raleigh.
Considering some of the details of Corcoran's crime, Jackson said: "I would say, yes, you need to have some kind of introspection about that, how you go about it is up to the city.''
To that end, Hall in his Friday letter to citizens noted the city acted "swiftly and decisively'' to address Corcoran's embezzlement, and the mayor promised more checks and balances will be put in place.
"Personnel policies will be evaluated and changed to ensure the integrity of the city's compensation program,'' Hall wrote. "Safeguards will be incorporated so an unfortunate incident such as this will not be repeated.''