From homelessness to Eastern Guilford High honor graduate: 'I know there's more out there for me'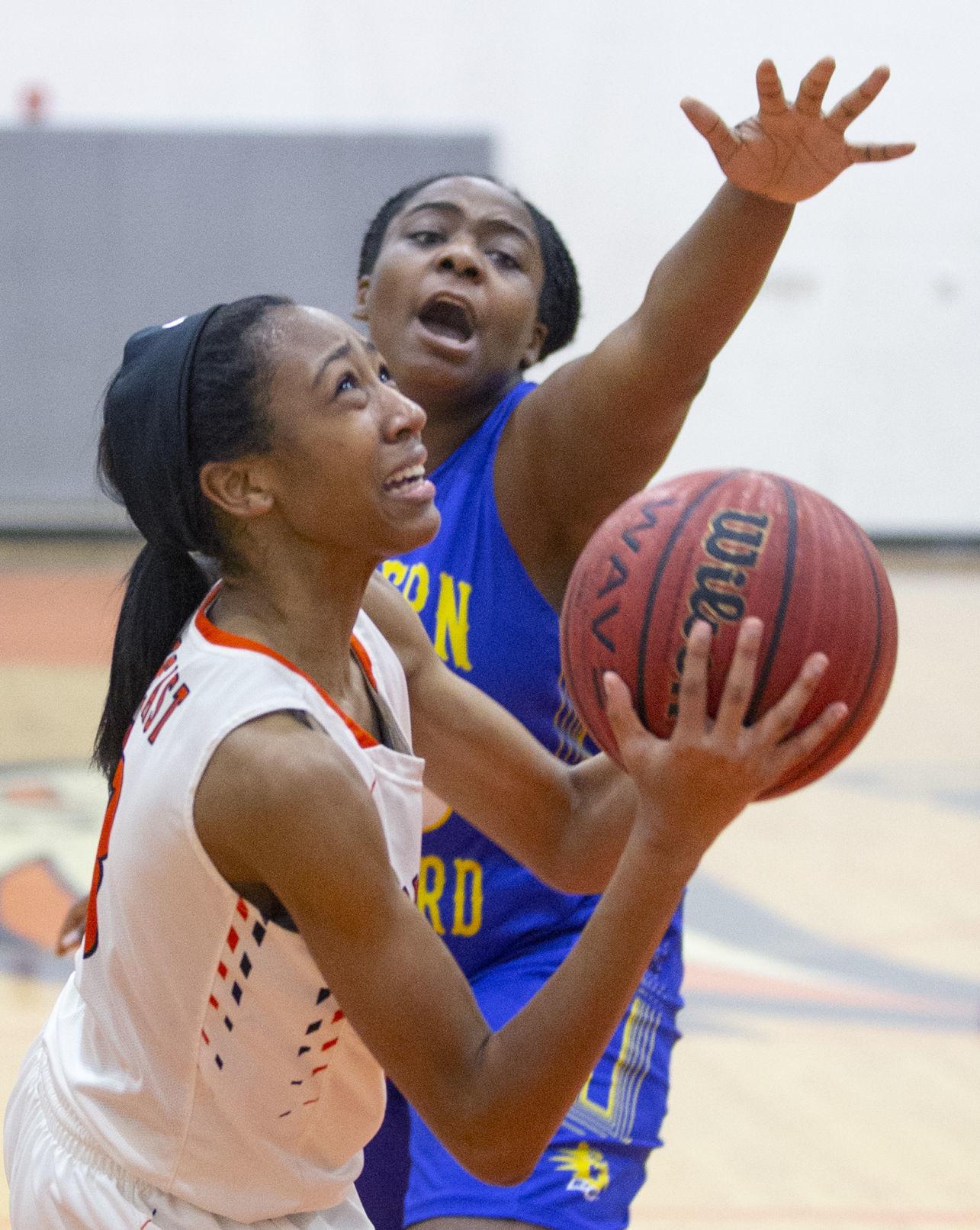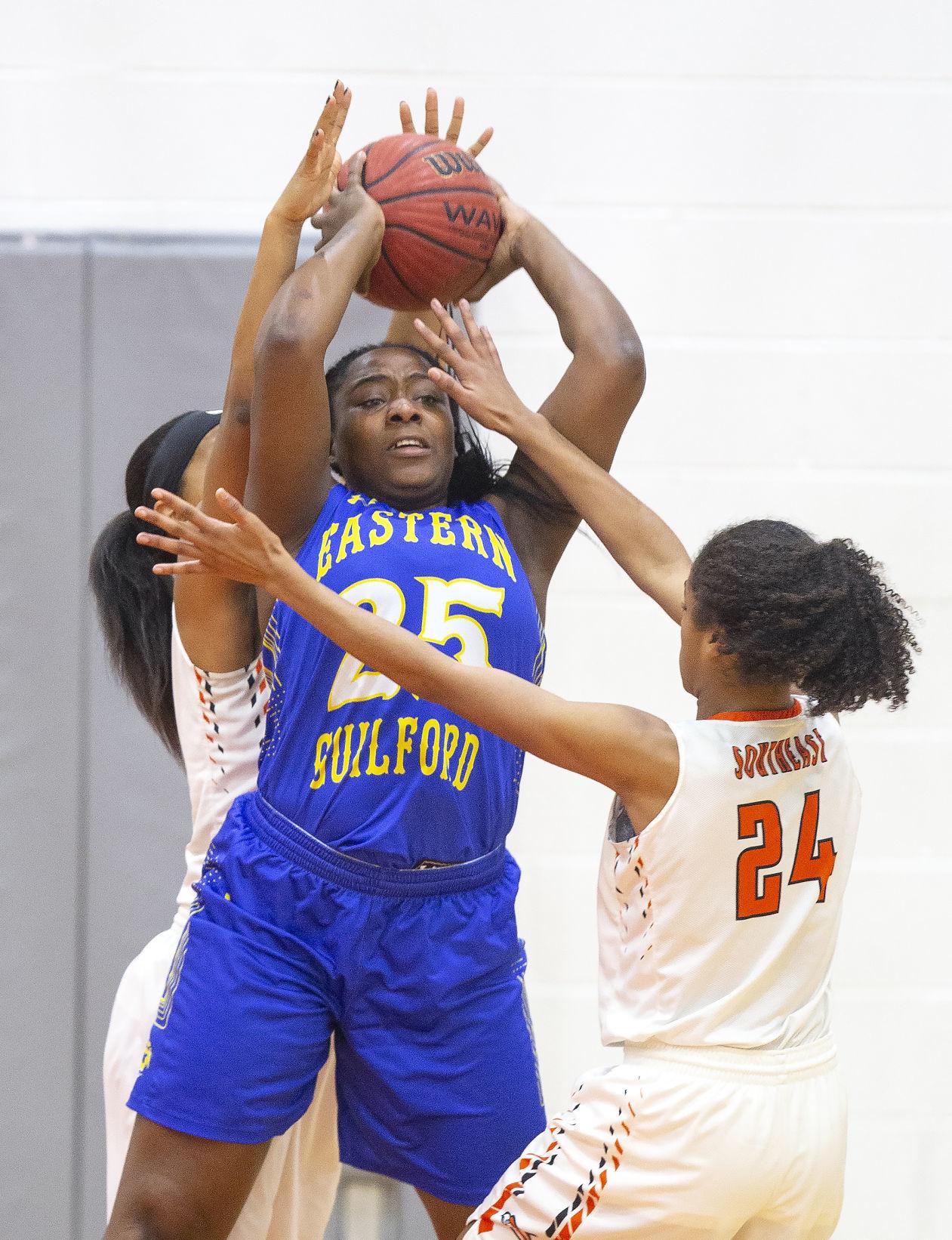 Kashayia Coltrane will wear her heels this afternoon.
She doesn't want to feel like the tomboy she once was. She wants to feel like the person she now is — the senior who will walk across the stage at Greensboro's Special Events Center around 3:30 today and graduate from Eastern Guilford High.
This fall, she'll attend East Carolina University. She can't wait. She knows she is ready.
She excelled at Eastern. She will graduate as an honor student, ranked eighth out of 343 seniors in her class, and she'll accept her diploma like thousands of graduates from 20 Guilford County schools since Wednesday.
But Coltrane did more than just study at Eastern Guilford. She was a four-sport athlete, voted the most valuable player on her basketball team this year. In her senior season, she averaged nearly 13 points a game and grabbed nearly 11 rebounds a game. And today, she can walk into Eastern Guilford's empty gym, look around and hear in her head the exclamations from the courtside radio announcer.
"When in doubt, go to the 'Trane!"
But beyond the court, Coltrane has felt heartache that she rarely shares with people. She wears it close.
On the underside of her right forearm are four words: "With Pain Comes Strength."
True.
The hard years
For years, Coltrane was a statistic in Guilford County. She was homeless.
Back in 2009, when 930 students in Guilford County had no home, Coltrane was 7 and living with her single mother and two older sisters. The Greensboro News & Record profiled her family in a front-page article that January. It started this way:
"For two months last fall, the Coltrane sisters had no place to call home. They lived with friends, at a motel and briefly at a house with no stove or bathroom floor."
Coltrane remembers those days, too. Her mom was unemployed, and her dad was in prison for selling drugs.
She went to three different elementary schools — Hunter, Sedgefield and Rankin — because her mom struggled to make ends meet. They bounced from different apartments, and Coltrane slept on couches, on floors, just any place she could find.
"I've lived in so many homes, it's not even funny," she says. "In elementary school, you don't know what's going on, and it feels like a big slumber party. You just know you don't have a home. But by middle school, you know it wasn't right. That was hard."
Coltrane ended up at Eastern Middle — and stayed. It didn't make it any easier. Her mom, LaToya, got pregnant.
Her mom had dropped out of high school after getting pregnant at 15. She is now a mother to five children. Coltrane is her youngest of four girls, and when Coltrane was in middle school, her mom gave birth to a son, Zyire.
Her mom worked at various fast-food restaurants. But those jobs taxed her. She would come home stressed out and tired, go into her bedroom and tell her youngest daughter, "I need some downtime."
But that angered Coltrane. She always took care of Zyire after school and when her mom stayed in her bedroom. One time, Coltrane's anger boiled over when Zyire got fussy. Her mom complained, and Coltrane shouted, "He's not my baby!"
Ask her about that episode, and Coltrane cries.
"I'd come to school with people privileged to have two parents at home, and I didn't know where my next meal was coming from," she says. "But I didn't want handouts because I wanted to earn what's mine, and I believed God put me through this for a reason."
For what?
"I don't know yet," she continues. "I have so many questions, but when I get older, I'll find out. God will tell me why."
School was her safe haven.
Especially Eastern Guilford. There, she blossomed.
The lifesaver
It began with sports. She played four sports during her four years at Eastern Guilford — volleyball and basketball, soccer and track. She saw her time on the court or on the field as an escape because it helped her forget what existed for her beyond the sidelines of any game.
At 5-foot-9, she played middle hitter on the volleyball team. In her junior year, she had more than 80 blocks.
She also played goalie on the girls soccer team.
And she was a shotputter on the track and field team, placing second at the conference track meet after throwing a 5-pound shot more than 33 feet.
But her real passion was basketball.
In seventh grade, she could barely dribble or make a layup. But she played and practiced constantly, and by her senior year at Eastern Guilford, when the game was on the line, the team wanted the ball in Coltrane's hands.
Through sports, Coltrane became a leader. And because of school, she saw the importance of routine, structure and discipline. She did well in class, and she found friends and supporters. She also found direction.
"If I didn't have school, I don't know where I'd be right now," she says. "Kids like me who lived like me got shot or sold drugs. But I saw the positive things I could do by putting my head in a book and studying. That is how I found how great things could come. They come from passion."
That's why she got the tattoo: "With Pain Comes Strength." Her mother has a matching one in the same place — on the underside of her right forearm.
"I'm not weak," Coltrane says. "I'm stronger. I have knowledge to share."
'Can you hear me?'
Coltrane's dad is still in prison after being convicted on various charges, including selling drugs. She hasn't seen him since she was 13. She's now 18 and says he is due to get out of prison when she is 21.
Coltrane's mom, though, is better. LaToya is 45, stable and works as a cashier at a Food Lion. They now get along well.
"Time heals all wounds," Coltrane says. "I wouldn't be OK until I forgave her."
For the past two years, Coltrane has sold chicken and biscuits at a Bojangles' off West Wendover Avenue. She uses the money she earns to pay for hairstyling, food, and her and her mom's phone bill. She pays for college application fees.
She is a mentor to Zyire.
She is also a mentor to a troubled eighth-grader at Eastern Middle who doesn't know her dad and whose mom isn't a good role model, Coltrane says.
One of Coltrane's former coaches asked her to talk to the girl. She encouraged the girl to focus on school, not give up and channel the pain she is feeling into something positive.
Coltrane gave herself the same advice. She remembers.
She was 14, sleeping on a pallet on the floor beside her nephew's crib when she picked up her journal in the middle of the night. She came up with a poem she titled "Help."
The first three lines talk about pain. Four years later, Coltrane can still recite them off the top of her head.
Can somebody please help me?
Help the girl who was lost and never found?
Can you hear me?
People did.
The next chapter
Two years ago, the day before Thanksgiving, Coltrane was cooking french fries in the oven when she went to the bathroom. She came back to find the kitchen engulfed in flames. The apartment didn't have smoke detectors, and the whole kitchen was destroyed.
"Oh, my God, I'm an idiot," she told herself. "I don't want to be homeless again."
She wasn't — for long.
The American Red Cross stepped in and got them into a hotel for at least a month. Coltrane, her mom and little brother, a kindergartner at Hunter Elementary, now live in a three-bedroom apartment.
When Coltrane arrives at East Carolina, she will study nursing. She has a reason, and it's not because she's interested in medicine.
"I want to give back," she says. "So many people have helped me."
Like Lisa Holleman, a volleyball parent and mom to Coltrane's good friend Lizzie. Holleman bought Coltrane a long red dress this spring so Coltrane could go to her prom.
"I felt like my problems went away when I stepped into that red dress," she says. "I felt like I was on fire."
Then there is Carol King, Eastern Guilford's career development coordinator. She taught Coltrane and two of her older sisters.
"A lot of kids have a lot of trials and tribulations like Kashayia," says King, a 25-year veteran of Guilford County Schools. "But she saw school as a way to maintain her life and be her second home. She'd come to school with a smile on her face, and I've watched her play basketball and volleyball. But I never knew anything was wrong."
But there was. Coltrane used that pain to drive her to excel — first at Eastern, now toward ECU. And once again, she'll have help, with a Pell Grant, a $1,500 scholarship from Masonic Lodge No. 271 and a $500 scholarship from the Guilford Enrichment Fund.
But first, she'll has to get through this afternoon.
In her heels.
"I'm a little nervous because I'm scared that I'll fall," she says. "But, oh my goodness, graduation is such a big deal for me that I'm looking past it. I look at that cap and gown, and I'm ready for a purple one (the school colors of ECU). I want more because I know there's more out there for me."