$43 million for Guilford projects hang in the balance as NC leaders wrangle over state budget for 2019-20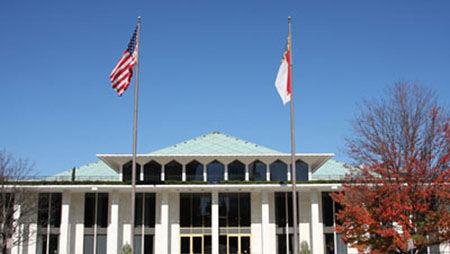 There's a lot at stake for Guilford County and its various communities as Democratic Gov. Roy Cooper and the Republican-led General Assembly battle over the new state budget.
The legislators' 2019-20 proposed budget that Cooper vetoed last week includes more than $43 million in spending for special programs, projects and initiatives across Guilford County.
Projects of importance for Greensboro include the first $10 million toward an $84 million renovation of UNCG's Jackson Library; almost $28 million in construction and new programs at N.C. A&T; $7.7 million for a new mental health crisis center affiliated with Cone Health; and $1 million in recovery aid for neighborhoods in East Greensboro damaged by an April 2018 tornado.
Already, budgeted extras for High Point residents in the legislature's proposal led state Democratic Rep. Cecil Brockman to break ranks with his party and vote for the legislative budget package last week.
"This was a difficult decision, and one that may be seen as politically unpopular," Brockman, of High Point, said at the time. "However, when I was elected to the House of Representatives, I vowed to work for the people of my district and do what it best for them."
In fact, the spending plan now in flux includes about $3 million for a dozen social, economic and cultural programs for Brockman's hometown — and that of his Republican colleague, state Rep. John Faircloth.
Brockman was one of three Democrats in the House to side with House Republicans in approving the legislative proposal on its second reading Wednesday evening. He didn't in the House's third and final budget approval the next afternoon, one of five Democrats who received excused absences from Thursday's vote.
In the House, Democrats have a margin of seven votes more than needed to sustain the recent thumbs-down that Cooper gave the legislature's 2019-20 spending plan.
Despite support for worthy programs in Guilford and elsewhere, the GOP-inspired budget leaves much to be desired in such areas as its lack of Medicaid expansion, insufficient pay increases for teachers and inadequate Department of Environmental Quality staffing, said state Rep. Pricey Harrison, D-Greensboro.
"I think there are a host of issues that are important to North Carolina residents that were left out," Harrision said.
She said the current political equation is relatively unusual for North Carolina because the governor's minority party has the House strength to sustain his veto. In the Senate, the Republicans have a slightly more comfortable margin.
The overall imbalance of power sets up a potential stand-off that might be resolved within several weeks or one that could linger for months
"It's sort of anybody's guess," Harrison said.
Monday was the start of state government's fiscal year, the day when the new budget should have taken effect. A saving grace, Harrison said, is that current state law allows for such situations by extending the current budget.
That means basic state services will continue unabated although no money will be available for new programs until the two political parties work out their differences, she said.
In the Senate, Guilford County's two Democratic officeholders, state Sens. Gladys Robinson and Michael Garrett, both voted against the proposed budget last week.
"I fought for several line items which ended up in this version and I am pleased to see them there," Garrett said of his vote. "But taken as a whole, this budget severely underfunds school infrastructure and lacks any form of needed Medicaid expansion."
The proposed budget passed the Senate on a 33-15 vote, with four Democrats on the prevailing side.
No Republicans voted against the legislative budget proposal in either the House or Senate last week. As might be expected, they have a diametrically opposed view of its merits.
"This is a fiscally responsible budget for the citizens of North Carolina," said Republican state Rep. Jon Hardister of Whitsett. "We kept spending below the growth rate of inflation and population, and we did this while increasing funds for the core services of government."
Among other projects of importance to Guilford, Hardister highlighted a $3 million appropriation for the county schools' new Career and Technical Education program that plans occupation-oriented academies at high schools throughout the district.
"If this program is successful in Guilford County, then we could seek to replicate it across the state," said Hardister, who is the GOP House majority whip.
The budget currently is at an impasse after Cooper vetoed the measure Friday, largely for its failure to include the Medicaid expansion.
But Cooper called it a generally bad budget that "prioritizes the wrong things." In addition to the Medicaid issue, he argued that it put corporate tax breaks ahead of school spending and other needs.
Proponents contend enlarging North Carolina's Medicaid program to include lower-income working adults makes sense both economically and from a health-care perspective. Critics contend it would be fiscally irresponsible and could end up reducing Medicaid access for those already covered.
Meanwhile, some of the Guilford projects could emerge as Republican bargaining chips for the votes of Democratic legislators from Guilford as GOP leadership seeks to overturn the governor's veto of last week.
Brockman, for example, might find it difficult to vote against a proposed budget that, Medicaid expansion or no, includes such spending in his hometown as:
$1 million for the John Coltrane Jazz and Blues Festival
$250,000 each for the High Point Arts Council and High Point Preservation Society.
$100,000 apiece for High Point-based social or economic programs, including D-Up, Greater High Point Food Alliance, Growing High Point and the Southwest Renewal Foundation.
$50,000 each for six other High Point nonprofits such as High Point Community Against Violence, the Macedonia Family Resource Center and Open Door Ministries of High Point.
Elsewhere, the legislative package meets a wide array of requests that range from $50,000 for Senior Resources of Guilford to buy a new Meals on Wheels van to $2.25 million for a jobs program focused on apprenticeship opportunities in Guilford, Alamance, Randolph and Rockingham counties.
But first, Cooper and Republican legislators need to work out their differences.