KRISTI WALLACE
Age
36 (birthday is today)
Residence
Greensboro
Day job
Wellness director, Bryan Family YMCA, Greensboro
Why I run
"I got into running in middle school (in Solon, Ohio) when I was cut from basketball. A friend said, 'Hey, let's go out for basketball,' and I said, 'Sure.' And I got cut; she made the team, not a big deal. I'd get the ball and I would freeze; I didn't even know the rules. She came up to me after the season and said, 'Let's go out for track; they don't make cuts. The most you'll ever have to run is a mile.' I said, 'A mile?!'
"I laugh about it because I'm thinking how many miles I have since run. So we make it through track season, and it's one of the last meets of the year. I go up to the coach and said, 'I think I've figured out how to run the 800.' He's like, 'Oh yeah?' I said, 'You just have to sprint the whole thing.'
"He laughed, hysterically, and he said, 'You should come out for cross country.' I said, 'I don't know how to ski.' He laughed again. He said, 'It's running. The most you'll have to run is 2 miles.' I went out for cross country and did really well, in comparison. I don't feel like I truly excelled personally until after college. Then ran track and cross country in high school and then at Greensboro College did cross country."
A typical week
"I have traditionally trained solo, all the time. I wouldn't run with the Dashers if I was training for something. I wouldn't run with friends if I was training for something. Now, it's a mixed bag. I'm not training for anything specifically right now. I enjoy running with other people. I've run with the Dashers if I'm off on Tuesday and Thursday mornings. I'll run with them some on the weekends. I also run with some girlfriends and a group called Joggers and Lagers.
"But I have lately enjoyed running with people. It's been nice to think about getting up in the morning and think, 'I'm going to run by myself.' I can put some music on and be fine. But right now I've been thriving more on running with people. The pace doesn't really matter to me as I'm not training for anything specifically. I enjoy the camaraderie.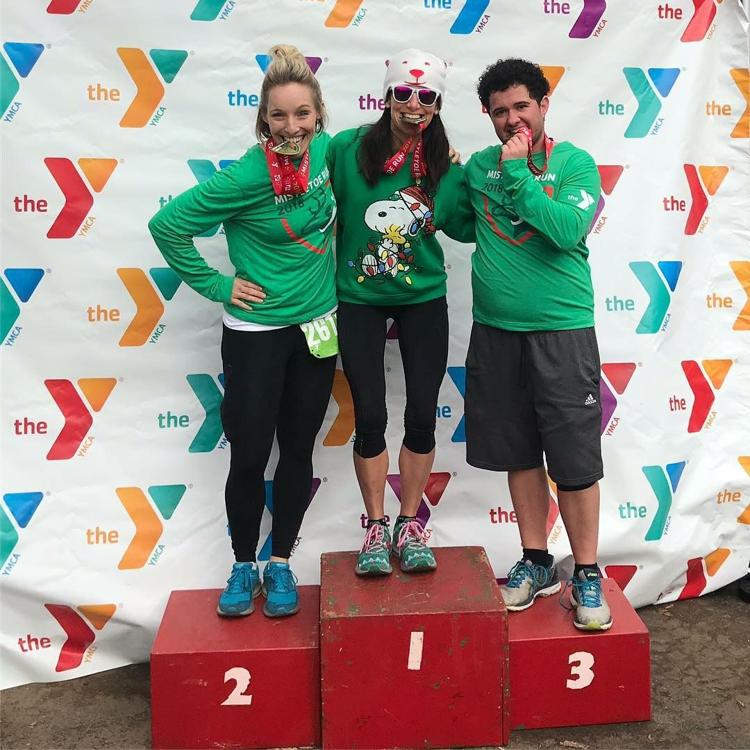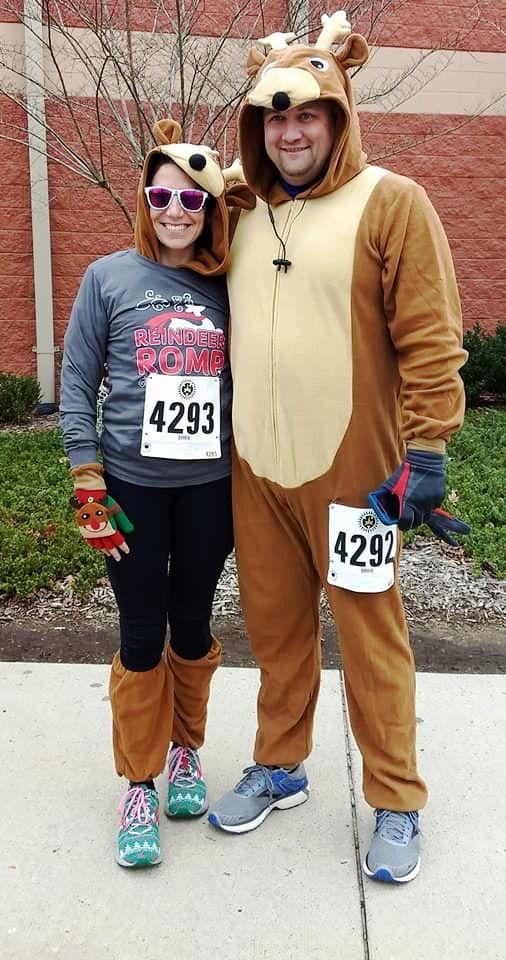 "Right now, mileage isn't super-high. I did the Mistletoe (Half Marathon) a couple of weeks ago and the Reindeer Romp (5K) last weekend. I'm not signed up for anything right now. I look to get at least one long run a week, at least 8-10 miles, and then some short runs in there. In this mode, I try to get more lifting in, for some base strength training that I might not get as regularly if I were training for a marathon."
Favorite place to run
"In Ohio, we have Metroparks. It's very similar to the greenway; been around a lot longer. It's miles and miles that connect city after city after city in the suburbs of Cleveland. It's very rural – there's lots of woods around it. But it's very beautiful. Especially this time of year. They would keep that path paved and everything else is blanketed in snow. You would see deer; you would see wildlife. Very quiet, not a lot of traffic.
"I love to run through downtown around this time of year to see all the lights and through the Christmas ball neighborhood (Sunset Hills)."
Faster, higher, stronger
"When I'm feeling really good and I need a good strength routine, just a traditional barbell squat. Just pull it from the rack and go as heavy as I can and work my way up. I love to do that with upper body, too. ... I like to see how much weight I can push. I'm usually pushed by working out with somebody else."
Chillin' out
"One of my favorite things in recovery lately has been the cryo. During my last training cycle, I did cryo one day a week (at Healing Hands Chiropractic). I revisited the cryo in the last couple of weeks before the Mistletoe and the Reindeer Romp. I just love it. It's like getting in an ice bath for 10 minutes but it's really just three minutes and you're not under water. It's very invigorating. I feel so much better. I usually sleep better and I wake up far less sore, especially after a tough workout.
The future Dr. Wallace and Dr. Wallace
"Right now, Kevin (her husband) and I are in school (he also teaches and is the football coach at Northwest Guilford) at UNCG getting our doctorate in kinesiology. That is all of our time, literally. We just ended (their first semester) last Sunday, so we've been out for a week. I've never been so grateful for spare time in my life. That will be all-consuming for the next four years.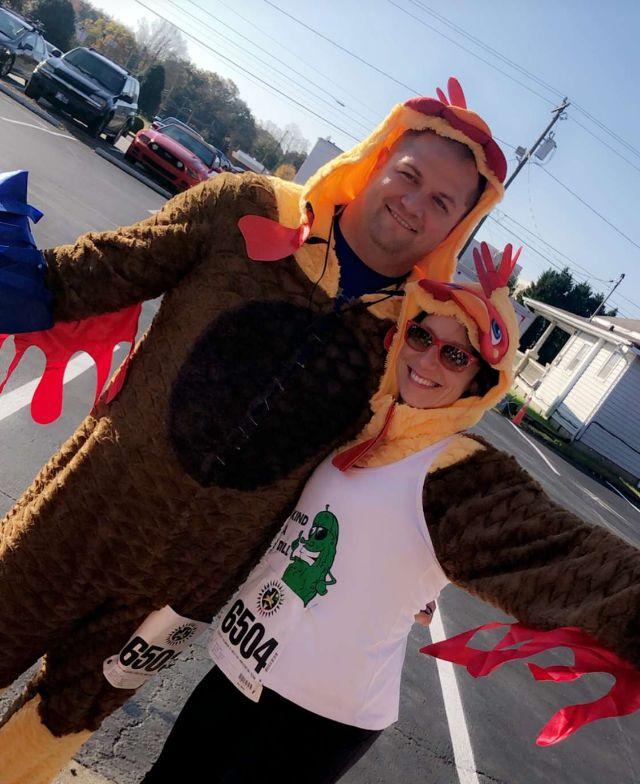 "We both had explored the possibility of getting our doctorate. Ultimately, I want to be a college professor. One day, we came home and were talking at dinner and we had both, in that week, looked at the kinesiology program at UNCG. It is by far one of the most affordable programs in the whole country. We both applied, we both got in, we both had to defer – you had to go to this orientation that was during our honeymoon and we already had plane tickets to Spain."
Running inspirations
"Just everybody around you. There's nothing like waking up for a race, other than nerves. You show up and it is the happiest group of people at that time of the morning, getting ready to do the same thing you're doing. Just the energy that you get from that. I thrive most on people's energy and happiness. Everybody after the race, no matter what time, it's just a big party and everybody's cheering for everybody.
"It's the community that really inspires me. And not just Greensboro. If you go to a race in Houston or in California, you get the same vibes. There are no strangers when you're there; everybody's talking to everybody."
What I think about when I run
"If I'm really stressed about something, I will think about, 'OK, how am I going to get over this obstacle?' Whether it's something silly like I have a lot to do that day or an assignment. It allows me the time to process and put things in order in my head. 'When I get home, I'll do this. Then I'll do this, then I'll do this, then I'll do this, this and this, and everything will be done.'
"This time of year (leading into Christmas) is my favorite time of year. I'm running on true adrenaline, thinking about how lucky I am with my life, how lucky I am to have good friends and family and good health and being able to do this. Those are some of your best runs. You look down at your watch and you're like, 'Well, dang, I killed that one.'
"And then other times, they can be emotional, too. I've cried during runs. You're thinking about some of the things that you hope for or you didn't get, and it's a good opportunity to get those tears out and emotions out on your own and not bring anybody else down with you. Then afterward you feel a lot better and you've processed it. No matter what, if you keep harboring things, that's not good for you.

"It's kind of funny: The captions for the comics in the News & Record (The Joke's On You). I won one week. I've been trying for a long time and I finally won one. And it was the best thing ever. I remember thinking about the caption. I went for a run and I thought, 'Oh, that would be a really good one.' It offers more clarity for me and I can be far more productive if I get a run in in the morning."
What I've learned about myself through running
"I'm impatient. I'm not patient with myself. I feel like if I put the work in and I do what I'm supposed to do, I should get the results that I'm looking for. In most things in life, that is accurate. However, it is not accurate in everything. I'm learning that that process doesn't always pan out and there's many reasons why. It's harder to swallow, though.
"For example, at my last marathon, I trained and I felt like I did everything right and I felt really good during my training. Then, I didn't PR. I thought, 'Well, it stinks.' With a marathon, it's not like I'm going to bounce back next week. While I beat myself up over something like that, I need to have more grace, I need to maybe be a little bit more relaxed. I do try to be a little bit more laid-back; it is a challenge for me. And to let things go and to not dwell on things and say, 'OK, it's behind me; move on and move forward.'"
Winning a Blue Ridge Relay with the Greensboro Sole Sistas
"The group of women came to fruition, spearheaded by Melissa Coker. I said, 'It's during football season, I'd have to talk to my husband, see if it's OK.' He's very laid-back, where I would expect him at every race. Of course, it's the Northern-Northwest game. I said yes.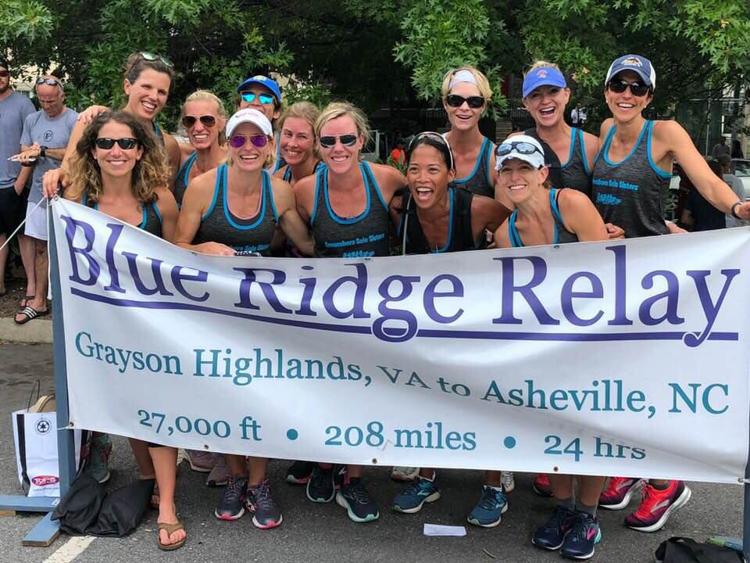 "I'm really very regimented. Right before it, I would eat the nutrition I would normally eat before a race and then afterward I would hydrate really well and then eat a snack and take a nap. Grandfather Mountain (10.5 miles, net gain of 729 feet) at 10 at night was probably my best leg. I was running up it, and I was on speakerphone with one of Kevin's coaches' wives. They were in the fourth quarter, and it was very close.
"I didn't know everybody on the team and got to know everybody by being in a stinky van and changing and eating and sleeping and drinking all next to each other for 24 hours. Now I see these women all over town. Some of them are at the Y. We still communicate in a big text line, so if anybody's running, a lot of people are training for Wrightsville, and people jump in and out of runs. It's neat to have a group of women who went through that process together and still stick together and train.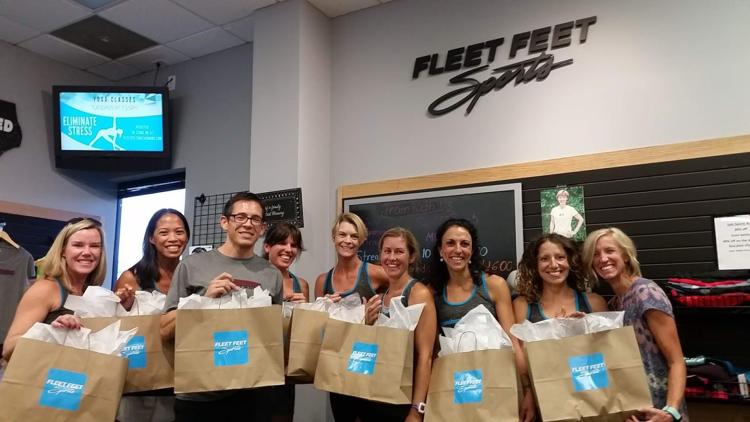 "There were definitely women that were more competitive than others in the group, me being one of them. It's awesome that we finished first. Were we anticipating that? Not necessarily. We thought there could have been a chance, but we didn't realize until we got there how much of a chance we actually had. Everybody ran way faster than they thought they would, which was neat whether they were afraid of a bear or it was 10 at night or they didn't want to be by themselves."
Look what I did
"My PR for a 5K, and it was on my 30th birthday (in 2010), an 18-something, and I was chasing a high school student. The Ragsdale YMCA Reindeer Romp. I got beat by a high school student who just kept looking back at me. And she was only staying in front of me; you knew she could probably run 17 minutes. ... Never would I have thought I would ever have an 18-minute 5K."
Something I've not done yet
"My ultimate goal is to get under three hours for the marathon (PR is 3:05:53, Cannonball Marathon in 2016). When I came across the Cannonball at a 3:05, I knocked about five minutes off my time. I remember running across the line, looking at my husband and saying, 'I am never running another marathon.' He's like, 'I'll believe it when I hear you say that in a month.' ... But I'm not ready to train for another one. It's a lot of work mentally, physically, emotionally – everything."
Up next
"We'll pick back up with school."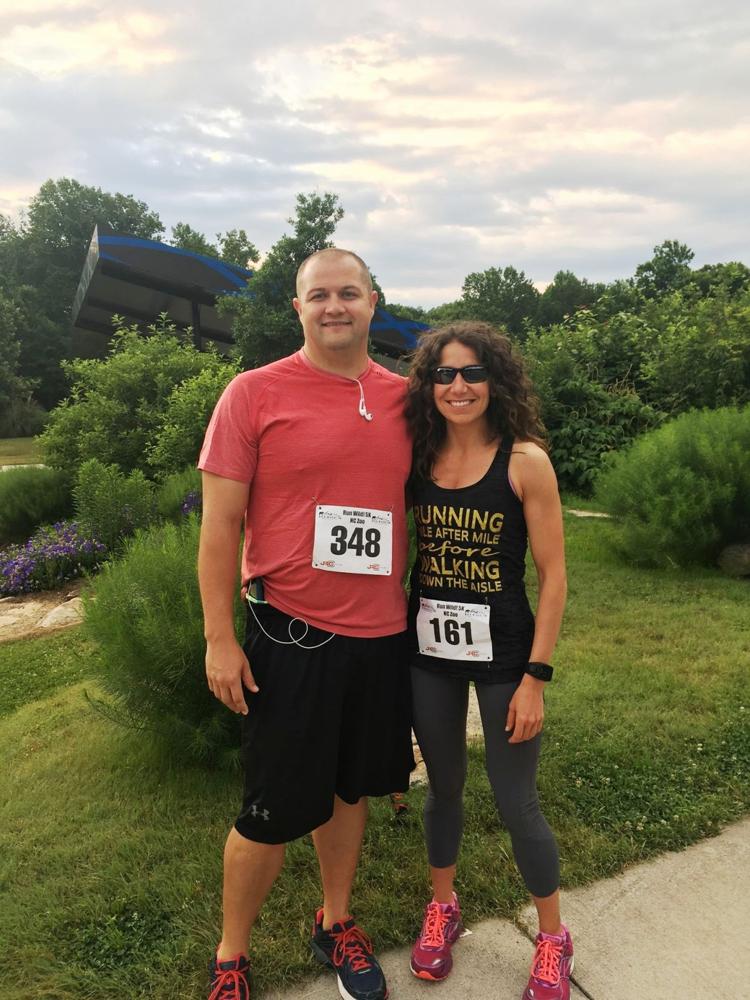 Words to the wise
"Trust the plan. It's when you begin to second-guess things: When you're thinking, 'Today's a rest day, so I'm going to go out and do a couple of miles.' Everybody's guilty of that. Or 'I have an 8-mile run but I'm really going to go 10 or 12 because that's what my friends are doing.' Or, 'I have a 10- or 12-mile run and I'm going to go do 5 or 8.' Or, 'I don't want to run by myself but my friends are doing something completely different; I'm going to go do something completely different.' ... If you're not going to trust the process and follow the plan, you can't really expect the results to be on the other side.
"Not being afraid to ask for help, too. I'm in a wellness position; I do some personal training. A lot of what I do here is with runners. That's great. However, I'm not an Olympic runner; I'm not the best runner out there. If I want to be at that level or if I want to PR, I need to go beyond my scope of what I know because I don't know what it's like to run under a three-hour marathon. So I sought out somebody (Jen Goff) who physically knows what it's like to run under a three-hour marathon and coaches people that have run under a three-hour marathon. That is who I will learn from."