Blogs: Running Shorts
Danny McCormick receives Will Caviness Award from The Race Series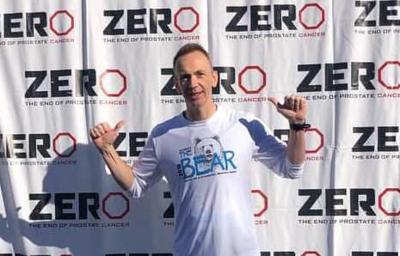 Danny McCormick took on the role as coach of the cross country team at Saint Pius X Catholic School in Greensboro to help the 22 runners learn the sport. To encourage and to motivate them.
After McCormick has dealt with a series of his own injuries, shin and hip, in recent months, the lines of who is doing the best teaching might have become blurred.
"That was pretty much the story of my 2018: Injury, injury, injury," McCormick says. "For me, (coaching) taught me to have fun again, to put the fun back in running, to see it through the kids' eyes and watch them go out there. As much I helped them, it really helped me a lot, too, to get re-energized about running again."
McCormick coached the team last fall for a second straight season, continuing a commitment he made for his daughter – before she gained admission and transferred to another school in the city just a couple of weeks before classes at Saint Pius began in 2017.
"I can't leave the school hanging," McCormick says he told her. "I've got to do this. If you say you're going to do something, you see it through and you finish it."
His coaching and motivation of the Saint Pius runners, but especially his see-it-through approach, has made McCormick the recipient of the The Race Series' Will Caviness Award for 2018, given annually in memory of the late Greensboro Fire Department captain and long-distance runner.
"He made a real connection with those kids," says Alicia Rider, who has helped McCormick coach. "A lot of them said when they first got there, 'Oh, my mom's making me be here.' And now those kids are like, 'We cannot wait to come back next year.'
"He's just a really good influence for the community and a younger generation of runners."
But just don't take our word regarding McCormick's impact.
"He always inspired me to run my best and try my hardest," one student told Rider in a prelude to the banquet.
"At the first practice, I couldn't run a mile," another student said. "At the end of the season, I ran a 5K and I got third for my age group. That's how much Coach Danny improved me. That's a lot."
The Caviness Award is named for Will Caviness, who collapsed near the end of the 2011 Chicago Marathon and later died. Caviness raised money during his training to support the International Association of Fire Fighters' burn foundation.
The Heroes Red and Blue 5K, honoring Caviness' memory, will return as part of The Race Series schedule in 2019. The race in downtown Greensboro on Sept. 28 will celebrate first responders and serve as a fundraiser for the International Association of Fire Fighters' International Burn Camp.
Contact Eddie Wooten at (336) 373-7093, and follow @EddieWootenNR on Twitter.